Are you puzzled about what colors go with navy blue? You've come to the right place! Yellow, gold, pink, and red are just a few colors that go with navy blue.
Navy blue is an extremely versatile color when it comes to pairing. As it sits between dark blue and black, it makes a perfect neutral for many colors.
While it's definitely a color in its own right, navy often works like black or white, serving as a versatile anchor against which other colors can pop.
Today's article discusses colors that go well with navy blue, including color palettes.
Let's find out some gorgeous navy blue color palettes!
What Color is Navy?
Navy is a very dark shade of blue that appears to be somewhere between blue and black. This blue is so dark that it can be mistaken for black in low-light situations. Therefore, it combines the power, elegance and formality of black with the calm, loyalty, and trust of blue.
The color comes from the indigo dye that was so popular in the 17th century that British naval officers used it for uniforms. Hence its name.
Wondering what colors go with navy blue? The colors that go well with navy blue include:
Mustard yellow
Metallic gold
Bright pink
Burgundy
Cherry red
Saddle brown
Lilac
Light turquoise
Black
Crisp White
Colors That Go With Navy Blue
Here are some colors that match navy blue, including color palettes with their names and hex codes.
1. Cool Gray and Navy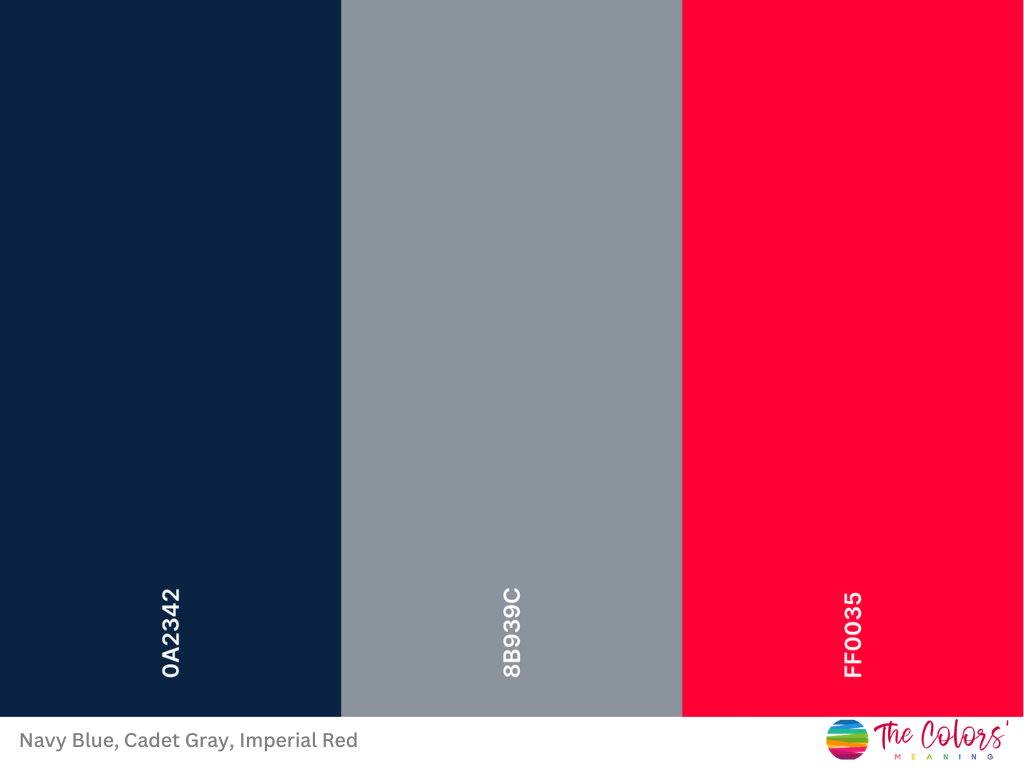 Cool gray and navy blue go great together, especially if you create a trio with bright red. It's elegant, comforting, and easy on the eyes.
This refined, vibrant combination is a favorite of many sailors and boaters in the sailing industry.
The dark navy is reminiscent of the deep sea and night sky, while cadet gray reflects the color of a cloudy sky. In addition, this vibrant adds a burst of energy.
Furthermore, the darker blues and grays resist visible staining and wear, while the bright red offers excellent visibility.
Hex colors: Navy (#0a2342ff), Cadet Gray (#8b939cff), Imperial Red (#ff0035ff)
2. Gold and Navy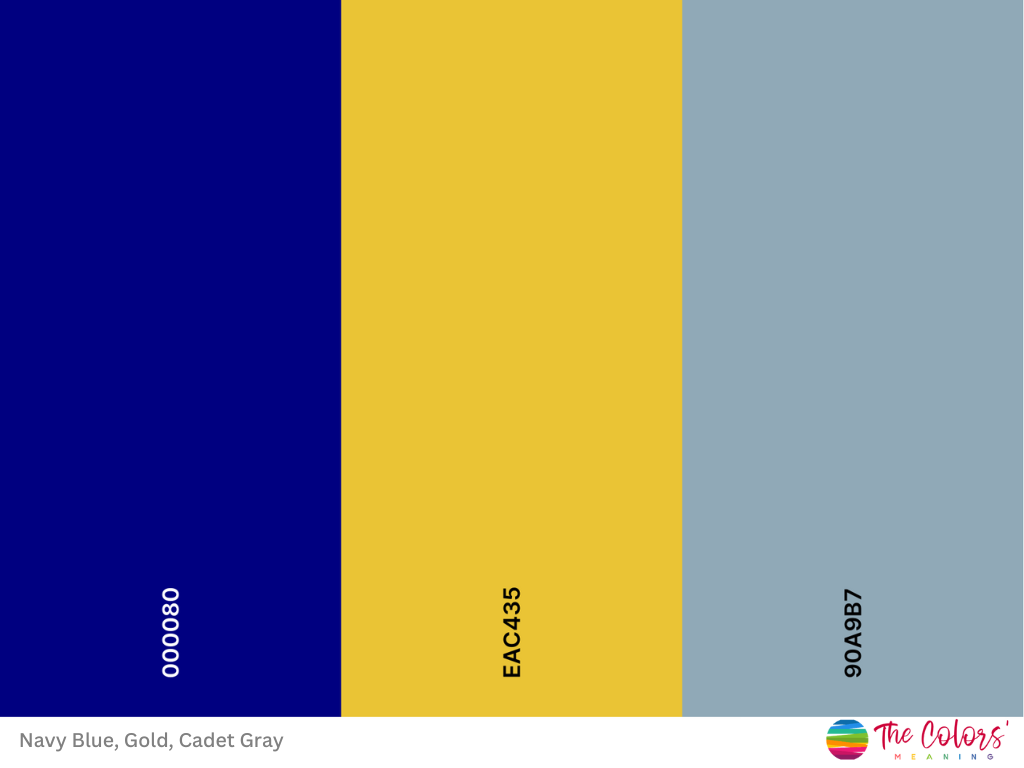 Gold is one of the prettiest colors that go with navy blue. Navy is a dark and rich color, and when paired with the prestigious gold, it creates a striking contrast. This combination conveys a sense of luxury and elegance.
Gold brightens up the dark navy, making it stand out.
Use metallic gold accents or even wood finishes in gold tones for a beautiful design. For example, a chandelier or a metal-framed mirror.
Cadet gray balances the scheme, producing a more subdued yet stylish effect.
The navy blue and cadet gray provide cool tones, while the gold adds a pop of warm, vibrant color.
Hex codes: Navy (#000080ff), Gold (#eac435ff), Cadet Gray (#90a9b7)
3. Turquoise and Navy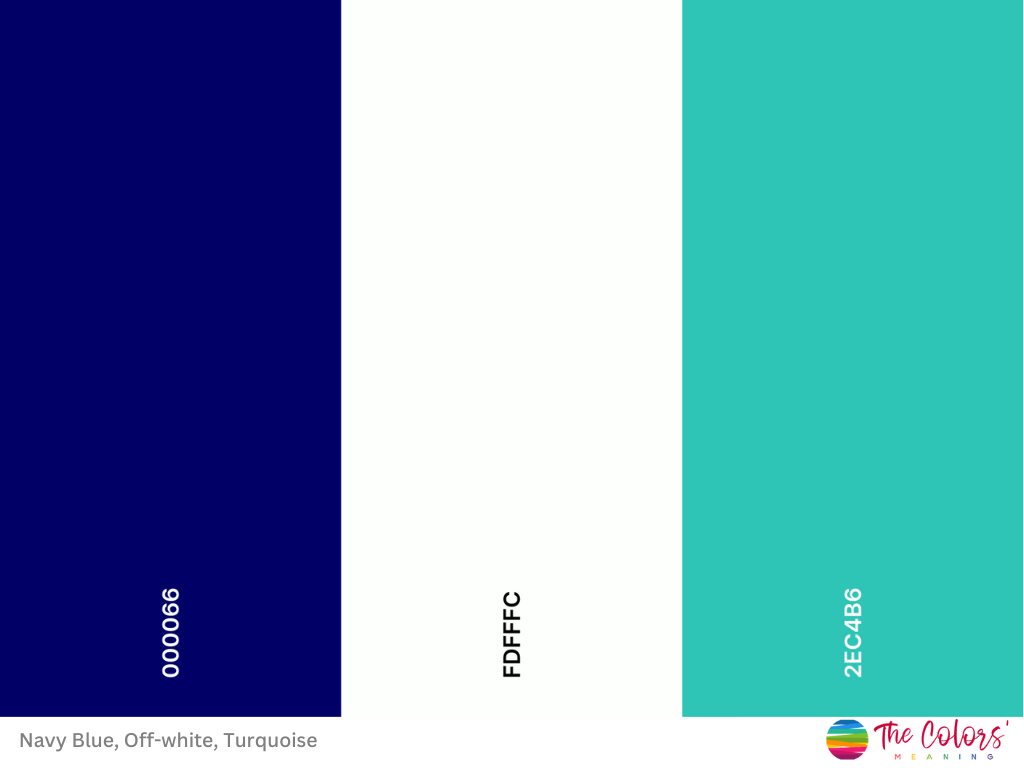 Turquoise pairs well with navy blue because they are both in the blue family. Navy is deep and calming, while turquoise adds a vibrant and refreshing touch. 
This monochromatic color combination makes any design look modern and energizing, perfect for creating a tropical yet grounded atmosphere. 
Moreover, this balanced and pleasant color palette has a tropical look due to its green tint of turquoise.
Hex codes: Navy (#000066ff), Baby Powder (#fdfffcff), Turquoise (#2ec4b6ff)
4. Bright Pink and Navy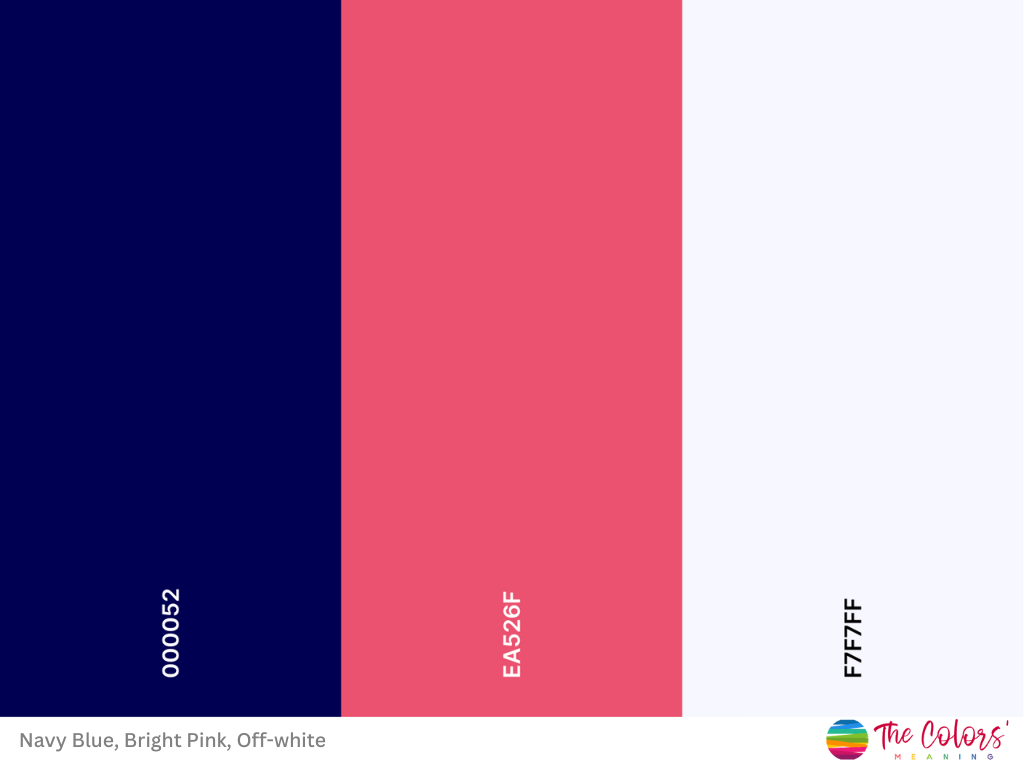 Bright pink is one of the stunning colors that go with navy blue. This bold and dynamic pairing contrasts the deep and calming navy and the energetic and vibrant shade of pink. 
Pink is the color of affection and compassion. Even though it is a childish and playful color that arouses nostalgia, it becomes mature and elegant in combination with this deep blue.
Furthermore, this combination appears lively and exciting. It's a classic pairing that manages to be both masculine and feminine at the same time.
You can use ghost white as a neutral backdrop, allowing the pink to stand out. It makes this palette timeless and sophisticated.
Hex codes: Navy Blue (#000052ff), Bright Pink (#ea526fff), Ghost White (#f7f7ffff)
5. Yellow Mustard and Navy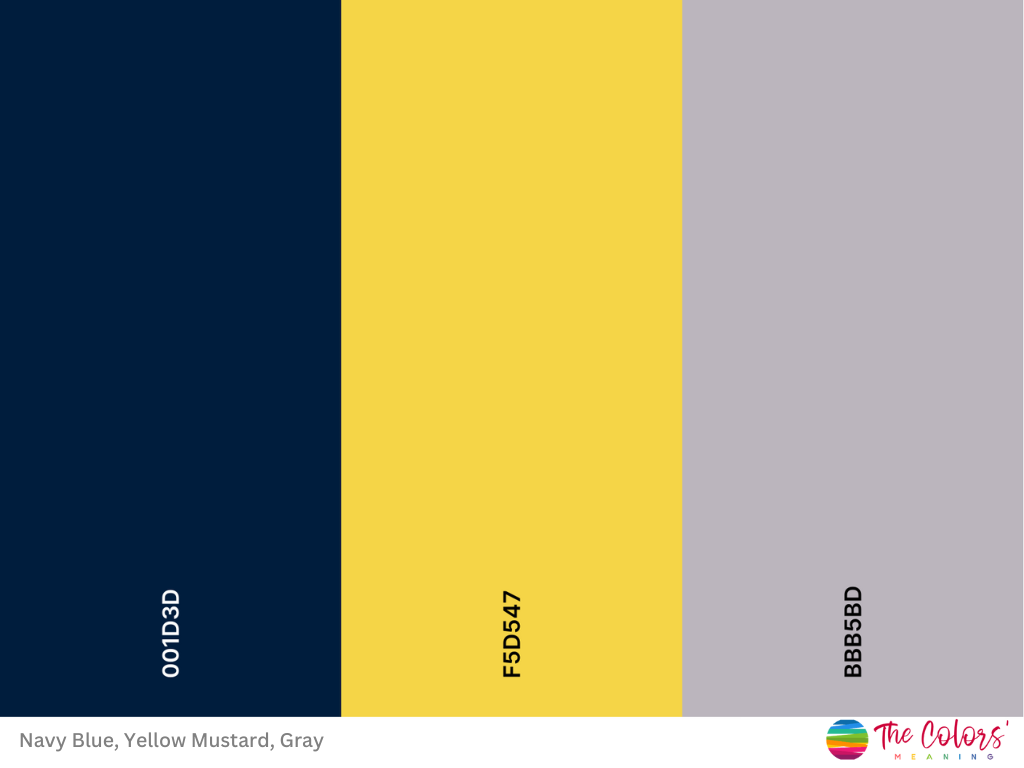 Although orange complements navy, its neighbors also go well with this lovely blue. One of them is mustard yellow.
Navy blue and mustard is a luxurious combination that works great in a living room. Mustard, as any yellow color, instills hope and warmth. Furthermore, it is uplifting and inspiring.
For example, a navy wall, a mustard armchair, and a metallic bronze coffee table bring an elegant touch to any room.
You can brighten these vibrant shades with a white wooden floor or a white carpet on a dark floor.
Another beautiful match is between yellow-orange (amber) and navy.
Hex codes: Navy (#001d3dff), Yellow Mustard (#f5d547ff), French Gray (#bbb5bdff)
6. Earthy Green and Navy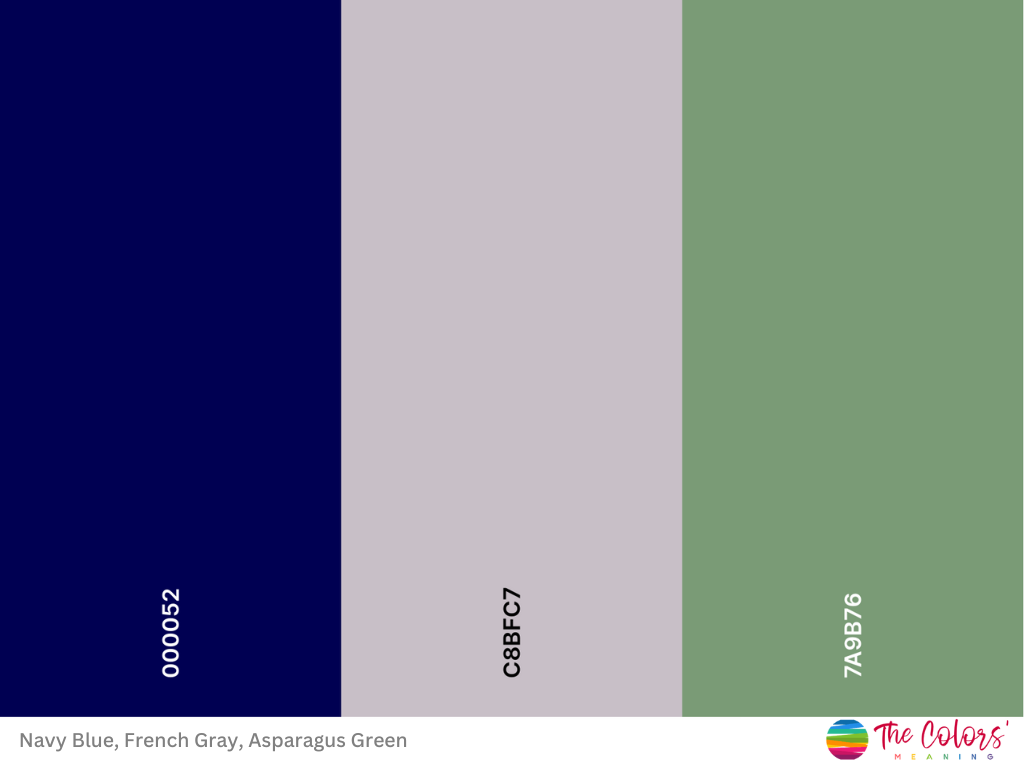 Navy blue goes well with earthy greens. They are both deep, rich colors that can create a serene and natural atmosphere. 
This combination might bring to mind a landscape at dusk, making it a great choice for creating a calm, grounded, and tranquil feel.
While the deep navy color adds depth and a grounding element, the earthy green brings a touch of nature's freshness. It's well-grounded and calm.
Hex codes: Navy (#000052ff), French Gray (#c8bfc7ff), Earthy Green (#7a9b76ff)
7. Teal and Navy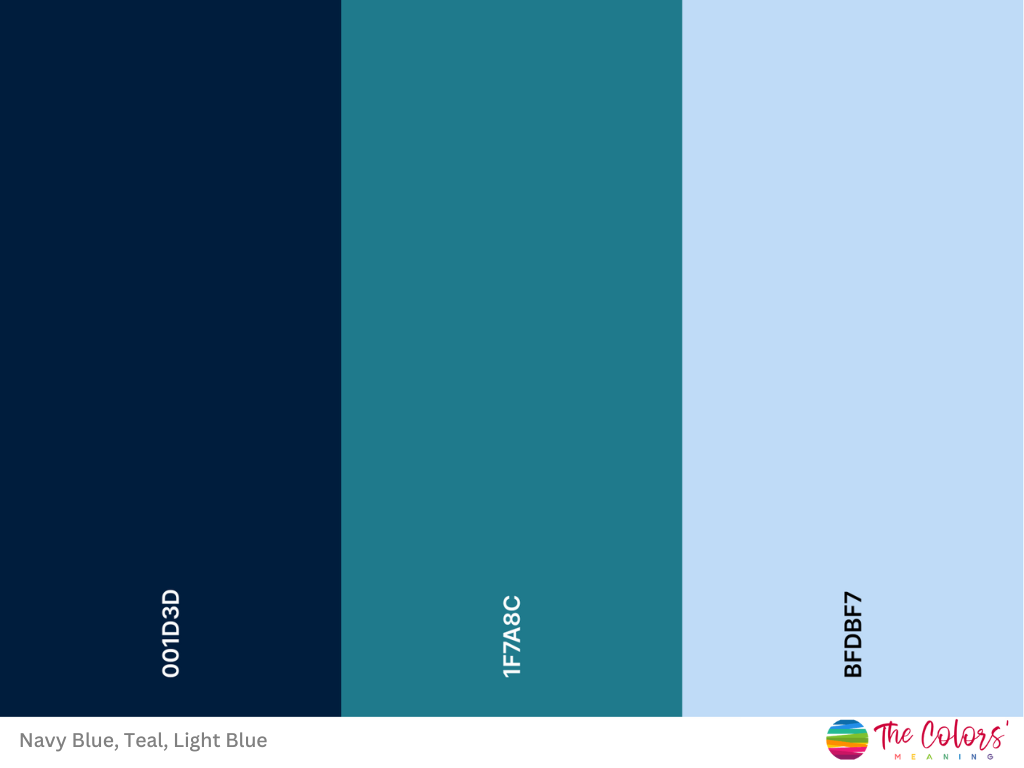 Navy blue goes well with both earthy and light greens as well as lighter blues, but it also works with blue-greens such as teal.
Teal and navy is a unique and sophisticated combination at the same time. If you love this dark blue but find it too formal for your taste, teal is a unique way to add some freshness. 
What's more, teal makes a good team with navy because it is stylish and soothing. It is said to bring clarity of thought and calm.
Hex codes: Navy (#001d3dff), Teal (#1f7a8cff), Light Blue (#bfdbf7ff)
8. Purple and Navy
Amethyst and Wisteria are two shades of purple that pair well with navy blue, creating a cozy and sophisticated atmosphere. Both bring a sumptuous touch to the formal navy. 
Amethyst sits between light violet and deep purple, while Wisteria is a pale shade of violet.
Combining navy blue with purple results in a bold and vibrant palette. 
The deep, calming tones of blue serve as an anchoring backdrop, contrasted by Amethyst's lively and creative energy. 
This palette works especially well in spaces that want to strike a balance between tranquillity and creativity. 
Consider a navy wall adorned with vibrant amethyst art or a dark blue sofa with plush amethyst throw pillows – a perfect balance of calm and energy that sparks interest.
Amethyst sits between light violet and deep purple, while Wisteria is a pale shade of violet.
Hex codes: Navy (#072853ff), Amethyst (#a663ccff), Wisteria (#b298dcff)
9. Orange and Navy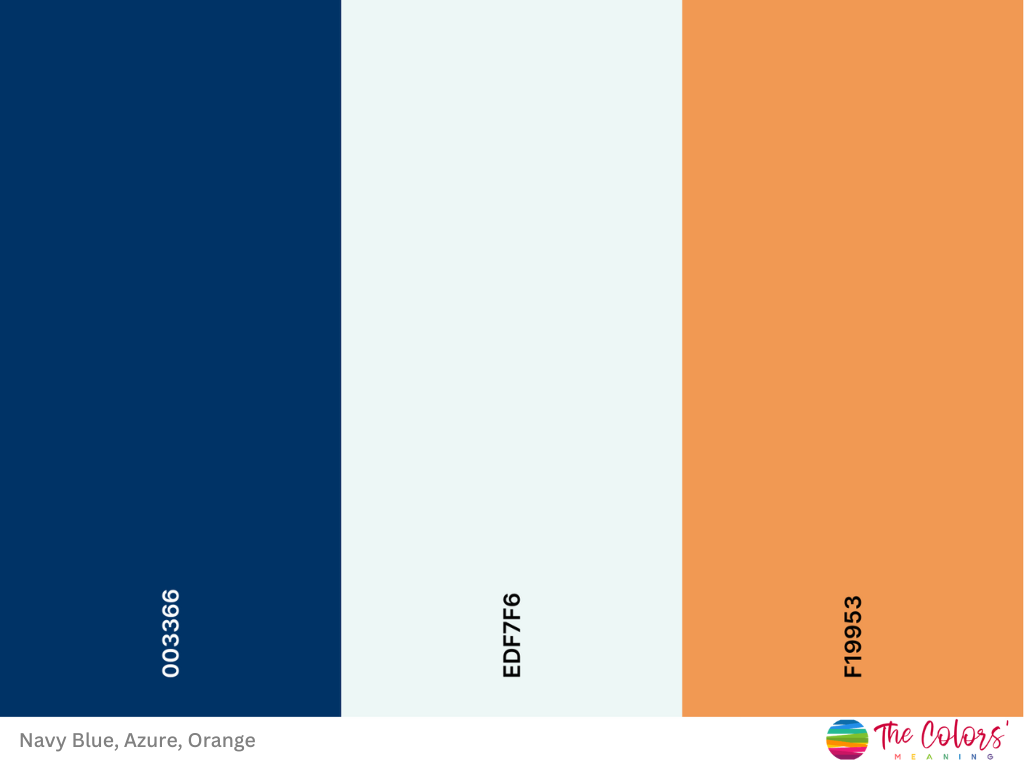 Orange is another fantastic color that goes with navy blue, especially the sandy brownish-orange hues. 
Orange goes hand in hand with navy because they are complementary colors. Medium shades of orange, like papaya or tangerine, go best with this dark blue.
This pairing is quite eye-catching, offering a warm and cool balance. It's bold and inviting!
The cool depth of navy provides a sense of calm and stability, while the sandy orange brings warmth and energy.
Hex codes: Navy (#003366ff), Azure Web (#edf7f6ff), Orange (#f19953ff)
10. White and Navy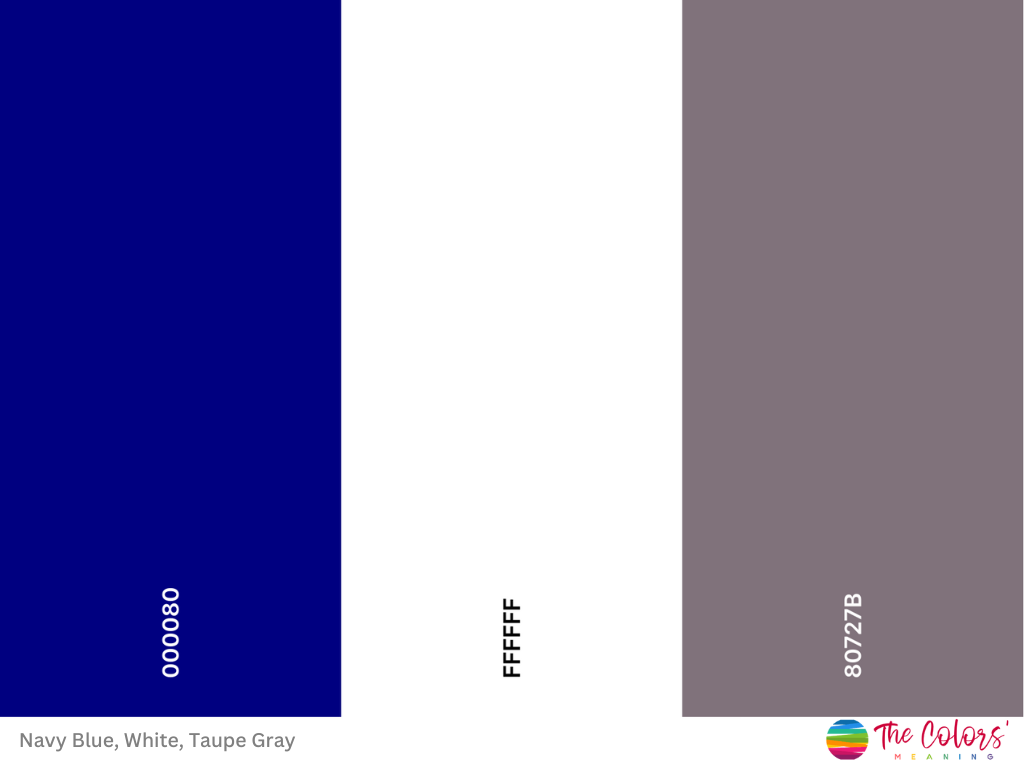 Navy blue and white is one of the traditional color combinations inspired by the British Navy since 1748. It's one of the best colors that go with navy blue.
Moreover, this blue got its name after the British Navy used this color for uniforms, contrasting naval white.
This pairing is a classic combination often associated with a nautical theme. The rich, deep blue contrasts with the crisp, clean white to create a balanced design. It's not surprising why this combo is so beautiful since the color white is associated with peace, hope, and innocence.
It is best to use cool snow-white or off-white. In interior design, you can paint a wall in navy with white furniture. Also, you can balance dark navy blue furniture with cool white walls for an energizing effect.
This combo evokes cleanliness, luxury, and sophistication.
Hex codes: Navy (#000080ff), White (#ffffffff), Taupe Gray (#80727bff)
11. Brights and Navy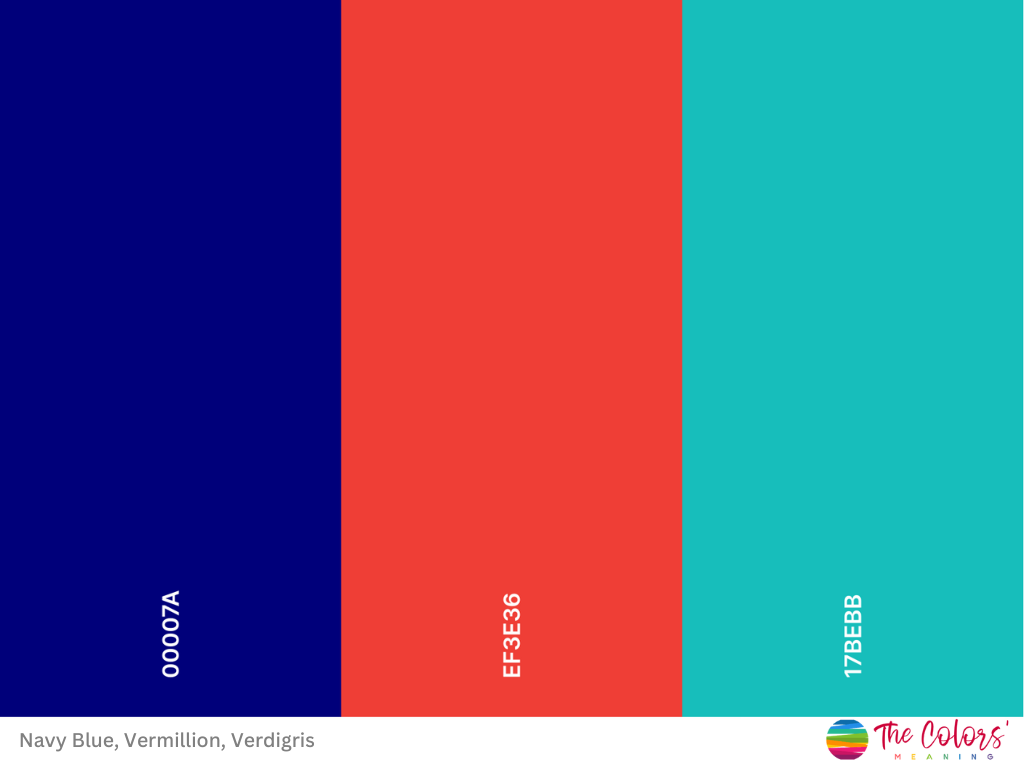 Other colors that go well with navy blue are vibrant hues like lime green, vermillion, coral, or lemon yellow. 
The rich tone of navy blue provides a grounding contrast that makes bright colors stand out even more. These not only brighten this blackish blue but also add a splash of energy.
Deep, calm navy contrasts sharply with vibrant, energetic hues like vermillion.
So you can use raspberry red, emerald green, coral, or golden yellow accents for extra freshness.
For a refreshing and energetic combination, use a bright green. If you want a lively and warm combo, pair navy blue with bright orange.
If you want a playful look, pair navy with bright pink. Or, for a sunny, vibrant combination, match navy with bright yellow.
Moreover, you can use emerald green or verdigris – another lovely blue-green.
The navy color provides stability, while the verdigris adds a refreshing touch. These colors can create a design that is balanced and refreshing.
Hex codes: Navy (#00007aff), Vermilion (#ef3e36ff), Verdigris (#17bebbff)
12. Red and Navy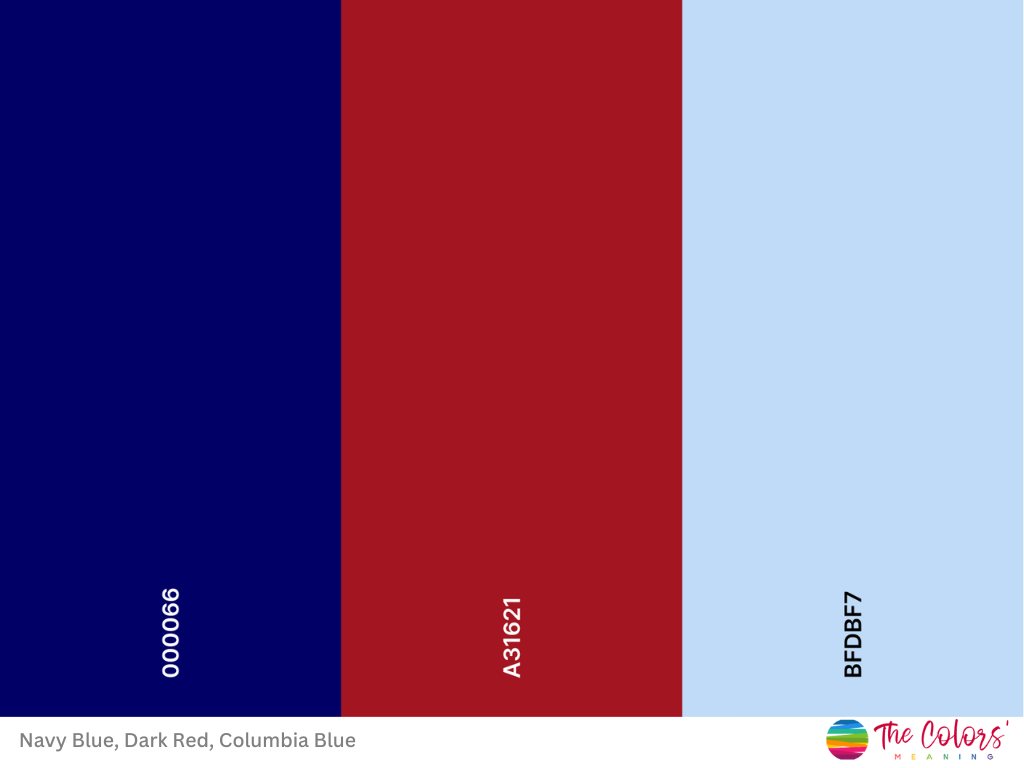 Navy blue and red is a classic color combination. These two colors are often seen in traditional, sophisticated settings because they create a rich, timeless look.
Navy, like black, is a highly versatile color that complements almost any other color. It's deep, rich, and often associated with professionalism, trust, and elegance. Dark red, on the other hand, is often associated with power, passion, and intensity.
Scarlet, burgundy, or cherry red are some red colors that match navy. This combination works perfectly in living rooms, kitchens, or even entryways, creating a dramatic and powerful atmosphere. 
The cool depth of navy contrasts with the bold and passionate dark red, creating an intense, energetic mood.
Hex codes: Navy (#000066ff), Dark Red (#a31621ff), Columbia Blue (#bfdbf7ff)
13. Coral and Navy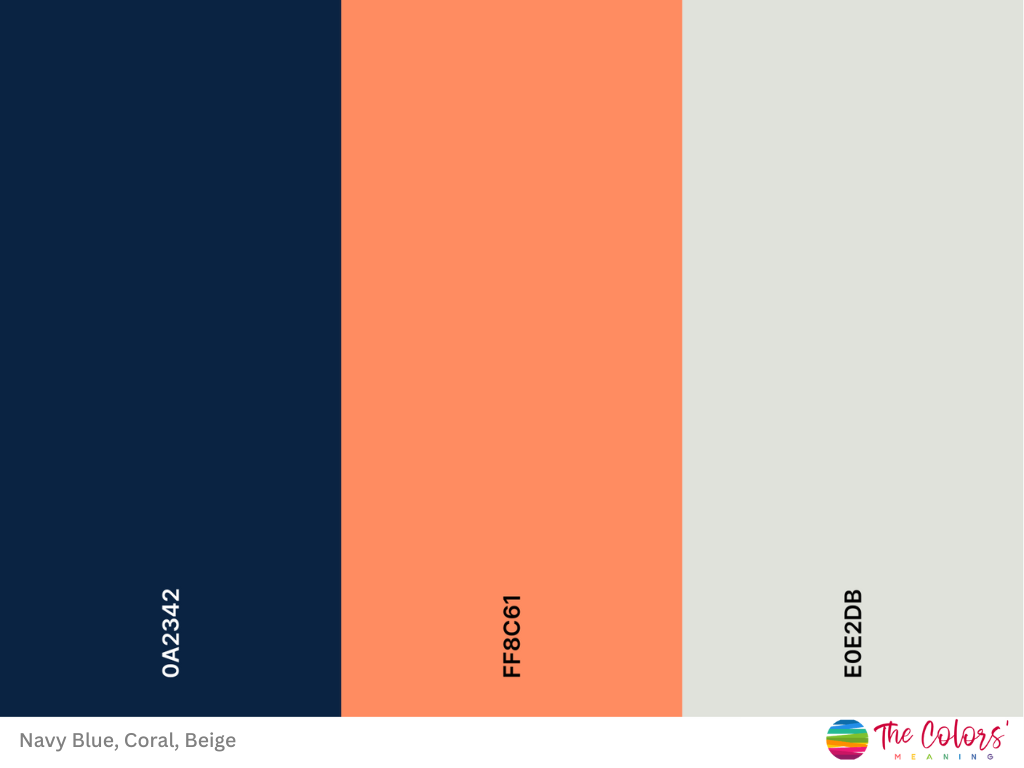 Do you want a vibrant and sophisticated color scheme? Then coral is the perfect color for matching with navy blue. This combo pops, providing a summer vibe!
The calming navy contrasts well with the energizing coral. This contrast makes each color stand out and makes the combination visually striking.
They complement each other well because they are complementary colors. Coral, in fact, is an orange with pink undertones.
Coral adds a pop of energy and warmth, and alabaster brings balance and tranquility.
This combination works well in a room with beige or off-white walls. Then you can add a navy sofa or armchair and coral curtains.
Hex codes: Navy (#0a2342ff), Coral (#ff8c61ff), Alabaster (#e0e2dbff)
14. Light Brown and Navy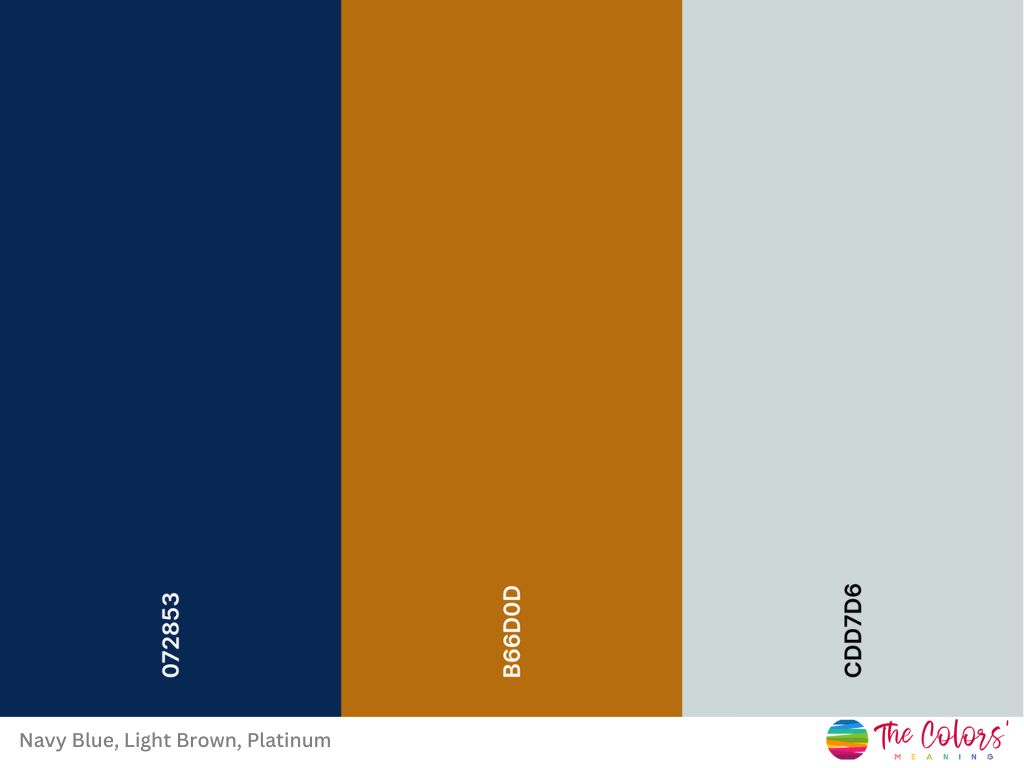 Pairing light brown with navy blue produces a comforting and balanced color scheme. 
The deep navy serves as a cool, tranquil backdrop, harmoniously contrasted by brown's cozy, earthy feel. 
It's a color duo that perfectly suits a laid-back and inviting atmosphere. Imagine a navy upholstered chair against a light brown wooden bookshelf or a cozy bedroom with navy bedding and light brown furniture. 
The result is a room with a warm and relaxed vibe, promoting a sense of ease and familiarity.
Moreover, this combo is also a fashion classic. Navy suits go great with brown shoes.
Hex codes: Navy (#072853ff), Light Brown (#b66d0dff), Platinum (#cdd7d6ff)
15. Tea Green and Navy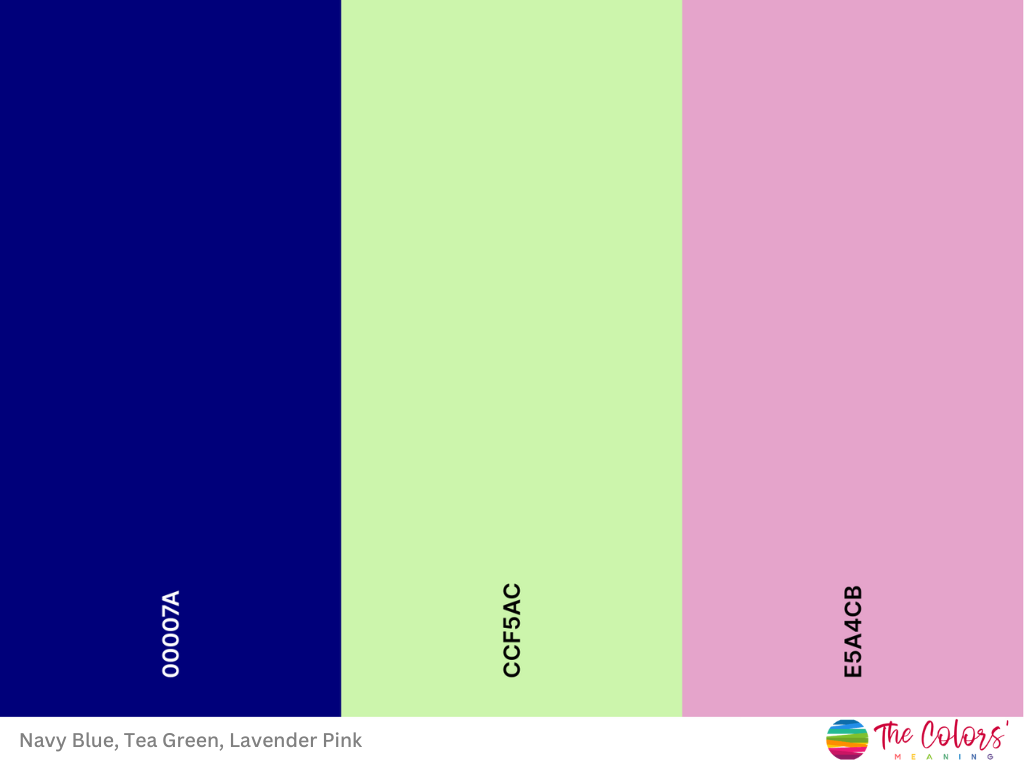 Light greens and yellow greens match perfectly with navy blue. This combination is both calming and refreshing. Tea green is one of the best examples.
This blue provides a grounding and elegant backdrop, while the light, fresh tea green adds a soothing and airy touch. This pairing can create a balanced and invigorating design that is pleasing to the eye.
When used in the right proportions, this color combination can create a harmonious color palette. This combo works well in living rooms.
For example, you could use navy as the dominant color with accents of tea green for a sophisticated, calming design, or use tea green as the dominant color with accents of navy for a light, airy, and refreshing design.
You can also bring some warmth and energy with a splash of orange or pink.
Hex codes: Navy (#00007A), Tea Green (#CCF5Ac)
16. Mauve and Navy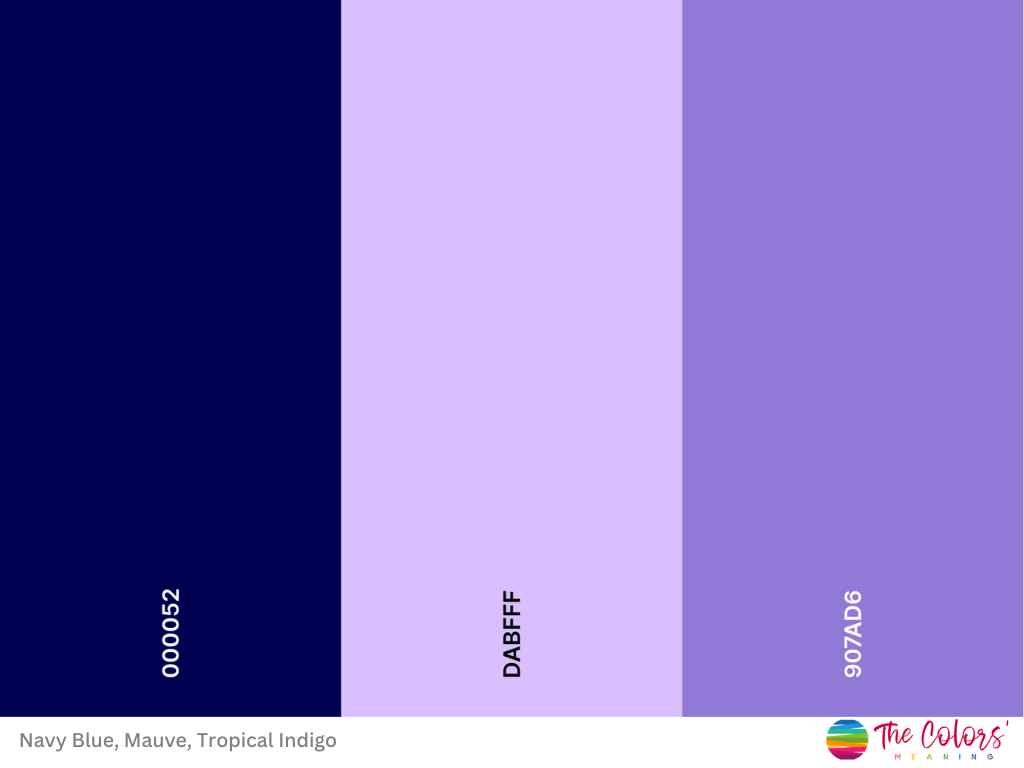 Mauve is one of the most soothing colors to go with navy blue, creating a tranquil and sophisticated feel. Moreover, mauve adds a touch of softness and elegance. 
This combination produces a balanced, soothing atmosphere with a feminine twist.
Even in color psychology, these tones provide balance. Navy is associated with wisdom, trust, and stability. In contrast, mauve – a light shade of purple between violet (a shade of purple) and pink (a tint of red) on the color wheel – is associated with femininity, romance, and gentleness.
Hex codes: Navy (#000052ff), Mauve (#dabfffff), Tropical Indigo (#907ad6ff)
17. Sage and Navy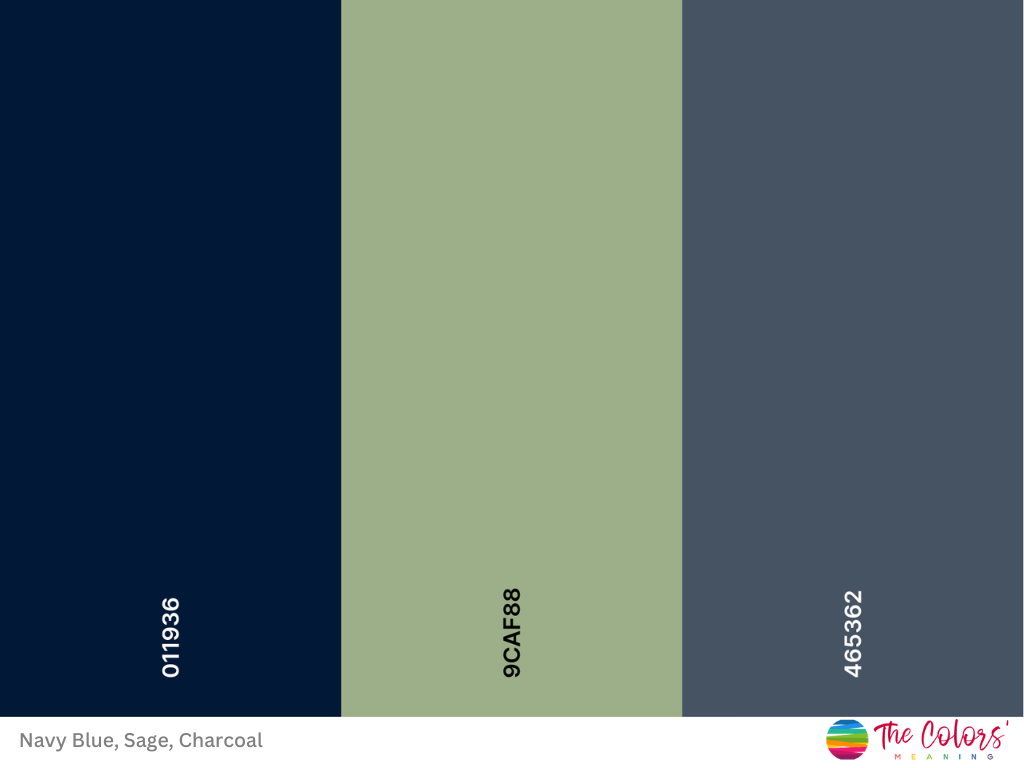 The navy blue looks stunning with earthy greens, but sage green is one of the best matches. Popular in the fashion industry, sage green is soothing and refreshing. 
Moreover, this soft and subdued grayish green evokes tranquility and relaxation to the cool navy.
Navy has always been a classic in design, and sage green has gained significant popularity in recent years, especially in interior design and fashion.
A blue navy sofa pairs beautifully with sage green walls. This way, you can achieve an earthy yet elegant interior.
Hex codes: Navy (#011936ff), Sage (#9caf88ff), Charcoal (#465362ff)
18. Emerald Green and Navy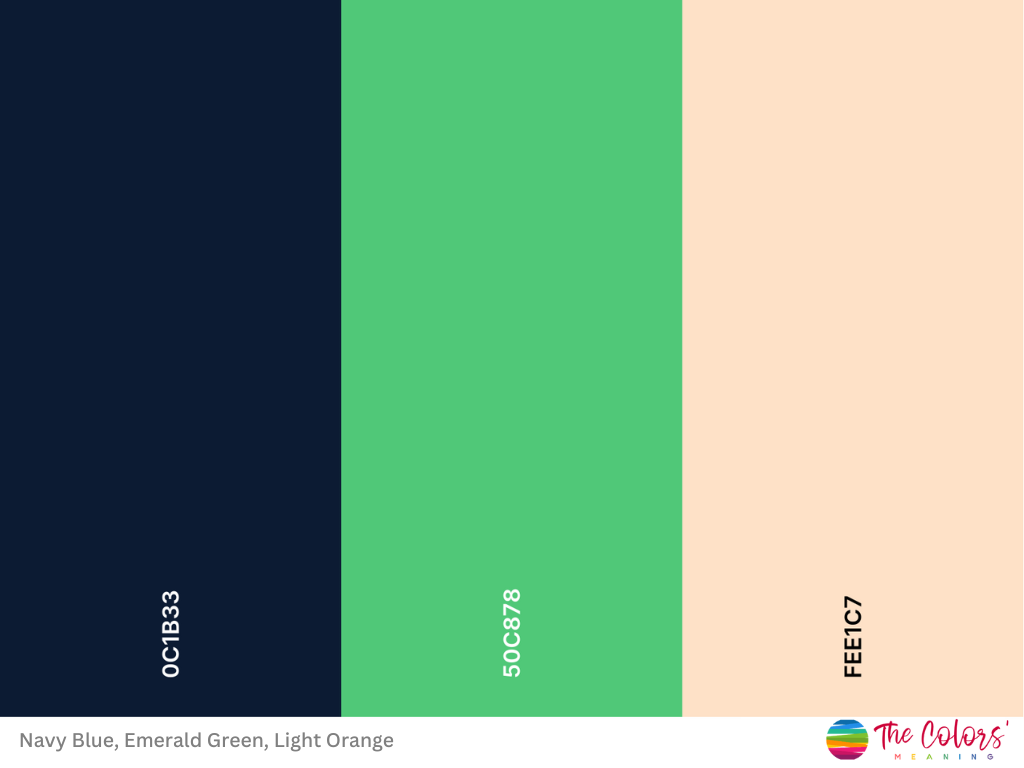 Emerald green and navy blue is a timeless and elegant color combination. These colors create a vibrant, balanced palette. Navy provides depth, while emerald green adds a splash of vivacity. 
Moreover, the deep tones of emerald green signify luxury and refinement, while the navy evokes sophistication and elegance.
This classic palette works for any style, from traditional to contemporary.
These colors can also be paired with lighter or neutral shades like light orange, beige, or gray, providing a soothing balance and highlighting the richness of navy and emerald green.
For example, this combo pairs nicely with the soft, pastel orange, creating a visually interesting yet soothing contrast. Bright and cheerful, the light orange makes this palette energetic.
If you like metallics, add some bronze accents.
Metallic accents such as bronze can add an extra touch of luxury and depth to a navy and emerald green color scheme.
Bronze is a warm metallic with a vintage feel, and it harmonizes well with both the cool depth of navy and the richness of emerald green.
If you like this combination and want to dress it up in an office outfit but don't know how, one idea would be a navy suit, emerald tie, and white shirt.
Hex codes: Navy (#0c1b33ff), Emerald (#50c878ff), Light Orange (#fee1c7ff)
19. Ochre and Navy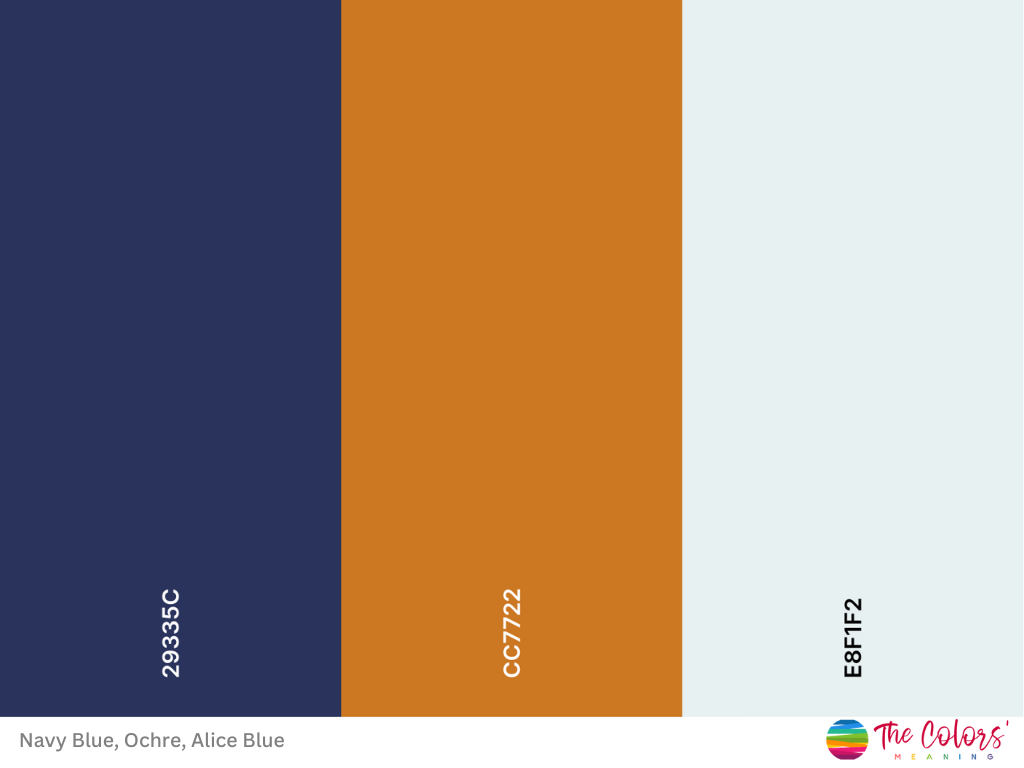 Ochre is a warm, earthy color that adds a touch of rustic charm to the cool blue.
This combination can work particularly well in interior design, where you can use navy blue for large pieces like a sofa or a wall color, with accents of ochre in accessories such as cushions, rugs, or artwork.
In fashion, a navy suit or dress can be brightened with an ochre scarf or tie.
However, keep a balance in terms of proportion. Too much navy can make a design appear dark and heavy, while too much ochre might overwhelm the design with its warmth.
Hex codes: Navy (#29335cff), Ochre (#cc7722ff), Alice Blue (#e8f1f2ff)
20. Blush Pink and Navy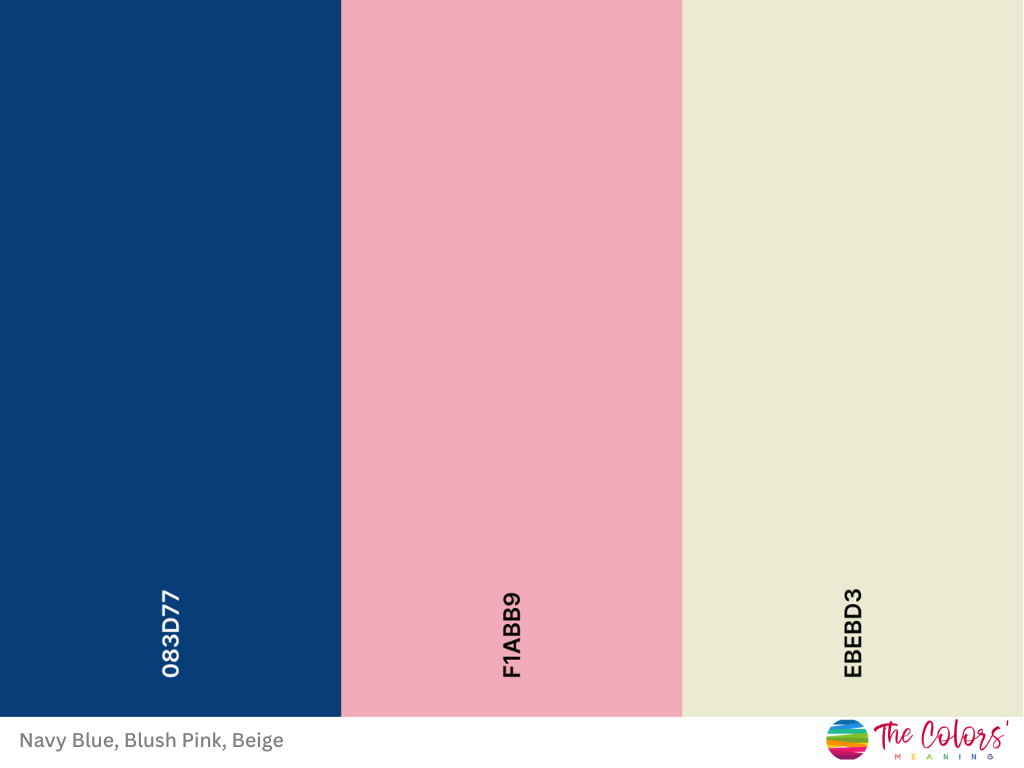 Blush pink and navy blue make a happy marriage. This combination is both sophisticated and romantic. 
The depth of navy contrasts beautifully with the light and soft blush pink, creating a visually balanced and appealing palette. 
Navy provides a sense of stability, while blush pink brings warmth and softness. This color pairing works well in a variety of contexts, including fashion, interior design, and graphic design.
Hex codes: Navy (#083d77ff), Blush Pink (#f1abb9ff), Beige (#ebebd3ff)
21. Sky Blue and Navy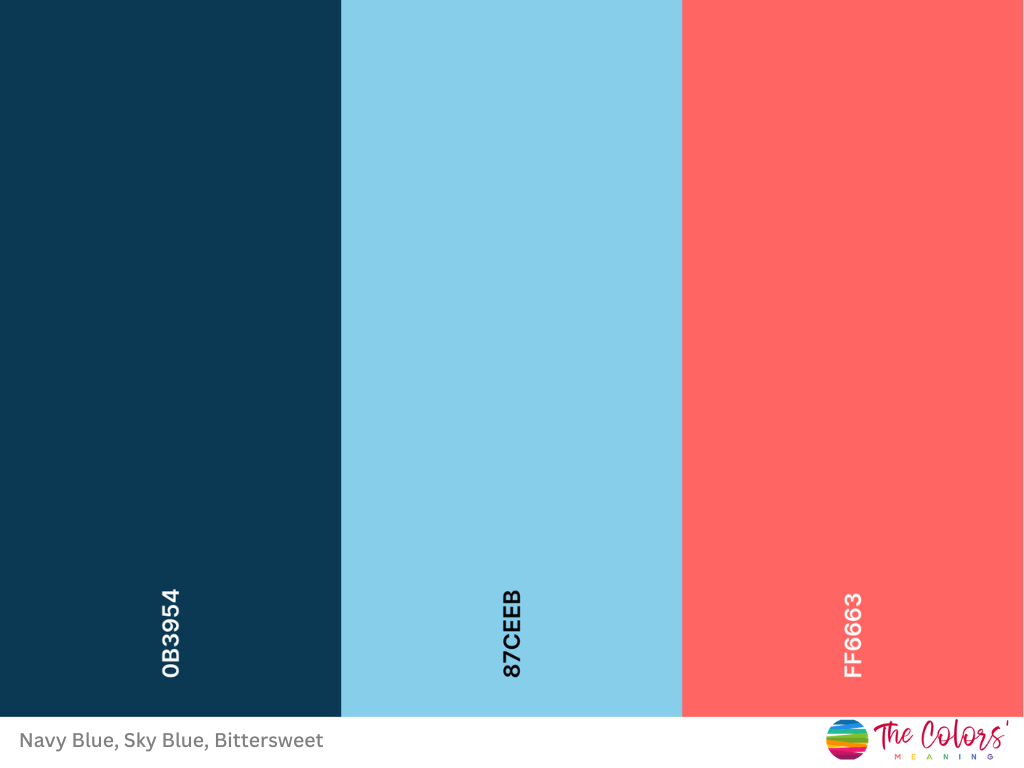 Sky blue and navy create a serene and airy color palette. As shades of the same color family, they provide a natural harmony when paired together.
This deep blue contrasts nicely with the light and uplifting sky blue, creating an effect akin to a clear sky meeting a deep ocean. Moreover, this combo creates an atmosphere of calmness and openness. 
You can paint your walls sky blue and add some navy furniture or accents. The space would be soothing and peaceful, reminiscent of a beautiful day at the beach.
Hex codes: Navy (#0b3954ff), Sky Blue (#87ceebff), Bittersweet (#ff6663ff)
Navy Blue Color Combination Ideas
Here are some lovely navy color combinations.
22. Navy + Gold + Brown
Prussian blue and navy are both shades of blue and create a cohesive and calming atmosphere.
In this color palette, white and gold add a touch of elegance and brightness to the space, while brown provides a warm and grounding element.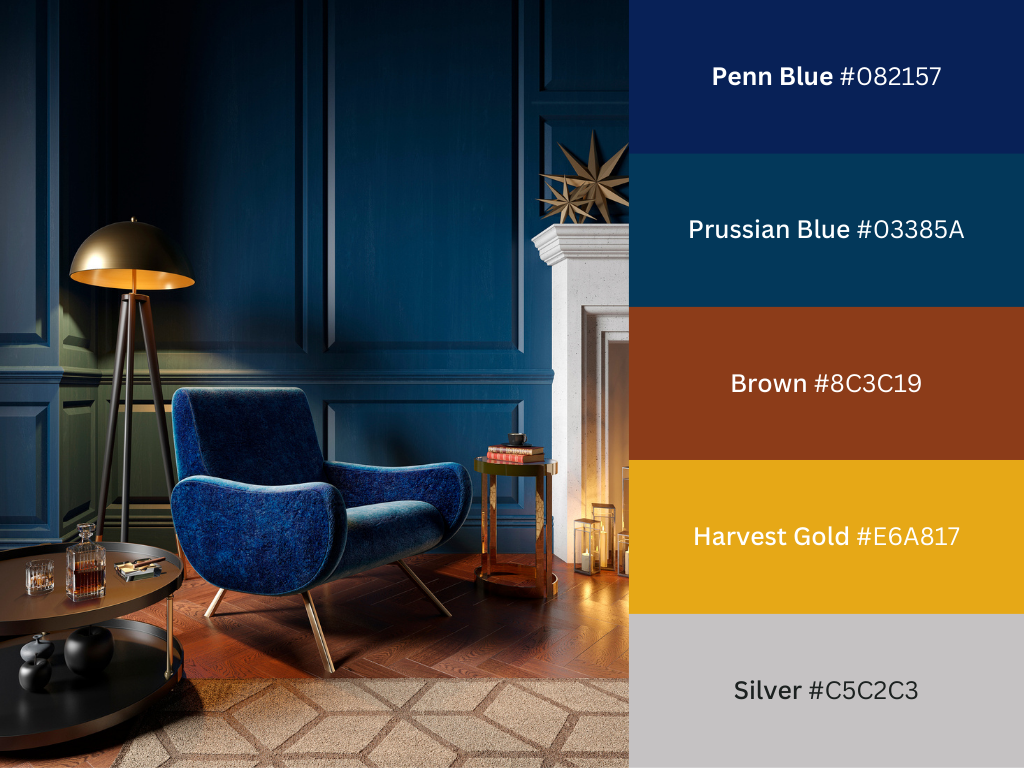 23. Navy + Metallics + White
The cool tones of Yale blue and Payne's gray can complement the warm tones of bronze, while the neutrals like ecru, white, and off-white can help tie everything together. The deep green plant can add a natural and refreshing touch to the palette.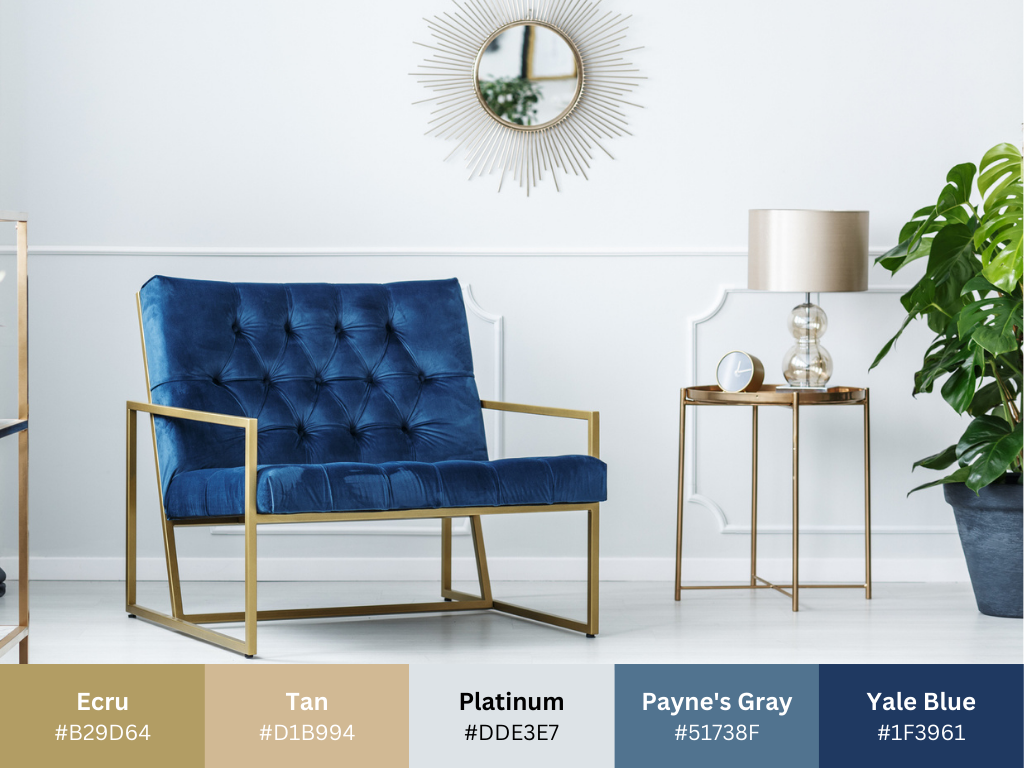 24. Navy + Charcoal + Metallic Brass
Combining Oxford blue curtains, charcoal blue sofa and wall, metallic brass lamps, and a silver gray floor can create a sophisticated and balanced look.
The different blues add depth and richness to the space, while the metallic brass lamps introduce a touch of elegance and warmth. The silver gray floor acts as a neutral base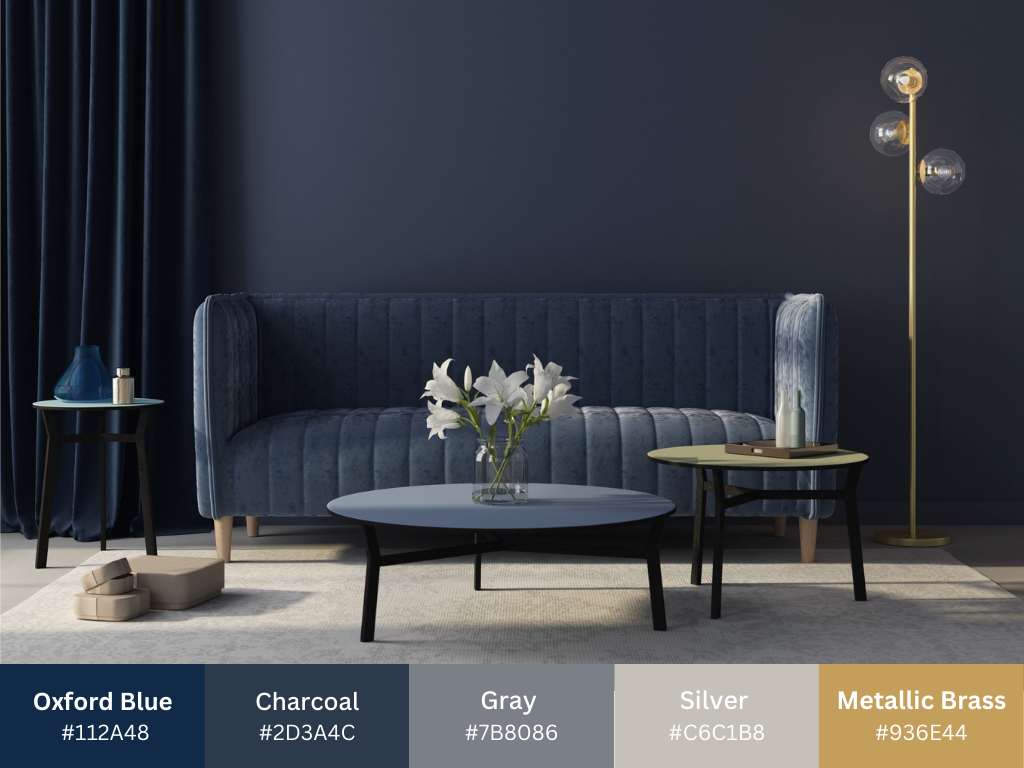 25. Navy + Ochre + Rust
Here's a harmonious and inviting color palette.
Combining navy, ochre, and rust with a Prussian blue sofa create a rich and sophisticated color palette. The light beige floor acts as a neutral base, allowing the other colors to stand out.
The ochre and rust-colored cushions can add warmth and depth to the overall design, complementing the navy and Prussian blue tones.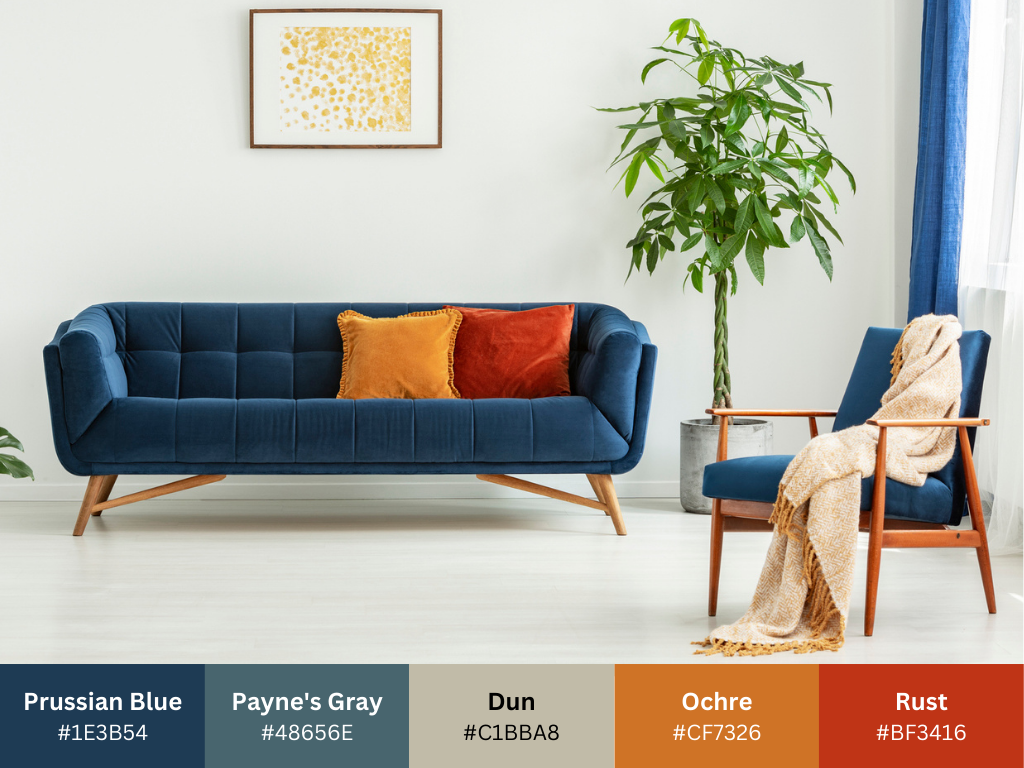 Last Words on Colors That Go With Navy Blue
Navy blue is the most pleasant neutral that is not neutral. It is a serious and formal color that evokes a lot of elegance.
Navy blue is the darkest shade of blue that goes well with many colors. Some of them include:
White + Navy: Fresh and Crisp
Yellow + Navy: Vibrant and Cheerful
Mustard + Navy: Edgy and Lively
Gold + Navy: Opulent and Refined
Red + Navy: Bold and Dramatic
Blush pink + Navy: Gentle and Sophisticated
Orange + Navy: Bright and Energetic
Coral + Navy: Warm and Inviting
Earthy Greens + Navy: Cool and Calming
Grays + Navy: Sophisticated and Modern
Light Blue + Navy: Relaxing and Harmonious
Emerald Green + Navy: Rich and Elegant
Sage + Navy: Soothing and Earthy
Mauve + Navy: Delicate and Stylish
Turquoise + Navy: Tropical and Exciting
Lilac + Navy: Dreamy and Romantic
Light Brown + Navy: Comforting and Grounded
Teal + Navy: Balanced and Serene
Purple + Navy: Creative and Luxurious
Did you enjoy this article about colors that go with navy blue? Share it with your friends who love this gorgeous color.