Are you looking for a sage green color? But what makes it so lovely? Sage green combines the harmony and freshness of green with the neutrality and balance of gray. The result is an earthy-toned green that is both relaxing and calming.
Sage green is a light, muted gray-green, reminiscent of the color of sage leaves, dried or not. This earthy color creates a calming effect wherever it is used. That's why its popularity has been growing in recent years.
As the plant comes in many varieties, the sage green color can vary from pale silvery green to shades close to olive. Moreover, thanks to its earthy tone, it can work brilliantly as a neutral in interior design. A more lively neutral.
Today's article discusses everything you need to know about the color sage green, from its meaning and shades to paint colors and color codes.
What Color is Sage Green?
Sage green is a gray-green with a slight hint of yellow. So it can be described as a silvery-green, reminiscent of sage leaf color.
However, dried sage leaves take on a yellow-brown tint, while fresh sage is more gray-green.
So sage green is an umbrella term that can be assigned to shades ranging from yellow-green to blue-green-gray. Thus, there is a plethora of sage green colors.
Sage Green Color Codes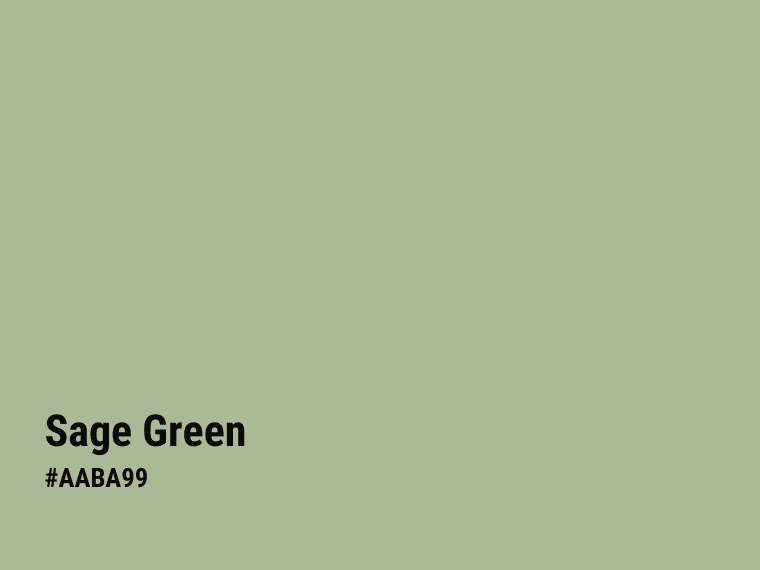 | Sage Green Color Codes | Value | HTML/CSS |
| --- | --- | --- |
| Hex Code | AABA99 | #aaba99 |
| RGB | 170, 186, 153 | rgb(170, 186, 153) |
| CMYK | 9, 0, 18, 27 | |
| HSL | 89.1°, 19.3%, 66.5% | hsl(89, 19%, 66%) |
| HSV | 89.1°, 17.7%, 72.9% | |
Sage Green Hex Codes
The sage green hex code is #AABA99 and its RGB values are 170, 186, 153. If you want to print this color, use the CMYK values of 9, 0, 18, 27.
Is Sage Green Warm or Cool?
Sage green is a grayish-green, reminiscent of dried sage leaves. So, it is green with some silver.
When it comes to the temperature of sage green, it can be both cool and warm. Warm shades of sage green have stronger yellow undertones, while cool shades have hints of gray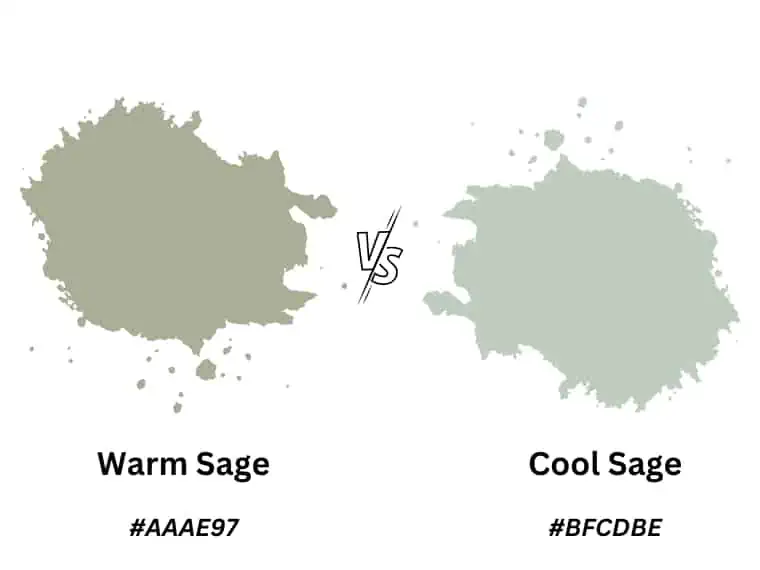 Sage Green Color Meaning
Sage green is a muted, grayish-green color, reminiscent of the culinary herb after which it is named. It's a tranquil color often associated with nature, bringing to mind images of calm forests, peaceful gardens, and quiet landscapes.
The word sage refers to a person who is revered for his/her experience and wisdom. Because it is derived from the green family, it shares similar meanings with green, such as peace, growth, nature, and new beginnings.
So what is the meaning of sage green?
Sage green is a down-to-earth color that symbolizes wisdom, freshness, peace, and harmony. 
It is both relaxing and revitalizing. Moreover, this color uplifts and inspires.
In addition, it can be perceived as a symbol of hope and balance.
Nature and Renewal
As a green hue, sage is inherently connected to nature and growth. It symbolizes renewal, vitality, and freshness, much like how plants renew every spring. It's a reminder of the resilience and persistence of life.
Tranquility and Peace
Sage green, with its muted and softer tone, promotes feelings of calm and tranquility. It's often used in settings where relaxation and rest are priorities
Wisdom and Knowledge
The color sage also holds connotations of wisdom, insight, and knowledge. 
This term has been used since the 1300s to refer to a man of profound wisdom. Furthermore, the word is derived from the context of the six wise men of Greece.
Balance and Harmony
This is a balanced green, not too bright or too dull. It can symbolize harmony, suggesting a sense of equilibrium and stability.
Well-being and Health
Given its connection with nature and tranquility, sage green is also associated with physical and emotional well-being.
The History of Sage Green
The color sage is derived from medieval Europe's aromatic plant, which is said to have stimulating properties. It is part of the mint family, originating in the Mediterranean region.
Thus, tea made from the leaves of this aromatic plant has been used for centuries as a tonic.
It was believed to strengthen memory and promote wisdom. [1]
Hence the association of color with wisdom.
Shades of Sage Green
Given that the sage plant comes in several varieties and looks different when fresh or dried, many sage colors range from pale silvery green to hues close to olive.
So, "sage green" is more of an umbrella term assigned to pale gray-green shades with yellow undertones.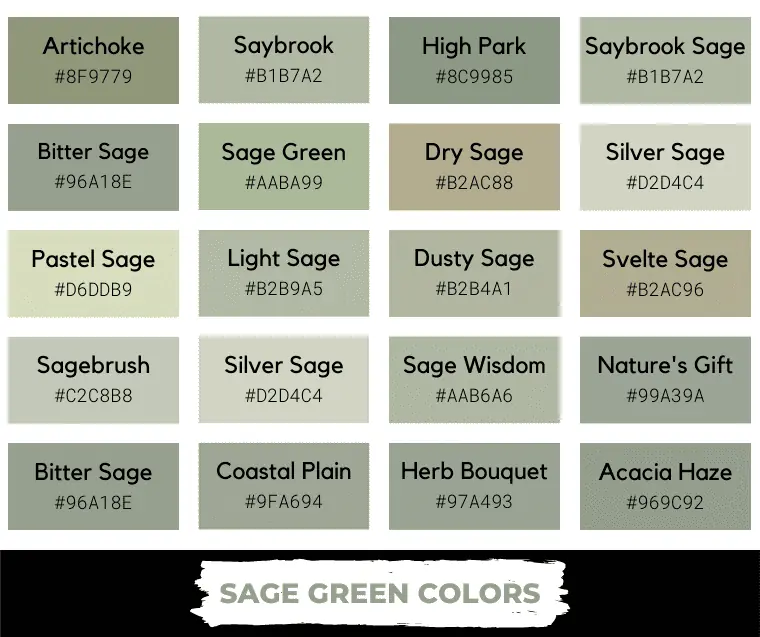 Dry Sage Green
Dry Sage Green is a pale grayish green with strong yellow undertones, resembling the dried sage leaves. Moreover, this muted, earthy-toned green is a mixture of citron and slate.
The sage hex color code is #B2AC88, while its RGB values are R: 178, G: 172, B: 136.
Dry Sage Green
Hex: #B2AC88
Light Sage Green
Light sage green is a very pale, muted shade of gray-green inspired by the plant of the same name.
Light Sage Green
Hex: #B2B9A5
Sage Green Colors
As the plant of the same name inspires this color family, its colors can range from yellow-brown shades of green – like dried sage leaves, to shades of gray-green, with lots of gray in the composition.
Sage Green
Hex: #AABA99
Bitter Sage
Hex: #96A18E
Artichoke
Hex: #8F9779
Pale Green – RAL 6021
Hex: #8A9977
Pastel Sage
Hex: #D6DDB9
Saybrook Sage
Hex: #B1B7A2
Silver Sage
Hex: #D2D4C4
Sagebrush
Hex: #C2C8B8
#B1BCA0
#A9BD93
Sage Green vs. Moss Green
Sage Green
Hex: #9CAF88
Moss Green
Hex: #8A9A5B
Sage green is a pale grayish green with a slight yellow undertone, whose color was inspired by the herb with the same name. The hex code for sage green is #B2AC88.
Moss green is a medium to dark yellowish green, first mentioned in English in 1884. The hex code for moss green is #8A9A5B.
Sage Green vs. Mint Green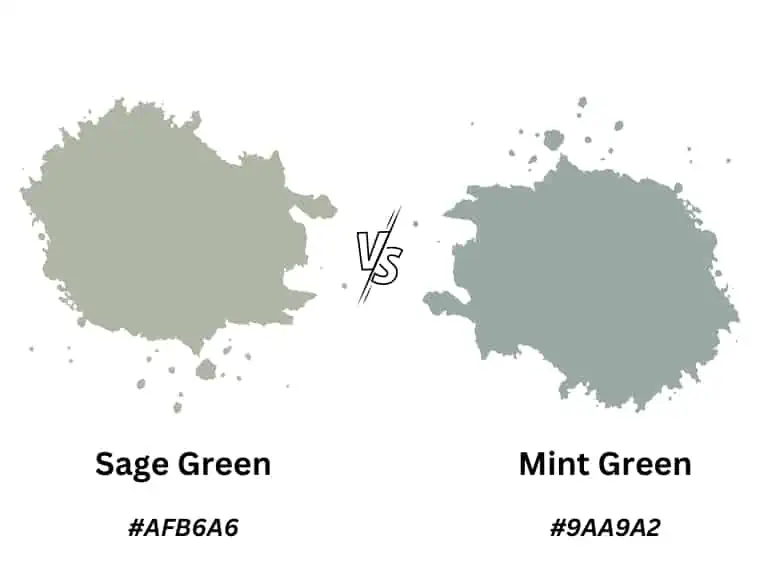 Mint green is a light, bright shade of green with a cool undertone. It's typically associated with freshness, and its vibrancy gives it an energetic feel. On the other hand, sage green is a muted, grayish-green color. It's a more subdued tone that exudes calm and tranquility.
So, if sage green is a warmer gray-green with a slight yellow undertone, mint green is a lighter green with blue and gray undertones.
Sage vs. Olive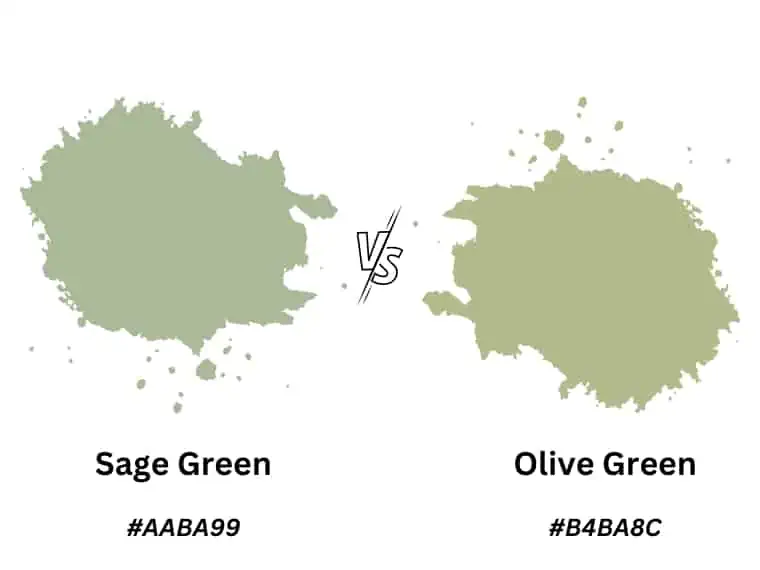 Sage green is a muted, grayish-green color with a splash of yellow, whereas olive green is a darker, yellowish-green color, similar to the color of green olives. It's a more earthy tone with a warmer undertone.
Sage Green Paint Colors
Benjamin Moore's most beautiful sage green paint colors include Dusty Sage, Sage Wisdom, Herb Bouquet, High Park, Silver Sage, Dry Sage, and Night Train.
The prettiest sage green paint colors by Sherwin Williams include Svelte Sage, Retreat, Coastal Plain, and Acacia Haze.
If you're looking for sage green paint colors by Behr, the prettiest options include Nature's Gift, Sage, In the Moment, and Laurel Tree.
Dusty Sage
Dusty Sage, as defined by Benjamin Moore, is a muted and subtle shade of green, leaning more towards gray. This sage color with the hex code #B2B4A1 is dusty and slightly earthy green, reminiscent of weathered sage leaves.
Dusty Sage – Benjamin Moore
Hex: #B2B4A1
Behr Nature's Gift
Behr Nature's Gift is a cool green with strong gray undertones. In addition, its undertones make this color muted and not overly bright. Its hex code is #99A39A. 
It looks like a bright olive green with warm undertones of yellow and tan. Thus, this is probably one of the best sage green colors.
Behr Nature's Gift (N410-4)
Hex: #99A39A
Sage Wisdom
Are you looking for a brighter sage green? If green is too bold and gray too dull, then sage wisdom is the color you must choose.
Sage Wisdom by Benjamin Moore is a muted green with slightly gray undertones. So, sage wisdom, with its hex code #AAB6A6, leans towards the green spectrum while incorporating hints of gray. 
Moreover, it evokes a sense of calmness and wisdom.
Sage Wisdom is probably one of the best sage green paints.
Benjamin Moore Sage Wisdom
Hex: #AAB6A6
High Park
This muted, earthy sage green brings a touch of nature's elegance and a feeling of balance.
High Park by Benjamin Moore is a medium-dark sage green shade that has recently become trendy. This muted green tone with subtle undertones of gray exudes a sense of tranquility and natural beauty.
Benjamin Moore High Park
Hex: #8C9985
Behr in the Moment
Behr's In the Moment, with its hex code of #859895, is a sage green color with strong blue undertones. Furthermore, the precise mix of blue and green results in a pleasant and peaceful tone.
The blue undertone lends a sense of peace and is reminiscent of clear skies or calm waters.
Behr In the Moment
Hex: #859895
Dry Sage
Dry Sage is a muted shade of sage green with yellow undertones, reminiscent of the dried sage leaves. Thus, it looks like a neutral green that evokes a feeling of ease.
Benjamin Moore Dry Sage
Hex: #A39F84
Silver Sage
Silver Sage is a subtle transition between green and gray, resulting in a pale sage shade that exudes tranquility and balance. Its silver undertones add sophistication, while the gentle green hues evoke a connection to nature. 
Thus, with its hex code of #D2D4C4, Benjamin Moore's Silver Sage is a shade of sage green that emanates an air of elegance and tranquility.
Benjamin Moore Silver Sage
Hex: #D2D4C4
Coastal Plain
If you're looking for a lighter variation of Benjamin Moore's High Park, then Coastal Plain by Sherwin Williams is the perfect option.
Coastal Plain is like a breath of fresh sea air—a light, bright, warm shade of sage green that's perfect for those dreamy coastal areas.
Sherwin Williams Coastal Plain
Hex: 9FA694
Night Train
Night Train is a cool, dark shade of gray with blue-green undertones. This mix of gray and green evokes sophistication, balance, and harmony. In combination with metallics, it looks fantastic.
Benjamin Moore Night Train
Hex: #7B837E
Svelte Sage
Svelte Sage is a warm, earthy sage green that looks gorgeous when paired with creamy off-whites.
Although it looks almost khaki next to the other cool sage shades, it's a muted green with lots of yellow and brown.
Sherwin Williams Svelte Sage
Hex: #B2AC96
Behr Bitter Sage
Behr Bitter Sage is a muted, warm shade of sage green with a slight yellow undertone, illustrating the color of sage leaves in the garden.
Moreover, Bitter Sage is one of the most appreciated sage paint colors for its calm and earthy tone.
Behr Bitter Sage
Hex: #96A18E
Herb Bouquet
Although it looks somewhat similar to Behr Bitter Sage, Herb Bouquet leans towards the cool side of the spectrum. 
Herb Bouquet is a moody sage with some gray undertones. 
This mixture of muted green and gray tones provides sophistication, freshness, and calmness.
Use Morning Sky Blue (#8DA399) if you want a slightly bluer shade.
Benjamin Moore Herb Bouquet
Hex: #97A493
Saybrook Sage
This is another pale green that evokes the softness and sophistication of sage green. 
Although many sage colors contain more gray, Saybrook Sage has more green.
Saybrook Sage is a pale green with a slight silver-gray undertone, which makes it a cool sage.
Benjamin Moore Saybrook Sage
Hex: #B1B7A2
Money Moves
Money Moves is a shade of sage green that exudes energy and liveliness. Moreover, this sage is similar to the crisp dollar bill color.
It looks like an intermediate shade between Saybrook Sage and Herb Bouquet.
Clare Paint Money Moves
Hex: #A8B299
Acacia Haze
Acacia haze is a cool, medium green with slate blue undertones. This muted green-gray color exudes a sense of calm and sophistication reminiscent of a misty forest landscape.
Sherwin Williams Acacia Haze
Hex: #969C92
Retreat
Retreat by Sherwin Williams is a dusted olive green with strong blue-gray undertones.
Along with Night Train, Acacia Haze, and Behr's Nature's Gift, Retreat is one of the sage green shades with more gray than green.
Sherwin Williams Retreat
Hex: #7A8076
Behr Laurel Tree
Behr Laurel Tree is another lovely sage green, reminiscent of the lushness of laurel leaves, while the gra
y in its composition adds depth and a touch of serenity.
To enhance its organic feel, you can pair it with natural materials like wood, rattan, or linen.
Behr Laurel Tree (S390-5)
Hex: #87977A
Sage Green PMS
Here's the Sage Green we use in this article. It is part of the PMS color system, with color code 7494C.
Sage Green 7494C (PMS)
Hex: #9CAF88
The next four sage green shades are actually very dark olive greens, with a lot of yellow and brown in their composition.
Olyimpic Dark Sage Green C67-5
Hex: #6D7056
Pantone Capulet Olive
Hex: #6D7057
Sherwin-Williams Oakmoss 6180
Hex: #65684C
Mountain Moss 2142-30 – Benjamin Moore
Hex: #757055
Colors that go with Sage Green
Colors that go with sage green include: 
Neutrals: Neutral shades like white, gray, beige, and greige create a soft and harmonious backdrop for sage green. 
Earth Tones: Earthy colors like warm browns, sandy beiges, and natural wood tones complement sage green wonderfully. They evoke a connection to nature and enhance the organic charm of sage green.
Soft Pastels: Blush pink, light lavender, and pale yellow, create a delicate and dreamy palette when paired with sage green. 
Browns: Brown shades without much red in the composition pairs well with any sage color.
Deep Greens: This monochromatic combination adheres to color harmony, combining different tones of green. Moreover, deep green, with its darker and more intense hue, complements the muted and softer tones of sage green.
Metallics: Brushed gold, copper, or silver, add a touch of glamour and sophistication to sage green.
Cool Blues: Light aqua or powder blue can create a refreshing and serene combination when paired with sage green.
Sage Green Color Palette
This sage green color palette features different shades of sage ranging from the silvery-green of fresh sage leaves to the yellow-brown undertones of dried leaves.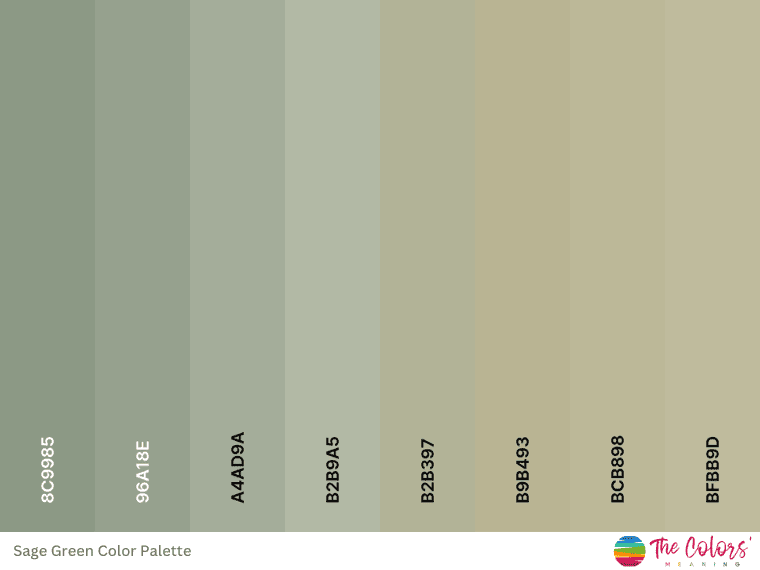 But if you like fresher shades of sage green, here's a lovely sage color palette that can help you with your next project.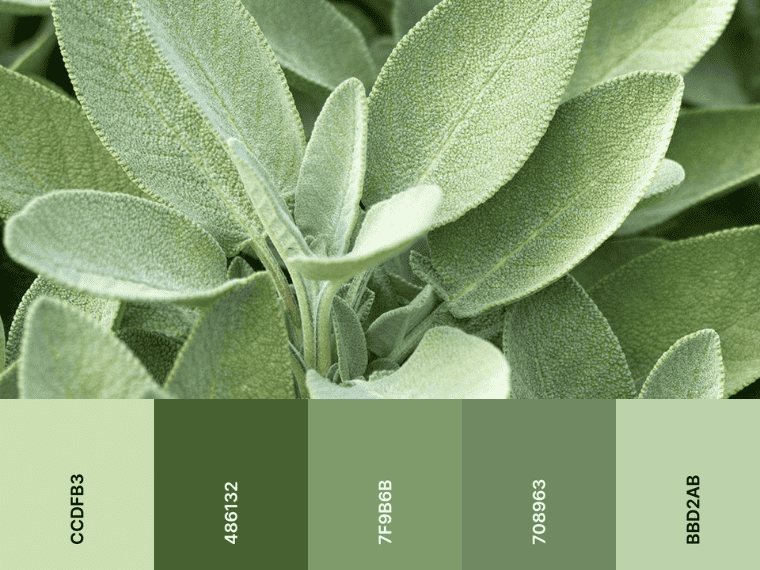 Did you like this article about the color sage green? Share it with your friends who might be interested.