Looking for shades of teal? Teal is a mixture of green and blue, so there are many teal colors to take inspiration from. Today you will learn the most popular teal shades, the meaning of the color teal, its symbolism, as well as the colors that go with teal.
The richness of this color and the beauty it exudes make teal one of the trending colors in interior design or web design. Teal is a luxurious and sophisticated color with a calming and revitalizing effect. Moreover, it has the most beautiful qualities of blue and green.
This article will discuss everything about teal colors, from meanings and symbolism to shades and colors that go with teal.
What is the Color Teal?
Teal is a blue-green color, named after the Eurasian teal duck, whose area around the eye is teal colored.
Teal is associated with stability, harmony, clarity of thought, and open communication. Moreover, it combines the freshness of green with the calming qualities of blue.
Its hex code is #008080.
Teal is located on the color wheel between blue and green, which means it can be created by combining blue and green in a 1:1 ratio.
The complementary color of teal is maroon, with the hex code #800000.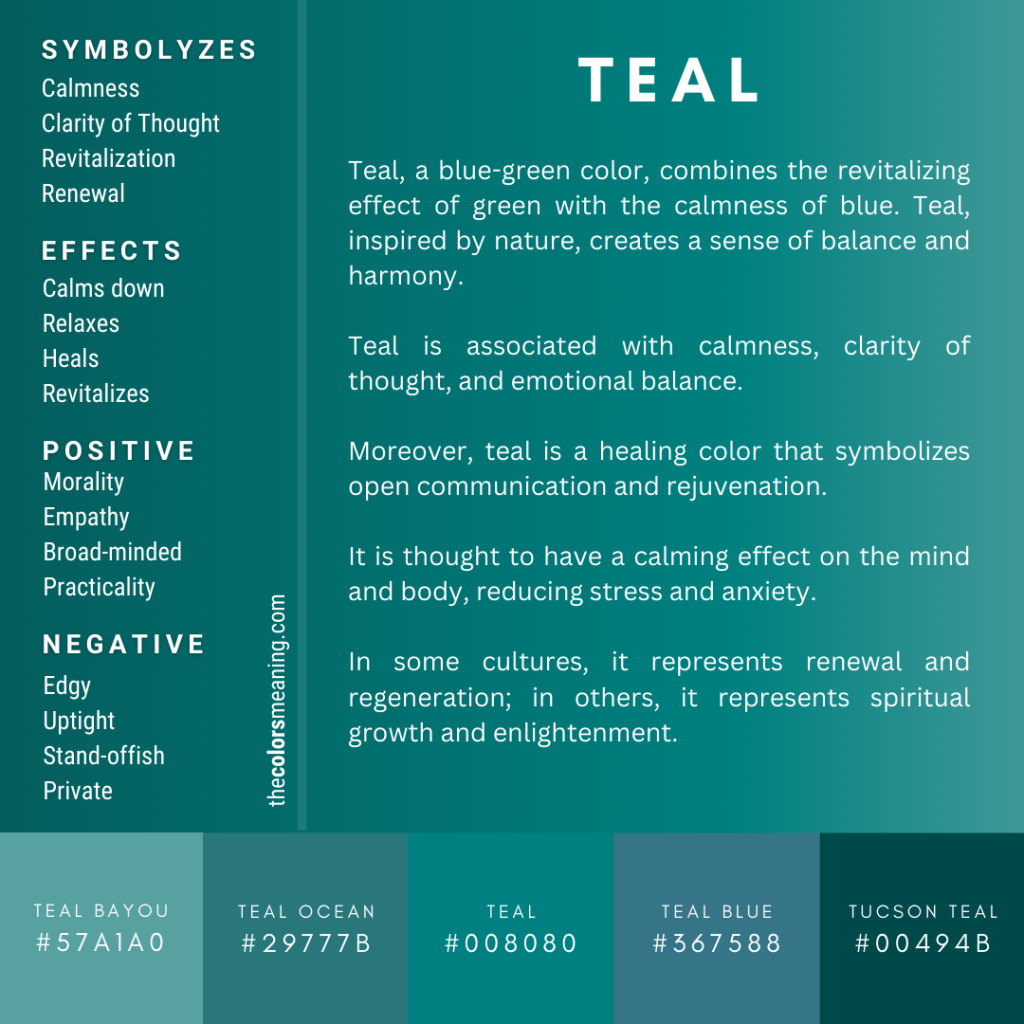 Teal versus Turquoise
Both teal and turquoise are mixtures of blue and green. However, while teal is a darker and less saturated blue-green, turquoise is brighter with a slight touch of yellow.
The History of Color Teal
The color teal derived from the markings around the eye of the Eurasian Teal duck and was first mentioned in 1917. Thus, the name of this color comes from the freshwater duck known as the common or Eurasian Teal. Teal blue later became the foundation of the Plochere color system and was widely used in the 1950s by interior designers.
The Plochere color system was created in 1948 and included 1456 colors. The colors are organized similarly to the traditional color wheel and are based on 26 colors from which the other colors are produced. This mixture is also called a systematic pigment mixture.
Teal colors have become popular in web design since 1987. Three years later, the Crayola company created a Teal blue pencil- a bluer teal shade.
Teal colors also represent many football teams, such as the Philadelphia Eagles and Jacksonville Jaguars. Even the Charlotte Hornets basketball team wears teal.
Psychological Meaning of Teal
Teal is a calming and soothing color, promoting balance and harmony. As a blue-green color, teal symbolizes renewal, enlightenment, practicality, and morality. It is also associated with creativity and self-expression, making it a popular color for artists and writers. 
In addition, teal is believed to positively affect mental and emotional health, promoting relaxation and reducing stress.
But this is more than just a simple color.
Teal Color Meaning
Teal is a mixture of the freshness of green and the soothing qualities of blue. Moreover, teal relaxes, calms down, and brings clarity of thought. In addition, the color teal is associated with morality, uniqueness, and open communication.
Clarity of Thought
Teal is associated with wisdom and morality and brings clarity of thought. Furthermore, this color can help heal you emotionally as it has healing and enlightening effects.
Tranquility
The color teal promotes relaxation because it is associated with lagoons and tropical waters, making you think of vacation. Here the influence of blue is felt, with its calming and relaxing effects, and in combination with green, it brings more benefits to combat everyday stress.
Uniqueness
Teal admires uniqueness and individuality because it understands that the world is not homogeneous. So this color is non-conventional.
Rejuvenating
Teal has a rejuvenating effect and evokes a sense of vitality and freshness. Teal is also a color of prosperity that offers insights designed to lift you up when you feel weak.
Elegance
Teal is the color of elegance inspired by nature that captures attention without much effort. What's more, it evokes slightly feminine energy and gentleness.
Shades of Teal
Teal
Hex #008080
RGB 0, 128, 128
CMYK 100, 0, 0, 50
Dark Teal
Dark teal is a sophisticated blue-green color associated with wisdom, seriousness, and safety. 
In the CMYK color space, dark teal uses more black in its composition than any other teal shade.
Dark Teal
Hex #045D5D
RGB 4, 93, 93
CMYK 96, 0, 0, 64
Bright Teal
Bright teal is a highly saturated blue-green, vibrantly similar to turquoise. Moreover, bright teal is associated with creativity. Bright teal is complimented by reddish-orange. Its hex code is #F90134.
Bright Teal
Hex #00B5B8
RGB 0, 181, 184
CMYK 100, 2, 0, 28
Marine Teal
Marine teal has slightly more blue in its RGB composition. This vibrant blue-green color reminds us of shallow waters, evoking feelings of calm and relaxation.
Marine Teal
Hex #008384
RGB 0, 131, 132
CMYK 100, 1, 0, 48
Robin Egg Blue
Robin egg blue, also known as eggshell blue, is a bluish-green color inspired by the eggs of American Robins. Moreover, the color that lies between cyan and teal was first mentioned in English in 1873.
This egg's color is caused by biliverdin, a bile pigment.
Robing Egg Blue
Hex #00CCCC
RGB 0, 204, 204
CMYK 100, 0, 0, 20
Deep Teal
Despite the name, this shade of teal is less intense than the original version. This can also be seen in the RGB composition.
Deep Teal
Hex #005F5F
RGB 0, 95, 95
CMYK 100, 0, 0, 63
Teal Blue
Teal blue is a blue-green color with more blue in its composition than teal and was very popular in the 1950s. Teal blue is not the same as teal. As its name suggests, teal blue leans toward blue.
Teal Blue
Hex #367588
RGB 54, 117, 136
CMYK 60, 14, 0, 47
Teal Green
Teal green is a calming teal color that leans more toward green than blue. Teal green is associated with tranquility, freshness, clarity of thought, communication, and nature. The complementary color of teal green is blood red, a dark red shade with the hex code #6D0012.
Even if it looks like a shade of green, this is actually a teal green.
Teal Green
Hex #006D5B
RGB 0, 109, 91
CMYK 100, 0, 17, 57
Tropical Teal
Tropical teal is a rich and luxurious shade of blue with green undertones or a blue-green leaning toward blue. The greater blue in its RGB composition contributes to the tranquility of this hue of teal.
Tropical Teal
Hex #008794
RGB 0, 135, 148
CMYK 100, 9, 0, 42
Aegean Teal
Aegean teal is a blue-green color with gray undertones. The warmth of gray and the coolness of blue combine to create this Benjamin Moore color.
Aegean Teal
Hex #6F898B
RGB 111, 137, 139
CMYK 20, 1, 0, 45
Tucson Teal
Tucson teal is a deep shade of blue-green that depicts the night sky over the deserts. In addition, this teal shade is darker than dark teal.
Tucson Teal
Hex #00494B
RGB 0, 73, 75
CMYK 86, 10, 0, 69
Egyptian Teal
Egyptian teal is a rich shade of teal named after ancient Egyptian artifacts where the bodies were painted in this color. Egyptian teal has slightly more blue in its composition. This color was inspired by Egyptian turquoise, a blue-green copper-aluminum mineral. Furthermore, Egyptians called this variety of turquoise "mefkat," which means "delight" and "joy."
Egyptian Teal
Hex #008C8D
RGB 0, 140, 141
CMYK 100, 1, 0, 45
Steel Teal
Steel teal is a dusty teal with gray undertones. However, it has a calming effect and evokes more of the neutrality and balance of gray.
Steel Teal
Hex #5F8A8B
RGB 95, 138, 139
CMYK 32, 1, 0, 45
Common Teal
The name of this shade reveals everything about it. Although it is reminiscent of the bird that inspired the original teal color (the common teal), this is a lighter variation. In addition, common teal is similar to Egyptian teal. 
Common Teal
Hex #009193
RGB 0, 145, 147
CMYK 100, 1, 0, 42
Crystal Teal
Crystal teal is a bluish version of teal inspired by teal agate crystals. This crystal is thought to have healing properties and can help people overcome negativity and inner rage. Moreover, crystal teal is a color available on the Pantone palette.
Crystal Teal
Hex #00637C
RGB 0, 99, 124
CMYK 100, 20, 0, 51
Largo Teal
Largo teal is a deep teal inspired by the Florida Keys' marine environment. This unique shade from Benjamin Moore revitalizes, uplifts, and adds a pleasant ambiance to any space.
Largo Teal
Hex #23777B
RGB 35, 115, 123
CMYK 71, 3, 0, 51
Dull Teal
Dull teal is a shade of teal that looks like dusty green. It evokes the energy of green. 
Dull Teal
Hex #4A7777
RGB 74, 119, 119
CMYK 38, 0, 0, 53
Teal Bayou
Teal Bayou is a muted turquoise with aquamarine undertones. Moreover, teal bayou is a mid-toned and delicate shade of blue-green that looks stunning in a dining room when combined with off-white painted trim.
Teal Bayou
Hex #57A1A0
RGB 87, 161, 160
CMYK 46, 0, 1, 37
Teal Ocean
Teal ocean is a bold blue-green that conjures up the image of deep ocean waters. This shade of teal looks very similar to largo teal and marine teal. Tibetan monks regard this variation of teal as a representation of the eternal nature of the sea and sky.
Teal Ocean
Hex #29777B
RGB 41, 119, 123
CMYK 66.67, 3.25, 0, 51.76
Dusty Teal
Dusty teal will be right up your alley if you enjoy dusty grays with blue undertones. Dusty teal is similar to the steel teal and Aegean teal shades.
Dusty Teal
Hex #769393
RGB 118, 147, 147
CMYK 20, 0, 0, 42
Caribbean Blue
Caribbean blue is a blue-green color that has more blue in its composition. It is relaxing as it takes us back to the color of the deep waters of the Caribbean Sea. Even though it appears slightly bluish compared to pure teal, it is actually a teal shade.
Caribbean Blue
Hex #007B8E
RGB 0, 123, 142
CMYK 100, 13.38, 0, 44.31
Montego Bay
Montego Bay is a shade between teal and turquoise that resembles the sea color on Jamaica's north coast, where the town of the same name is located. This city is known for its beautiful beaches and crystal clear waters.
Montego Bay
Hex #3FBABD
RGB 63, 186, 189
CMYK 66.67, 1.59, 0, 25.88
Empress Teal
Do you want to create a striking dining room? Then try painting it in empress teal.
Empress teal is a rich, subdued blue-green that looks stunning when combined with dark-toned woods.
Empress Teal
Hex #10605A
RGB 16, 96, 90
CMYK 83, 0, 6, 62
Navy teal
Navy teal is the darkest blue-green, associated with intelligence, authority, power, and seriousness.
Navy Teal
Hex #20576E
RGB 32,87,110
CMYK 71, 21, 0, 57
Pale Teal
As its name suggests, pale teal is a soft shade of blue-green. It has a refreshing effect and is associated with freshness and nature.
Pale Teal
Hex #82CBB2
RGB 130, 203, 178
CMYK 36, 0, 12, 20
Teal in Color Theory
Teal falls on the color wheel between blue and green, a mixture of relatively equal ratios of these colors. To make the color teal, you should first achieve the desired green as a base. To get the perfect green, mix blue paint with a little yellow. Once you have this green, add some blue until you get the desired shade of teal.
Add a little white if you want to brighten the teal shade you've achieved. Alternatively, to darken it, add a little black or dark blue.
The complementary color of teal is coral. Furthermore, shades of orange, dark red, browns, and neutrals go well with teal.
| Color Format | Value |
| --- | --- |
| HEX | #008080 |
| RGB DECIMAL | 0, 128, 128 |
| RGB PERCENTAGE | 0, 50.2, 50.2 |
| CMYK | 100, 0, 0, 50 |
| HSL | 180°, 100, 25.1 |
| HSV (OR HSB) | 180°, 100, 50.2 |
| WEB SAFE | 009999 |
| CIE-LAB | 48.254, -28.846, -8.477 |
| XYZ | 11.614, 16.995, 23.086 |
Teal Color Combinations
Here are some gorgeous examples inspired by nature and their hex codes. If these aren't enough, check out our list of colors that go with teal.
Zinnia Flowers
The zinnia flower inspired this teal color palette, which includes light tropical teal, charcoal, light saffron, sandy brown, and burnt sienna. These colors complement each other well and create a balanced and harmonious color scheme.
Moreover, teal and charcoal are both cool colors, while light saffron, sandy brown, and burnt sienna are warm colors. Teal and charcoal provide a calming base, while the warm tones add energy and warmth to the palette.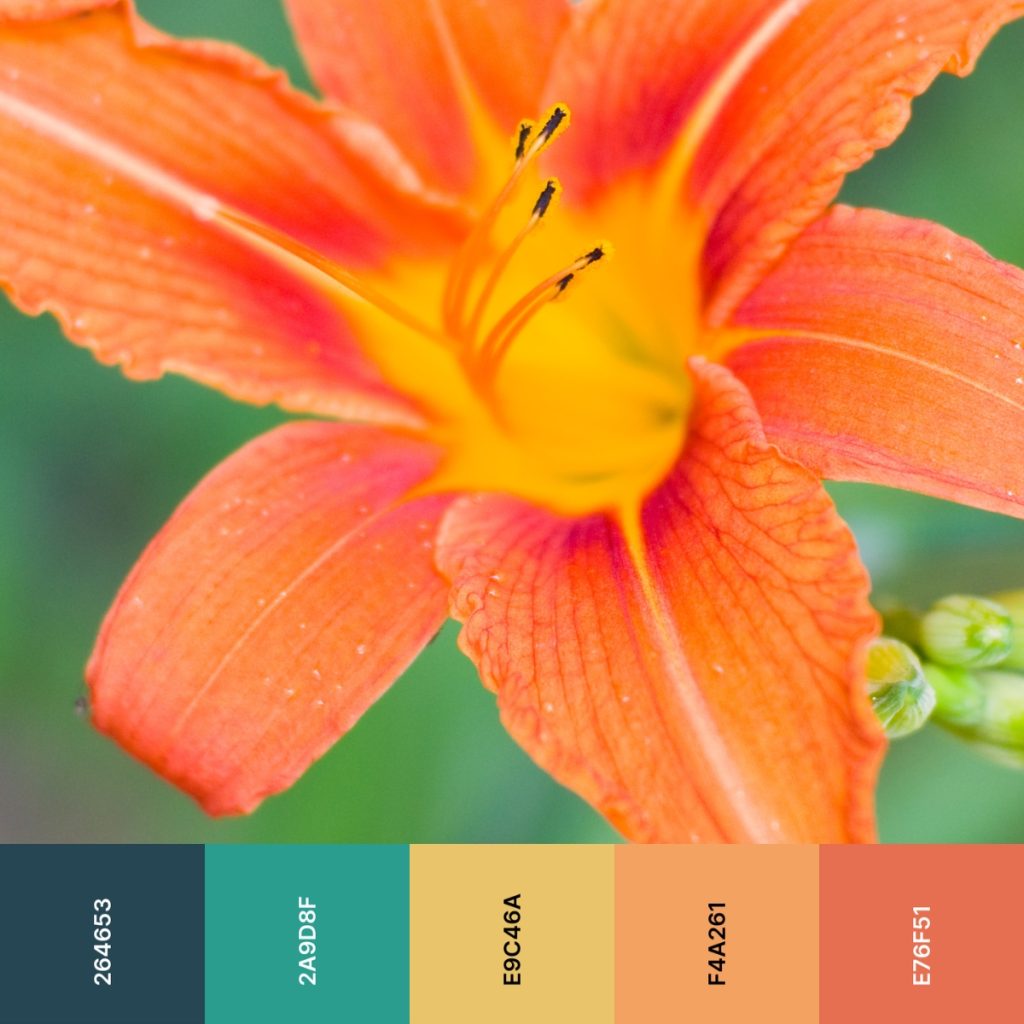 The Beaches of Punta Cana
An amazing teal color palette is inspired by nature, particularly the beautiful beaches of Punta Cana (Dominican Republic). This color scheme combines Caribbean current, Tiffany blue, Alice blue, pale dogwood, and atomic tangerine.
These colors have a harmonious blend of warm and cool tones, creating a visually pleasing color scheme. Caribbean current, Tiffany blue, and Alice blue, provide a soothing and calming effect, while pale dogwood adds a touch of warmth to the palette. Moreover, atomic tangerine is a bold and energetic color that adds a pop of vibrancy to the mix.
Thus, this teal color palette has a modern and fresh feel to it, making it a great choice for those looking for a stylish and contemporary look.
This teal color palette looks great whether used in branding, website design, or interior design.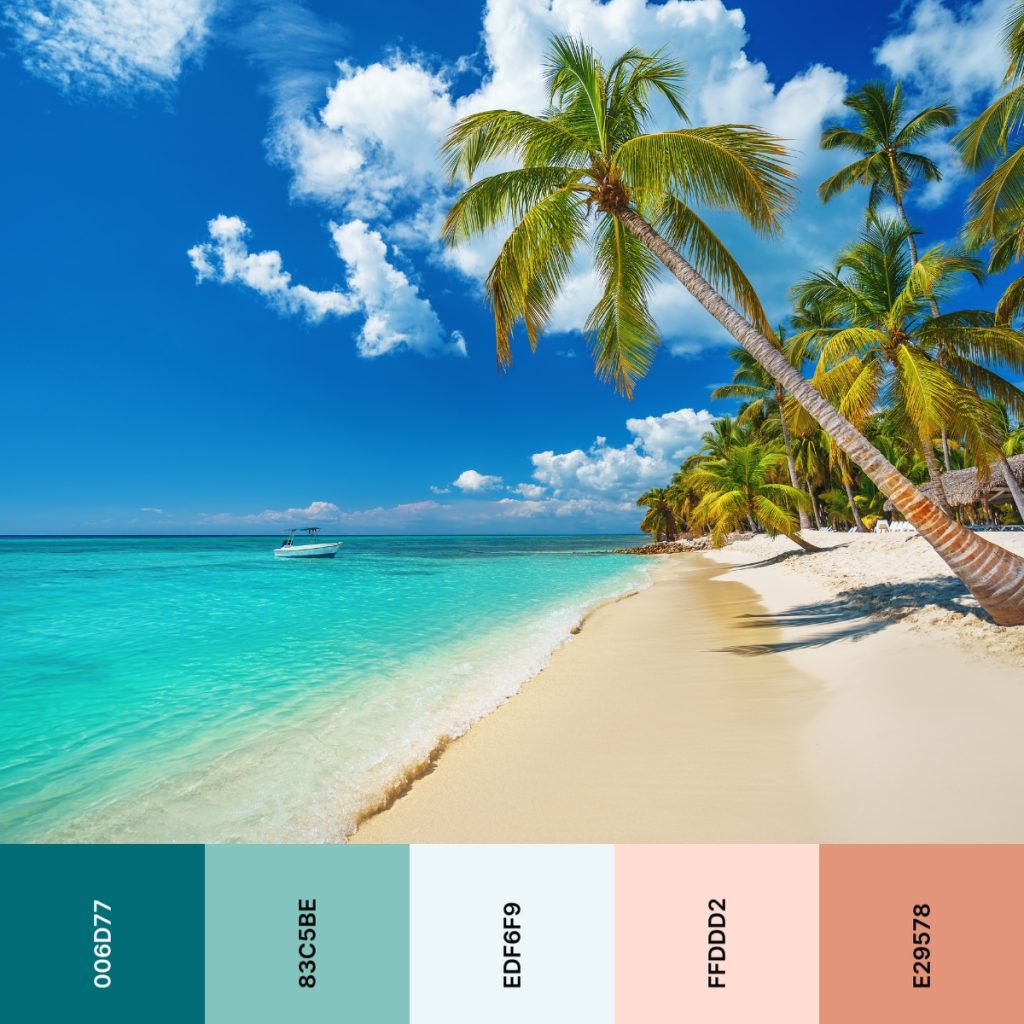 Flowers in bloom
This color scheme combines orange peel, Hunyadi yellow, white, mint green, and light sea green – a light teal. These colors create a refreshing and cheerful vibe. White acts as a neutral base and helps to balance out this scheme.
Orange peel and Hunyadi yellow are vibrant colors that add warmth to this palette, whereas mint green and light sea green are calming and soothing.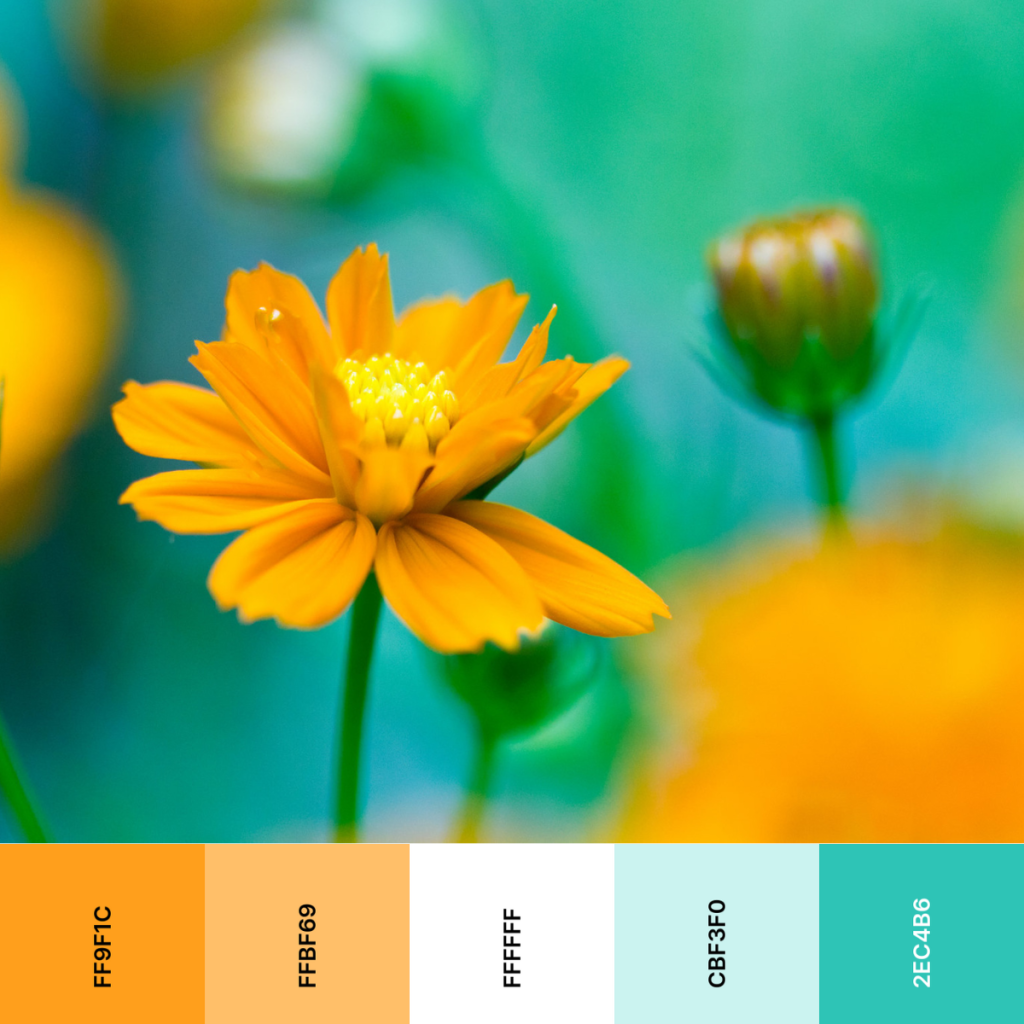 Last Words on the Meaning of Teal Color
Teal is a deep blue-green color inspired by nature, precisely the color around the eyes of the freshwater duck of the same name. Teal has a calming and rejuvenating effect and is associated with elegance, intelligence, seriousness, uniqueness, and open-mindedness. Furthermore, teal brings clarity of thought and promotes open communication.
Did you enjoy this comprehensive guide to teal color and its shades? Share this article with your friends who love this charming color.
F.A.Q.
Is teal more blue or green?
Teal is a blue-green color that has the same amount of blue and green in its composition. However, there are greener variations of teal, such as teal green, or bluer shades, such as teal blue.
Is teal blue or turquoise?
Teal is a blue-green color. Compared to turquoise, a blue-green with a subtle yellow undertone, teal is a darker blue-green with a lesser saturation.
Is teal the same as turquoise?
No. Green and blue are present in both hues, although turquoise is more bright and saturated than teal. Additionally, teal is pure blue-green, while turquoise has a slight yellow undertone.
What colors go with teal?
The colors that go with teal include coral, pink, white, maroon, yellow, brown, royal blue, metallics, brown, and dark red.
What are the most popular teal color names?
The most popular teal color names include Bayou, Aegean, Lago, Tropical, Marine, Dusty, Empress, Tucson, and Common teal.