Decorating with purple may seem difficult. In reality, colors that go with purple include a wide range of yellow, green, blue, pink, neutrals, and metallics. Let's find out more about the colors that complement purple.
The color purple can seem tricky to use in decor, but its effect is fantastic when balanced with the right colors. 
Furthermore, it evokes royalty and luxury. It is also associated with majesty, wealth, power, and ambition.
Beyond that, purple is a versatile color that can be used in combination with warm or cool tones.
Let's explore the colors that go with purple – the color of royalty. 
Colors That Go with Purple
Is purple your favorite color? Here are some of the most beautiful colors that go with purple, whether you're decorating your home or dressing up a regal outfit.
There are numerous colors that complement purple. It is bold, versatile, and can evoke a variety of emotions when used in different shades. It might be elegant, sophisticated, regal, bold, or comforting.
1. Violet, Lavender, or Lilac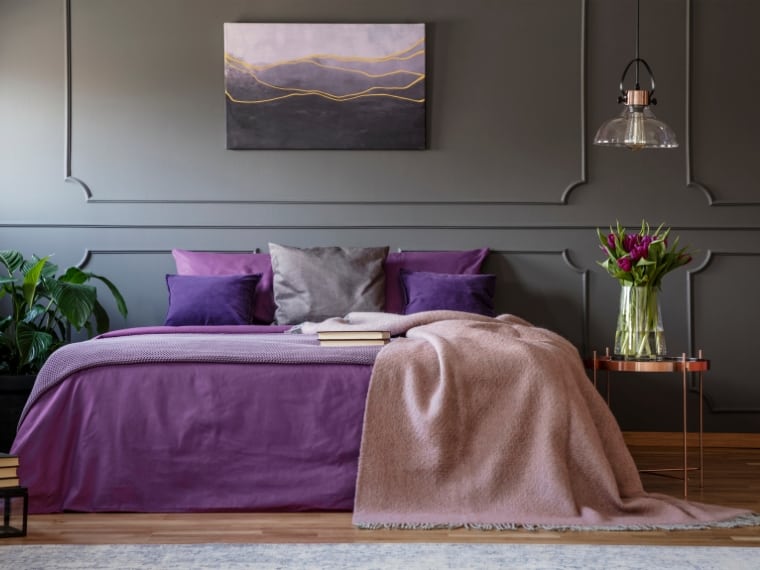 Purple goes well with other shades of purple like violet, lavender, and lilac, or even grayish shades like smoky purple. This dark monochromatic color scheme creates a bold, sophisticated, and refined design.
So you can play with different shades and tones to achieve a harmonious color scheme.
If you want to make your bedroom like this, remember to include blackwater – a smoky purple with gray undertones. Its hex code is #5E5F6B.
You'll get an inviting, subtle, and royal look using darker shades of purple.
2. White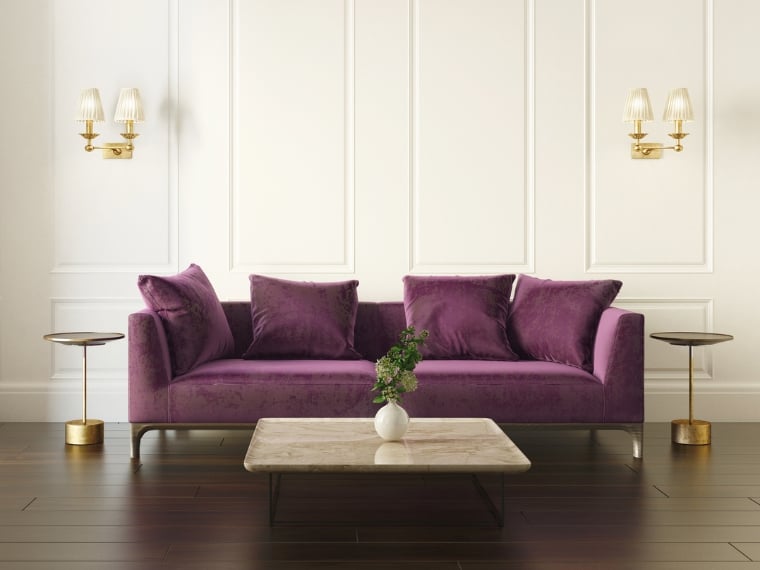 White is one of the softest colors that complement purple, creating a classic and timeless combination. The contrast between the two creates an elegant, clean, and airy atmosphere.
3. Yellow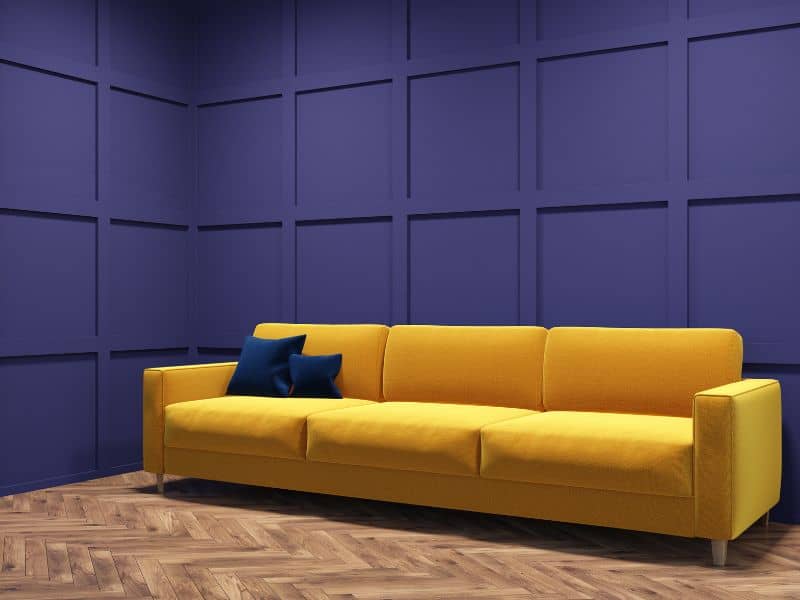 Purple's complementary color is yellow. According to the RYB color wheel, the complementary color for purples that lean toward blue is amber, while the complementary color for reddish shades of purple is chartreuse.
Since yellow and purple are complementary colors on the color wheel, combining them can create a striking and eye-catching look. Pair a soft yellow with a deep plum shade for a cheerful and vibrant look.
Purple can be combined with vibrant shades of yellow, such as citron, to create a sense of freshness. However, it can become overwhelming if it is not balanced by a neutral. 
For instance, you can use the 60-30-10 rule to combine purple, yellow, and white.
As a result, the combination of purple and yellow creates color harmony.
4. Gold
Gold and purple go well together to create a lush and sophisticated feel. Gold, on the one hand, is associated with success, wealth, and prosperity, while purple symbolizes luxury and royalty.
Thus, gold colors go great with purple, resulting in a combo that exudes glamour and luxury. Choose gold accessories to complement this lovely color. As a result, you can use it as an accent in a 60-30-10 rule. It is a winning choice.
However, bright purple and gold tints might be overwhelming, so choose more muted or darker tones for a more elegant aesthetic.
5. Chartreuse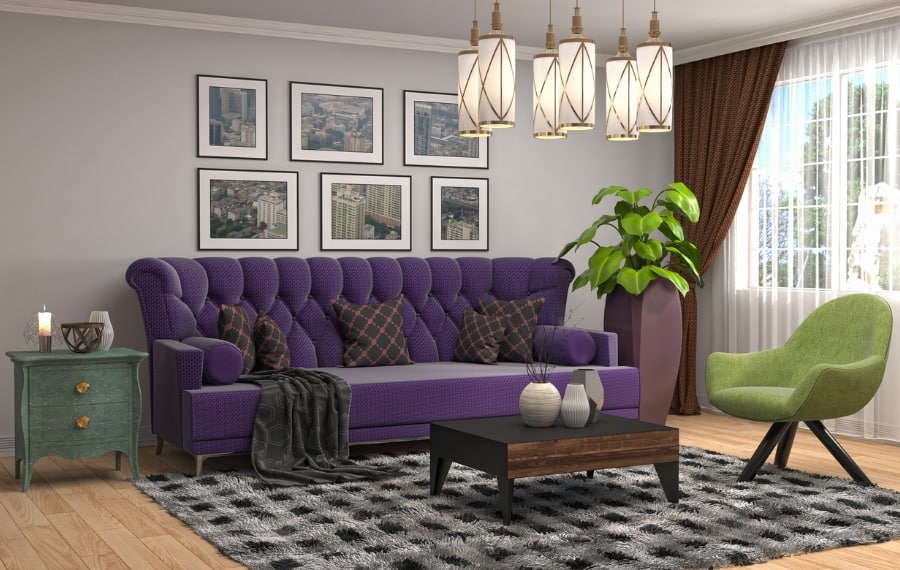 Redish purple and chartreuse are complementary colors because they are opposite each other on the color wheel. This combination adds a lot of energy to any environment.
When combining these colors, it's important to consider the shades and tones of each. For example, a deep, rich purple may complement a brighter, more neon chartreuse, but a gentler lavender may complement a muted, olive-toned chartreuse.
In short, purples with more red in the composition complement chartreuse, which tends towards green, while purples with blue undertones complement chartreuse, which leans towards yellow.
6. Robin's Egg Blue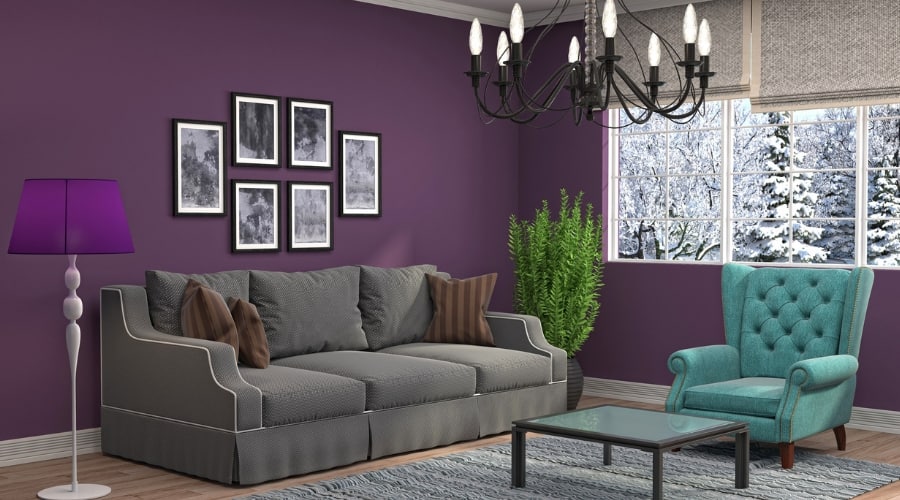 Blue and purple are both rich and captivating hues with cool-tone characteristics. Even though they aren't complementary colors on the color wheel, they work great together!
There are many blue colors that go with purple, and the most popular include eggplant, light blue, pastel blue, and Robin Egg's blue. If you want a soothing feel, combine lilac with white and lighter shades of blue.
Lavender pairs well with pastel or brighter blues. On the other hand, lilac and lavender are soft purples that go well with light blues.
For a more soothing color scheme, you can pair French blue with eggplant. This combination evokes courage and depth.
7. Burgundy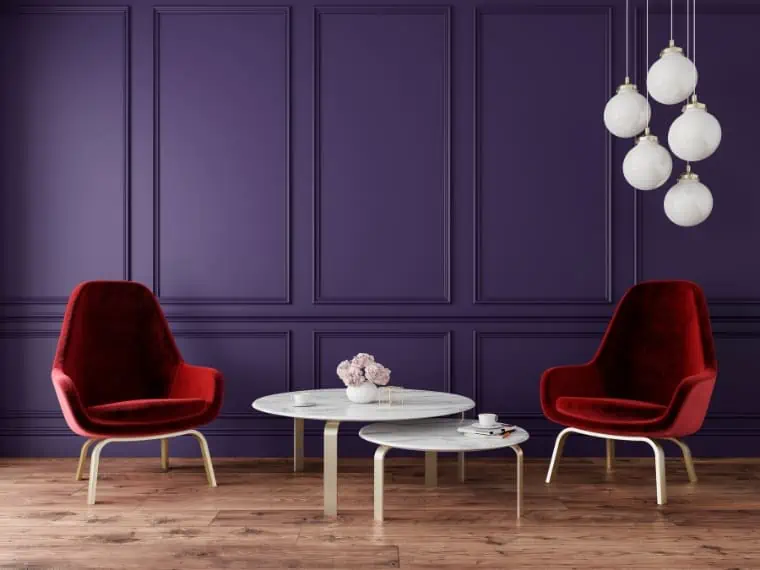 Purple is a mixture of the primary colors blue and red. As a result, combining purple with shades of red results in a daring aesthetic combination.
Because purple has red undertones, it goes perfectly with deep purple-red colors like wine and burgundy. 
Burgundy is a deep purple-red but is often called reddish-brown due to its appearance. In short, it is a mixture of purple and red. When combined with purple, it creates a bold, rich, and slightly earthy design.
While appearing to be a daring choice for the soft-hearted, red and purple create a warm, vibrant, and energetic color palette.
8. Brown Chestnut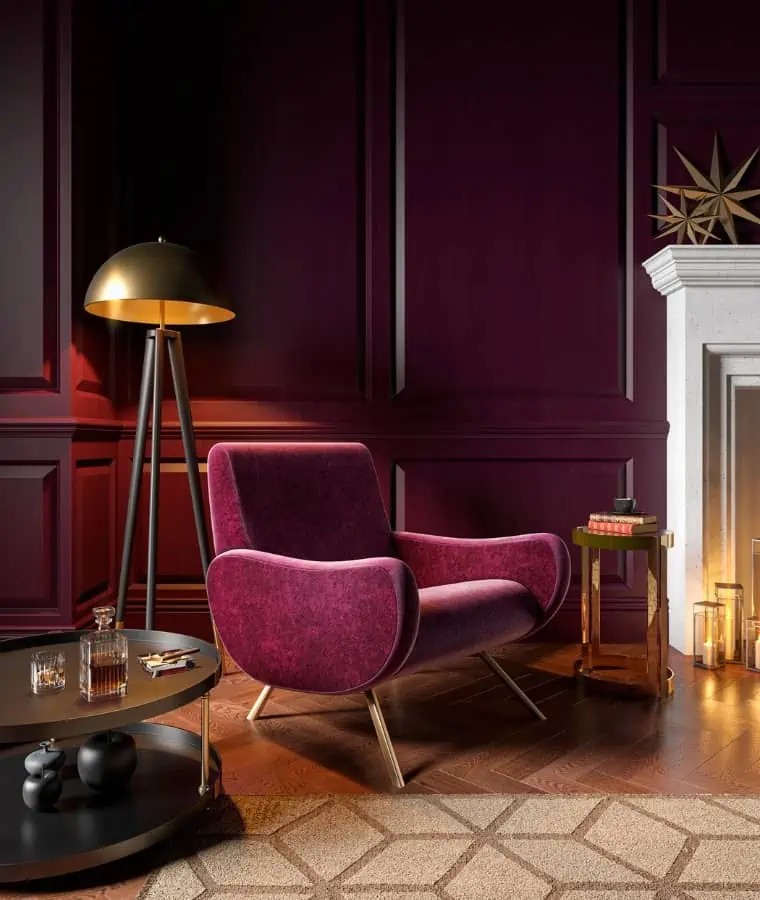 Brown is one of the earthy colors that go with purple, creating a cozy and youthful look.
Purple is the color of mystery and imagination, balanced well by the earthiness and warmth evoked by the brown shades.
9. Ocean Green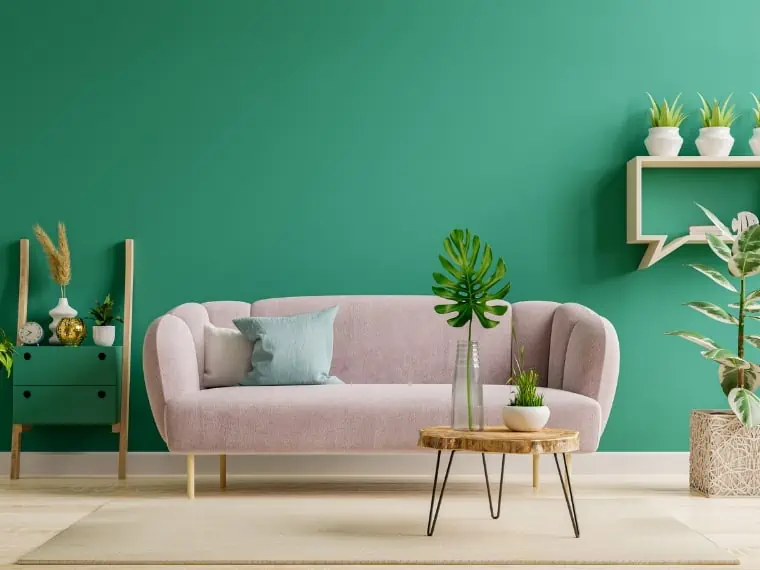 Purple and green work well together to create an inviting and vibrant atmosphere.
Some of the best green colors that go with purple include chartreuse, ocean green, and mint.
Pair a deep emerald green with a rich purple for a dramatic and bold look. For a more soothing and inviting look, pair lavender (or softer shades of purple) with olive green.
If you want a bold design, combine purple with bluish-green or other blue-green colors.
10. Teal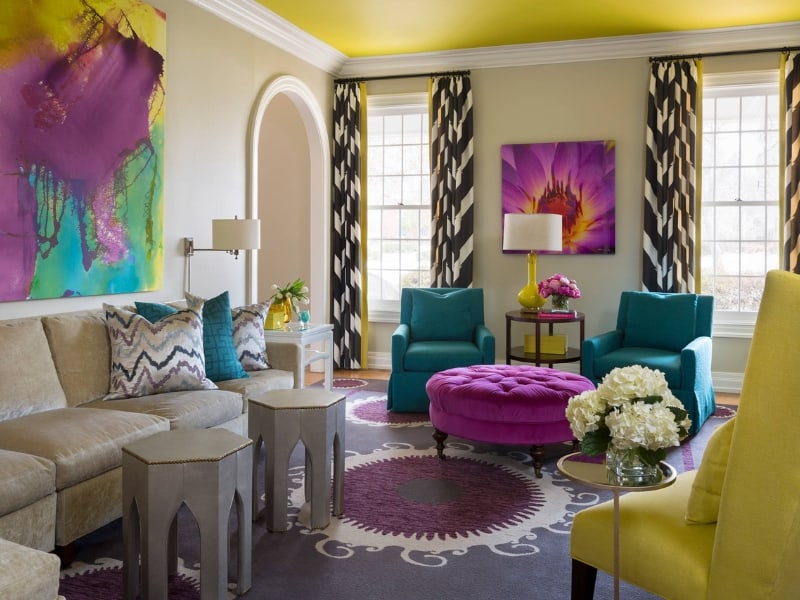 Purple and teal complement each other well because they both have blue undertones. But be careful because it can become overwhelming if you don't balance them.
You can follow the 60-30-10 rule and use teal as an accent color only.
11. Navy Blue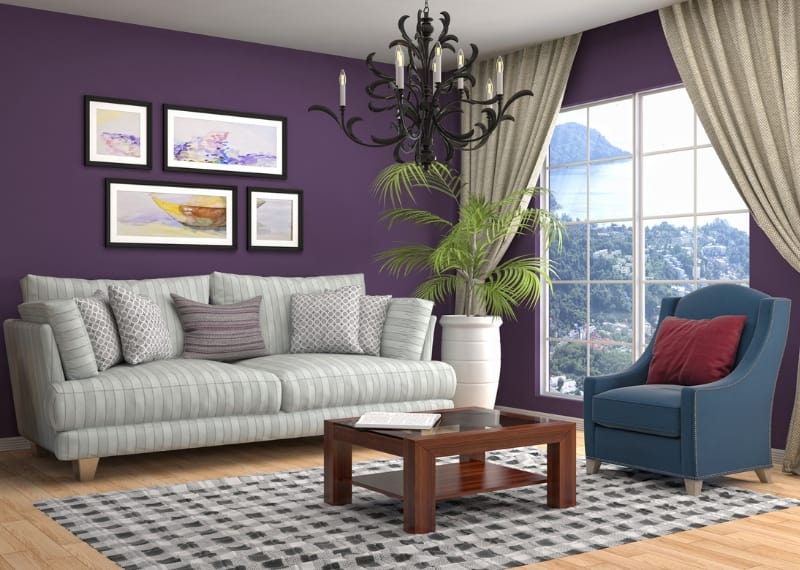 According to color theory, purple and blue are analogous colors, which means they are adjacent on the color wheel.
Navy blue is one of the best accent colors that go with purple, especially with muted lighter shades such as mauve. For example, you can go for mauve walls, a navy blue armchair, and wood-toned flooring.
Amethyst purple and royal blue complement each other since they are both vibrant and luxurious.
12. Emerald Green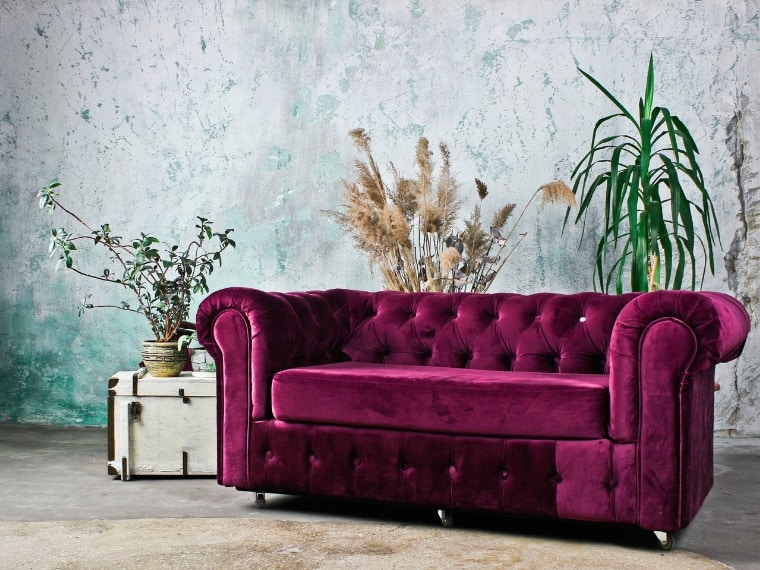 Deep shades of purple go well with emerald green. These colors are opposite on the color wheel and can create a striking and bold look.
Lilac and emerald green are a great color combo for spring.
If you want a more soothing atmosphere, you can pair any muted purple with green sage.
13. Black and White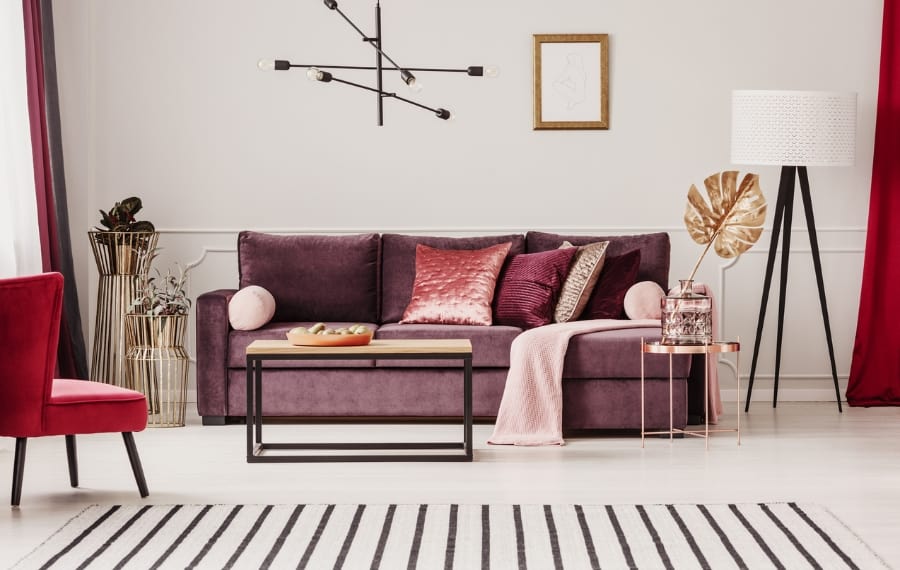 Black and white go well with purple, as they are considered neutral colors. This color combination can create a modern and balanced look.
To achieve a great contrast and balance, use purple as the dominant color and black and white as supporting colors.
14. Gray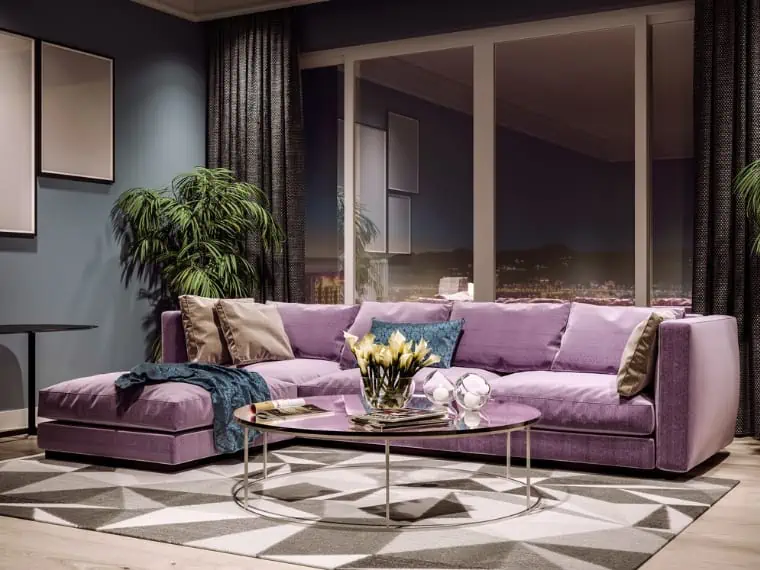 Do gray and purple go together? Yes, it does. Gray is a neutral color that goes well with almost any shade of purple, particularly dark gray.
You can also use a dark greenish gray, which results from mixing green and purple.
Shades of purple with blue undertones pair beautifully with grays, resulting in a regal and powerful combo.
If you don't want to use a blue-toned purple, try a purple-gray blend like mauve or grayish lavender. Gray looks great with violet, mauve, lavender, and periwinkle.
A combination of aubergine or lavender and gray is a fantastic choice. This color scheme keeps purple tones cool. What's more, they can work as neutrals. 
This combination prevents gray from becoming too monotonous or purple from being too overbearing.
15. Black
Neutral tones go perfectly with purple, bringing it to life. However, if you want a more elegant look, combine purple with black or shades of gray.
Black and purple can create a dramatic look, but pay attention to the shades.
Rich purples, such as plum or eggplant, pair well with black because they give a dramatic contrast without being too overwhelming.
However, when coupled with black, lighter tones of purple, such as lavender or lilac, may not be as effective.
16. Dusty Pink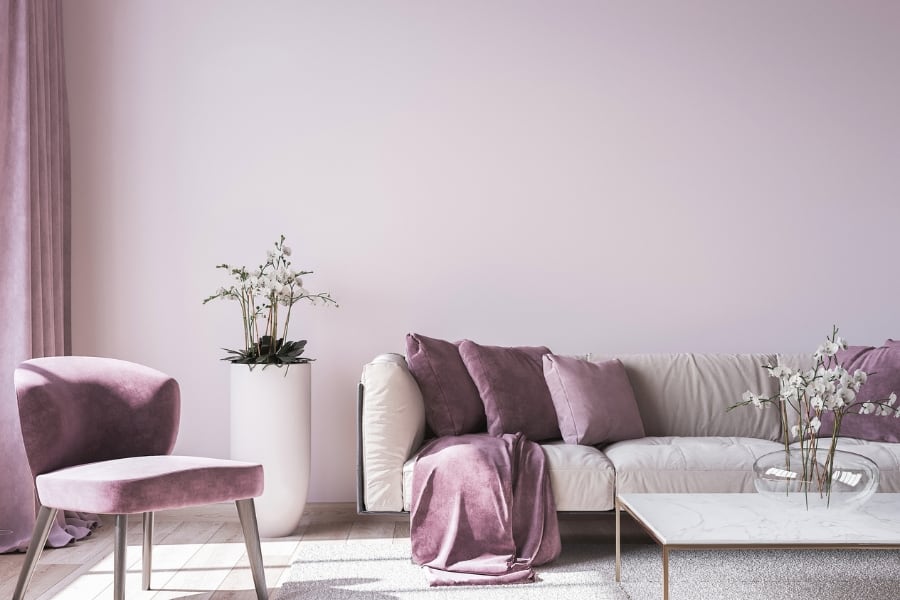 Dusty pinks are some of the most cheerful colors that go with purple.
Purple and pink create a color combination as royal as warm and cheerful. Pink's warmth and joy balance purple's sophistication and luxury.
Although you can combine many shades of pink with purple, pastel or muted pinks help create a romantic and soothing setting.
However pink is a nurturing and soothing color, but too much of it can evoke nostalgia.
17. Beige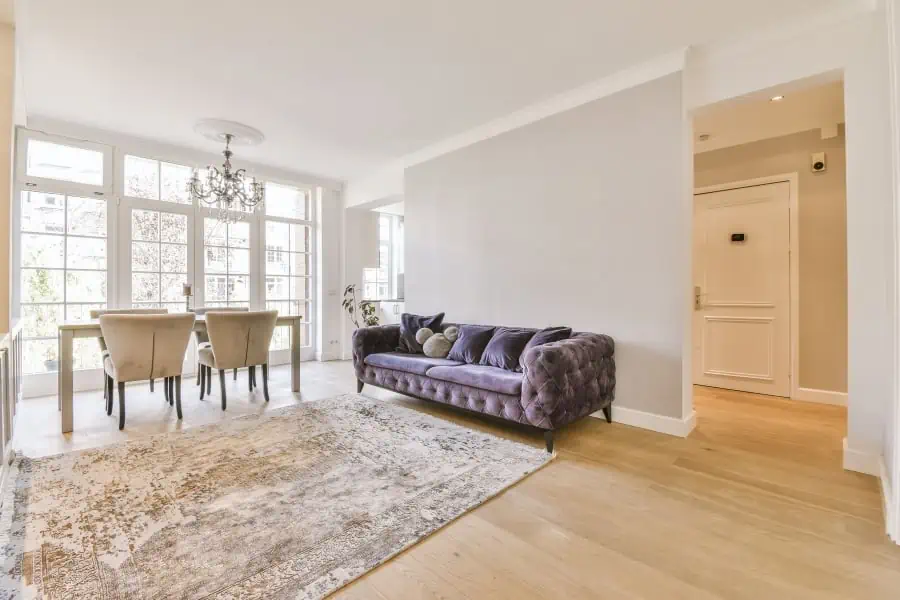 Deep purples, such as eggplant or plum, look awesome with warm beige or tan. A lighter lavender shade, on the other hand, can go well with a cooler beige (such as greige) or taupe.
If you seek a dramatic and bold look, pair a dark, rich purple with a light beige. In contrast, pairing a cooler purple with greige can create a more soothing and subtle effect.
Wine purple and greige go well together. Greige is actually a gray-leaning beige. This is a perfect combination if you seek a bold design balanced by the warmth of this gray-beige.
Last Words Regarding What Colors Go with Purple
Purple is the color of royal ambiance and mystery, which seems complicated to fit into a color palette for interior design. 
Colors that go with purple include a spectrum of shades such as yellow, french blue, emerald green, burgundy, brown, sage, neutrals, and metallics.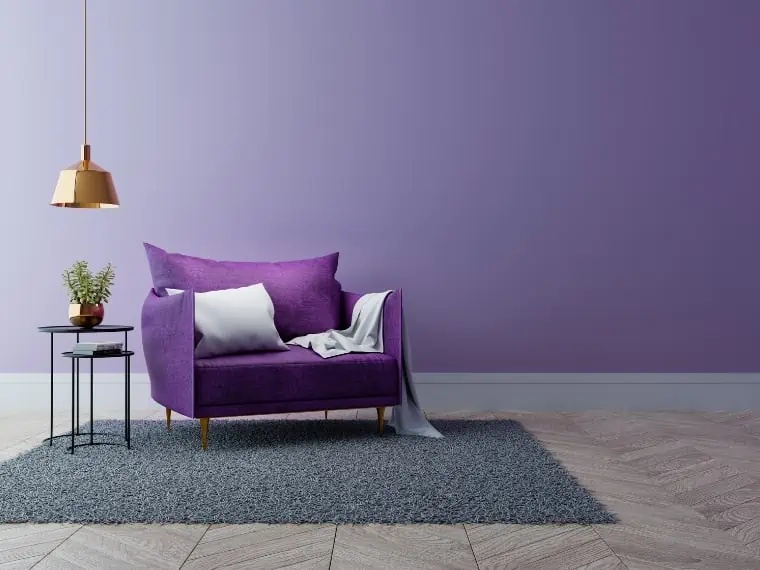 If you want a complementary color scheme, combine purple with yellow, amber, or gold. On the other hand, if you want something more sophisticated, you can combine purple with shades of grey, chestnut, dusty pink, forest green, or even navy blue.
Whatever the pairing, you need to get a balanced color palette. We hope this article has helped you decide what color to pair with purple.
Did you learn something new about the colors that go with purple? So please share this article with your friends.