Looking for gorgeous Christmas color palettes? Whether you want to decorate your home or create a festive design, we've compiled a list of the most beautiful holiday color palettes.
Christmas traditions are the most beautiful of the whole year. It's a wonderful time to spend time with loved ones, eat delicacies, and relax in a fairytale setting. All these traditions – with holly berries and lots of green and red are rooted in the ancient Celts, who celebrated the winter solstice.
Although we embrace these traditions even in modern times, changes can create new trends and are always welcome, even when it comes to Christmas color palettes.
So, we've compiled a list of the most beautiful Christmas theme colors, from traditional schemes to more unconventional palettes.
In order to understand the symbolism of these festive color palettes, you can read more about the meaning of Christmas colors.
Lovely Christmas Color Palettes
Here are our favorite color palettes for Christmas.
1. Red and Green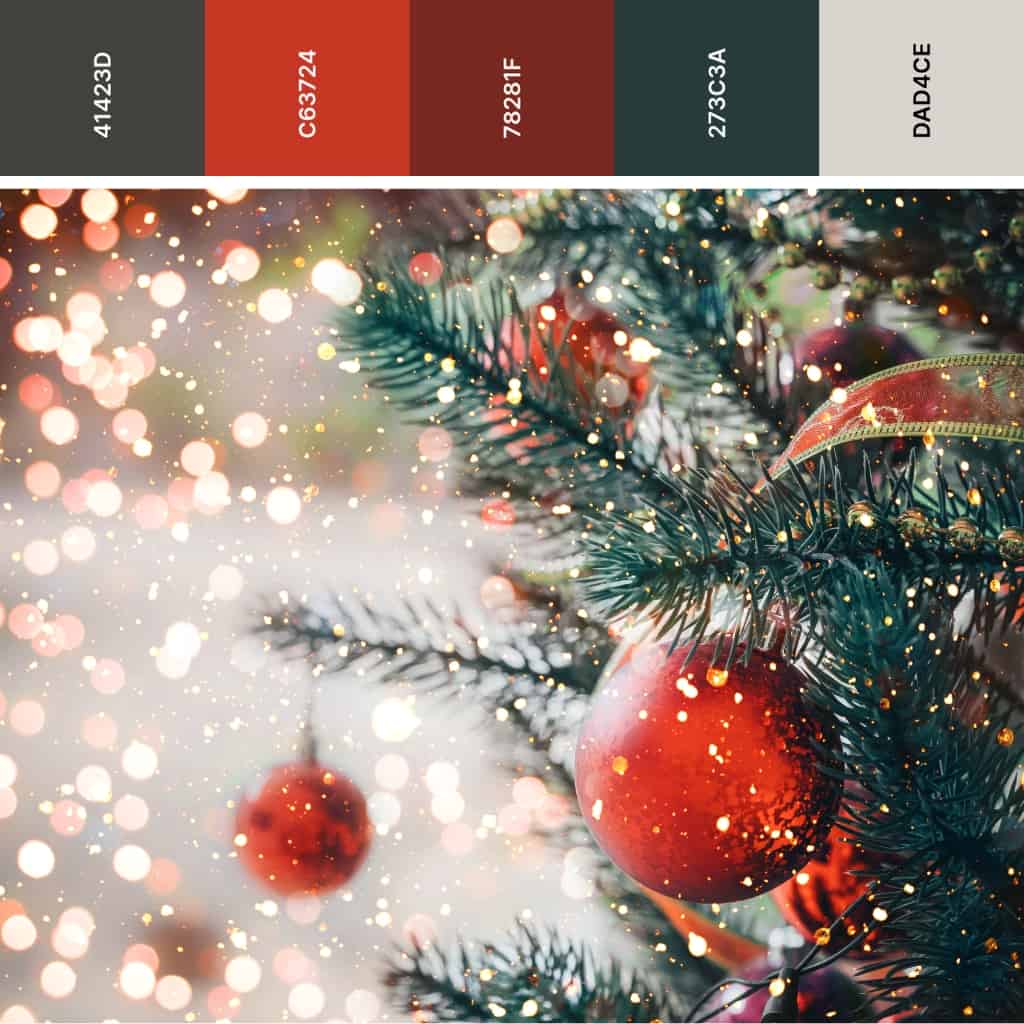 Hex Codes: Black Olive (#41423D), Persian Red (#C63724), Falu Red (#78281F), Dark Slate Gray (#273C3A), Timberwolf (#DAD4CE)
Red and green create the most traditional Christmas color palette, taking us back to the charm of the holiday season.
Red, a symbol of love and warmth, represents the spirit of generosity and is often linked to Santa Claus' iconic suit.
Green, on the other side, represents hope, freshness, and nature.
Pairing these timeless colors creates a nostalgic and inviting atmosphere. Red and green work well on ornaments, wreaths, and table settings.
In addition, you can add gold accents that give a touch of elegance to the whole decor.
No matter what region you're from, you can't go wrong with this color palette.
2. Browns and Dark Green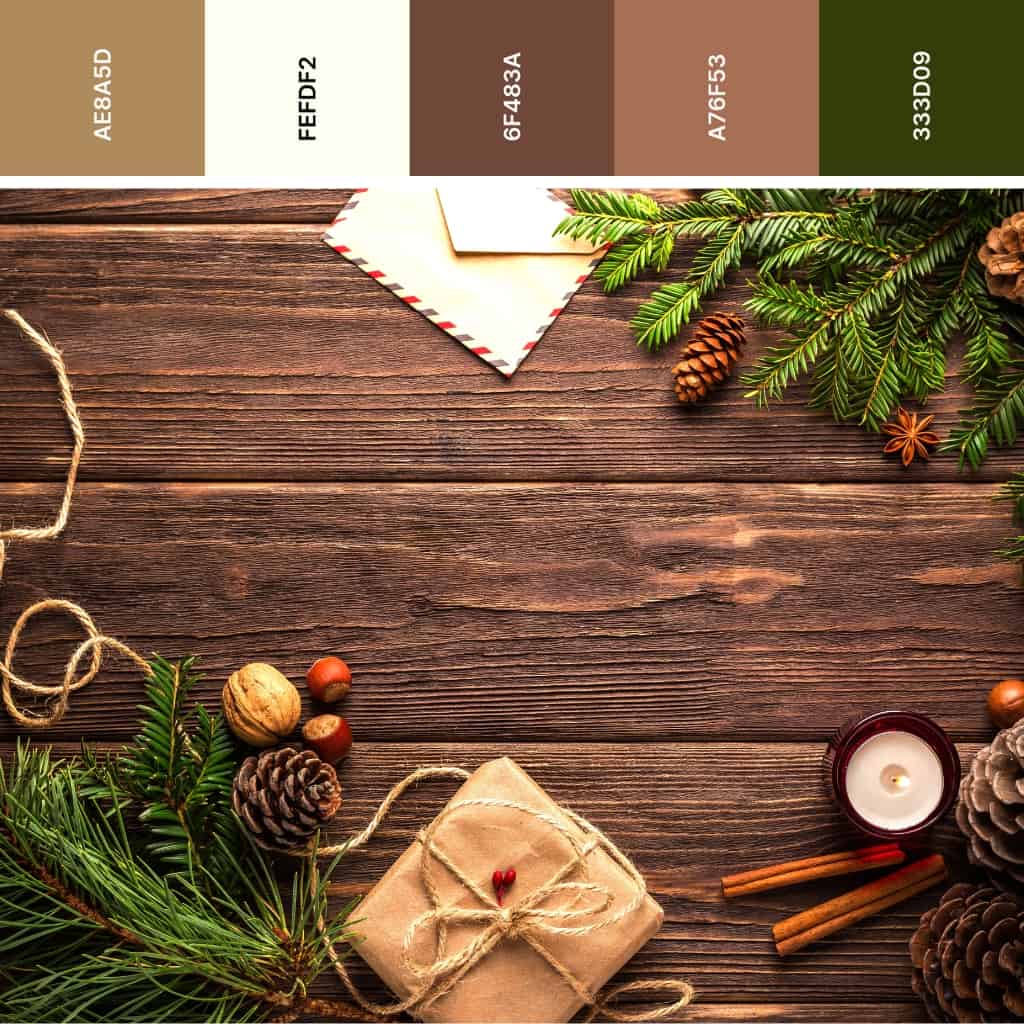 Hex Codes: Lion (#AE8A5D), Ivory (#FEFDF2), Bole (#6F483A), Brown Sugar (#A76F53), Dark Moss Green (#333D09)
Brown and dark green offer a unique and cozy color palette that brings a touch of calmness and comfort to your holiday decor.
Shades of brown, such as chocolate, mahogany, and rustic wood tones, evoke feelings of warmth, comfort, and earthiness. They create a cozy and inviting atmosphere, a must-have for your Christmas.
Moreover, this warm and earthy ambiance is reminiscent of a woodland retreat during the winter months.
3. Blue and Earthy Tones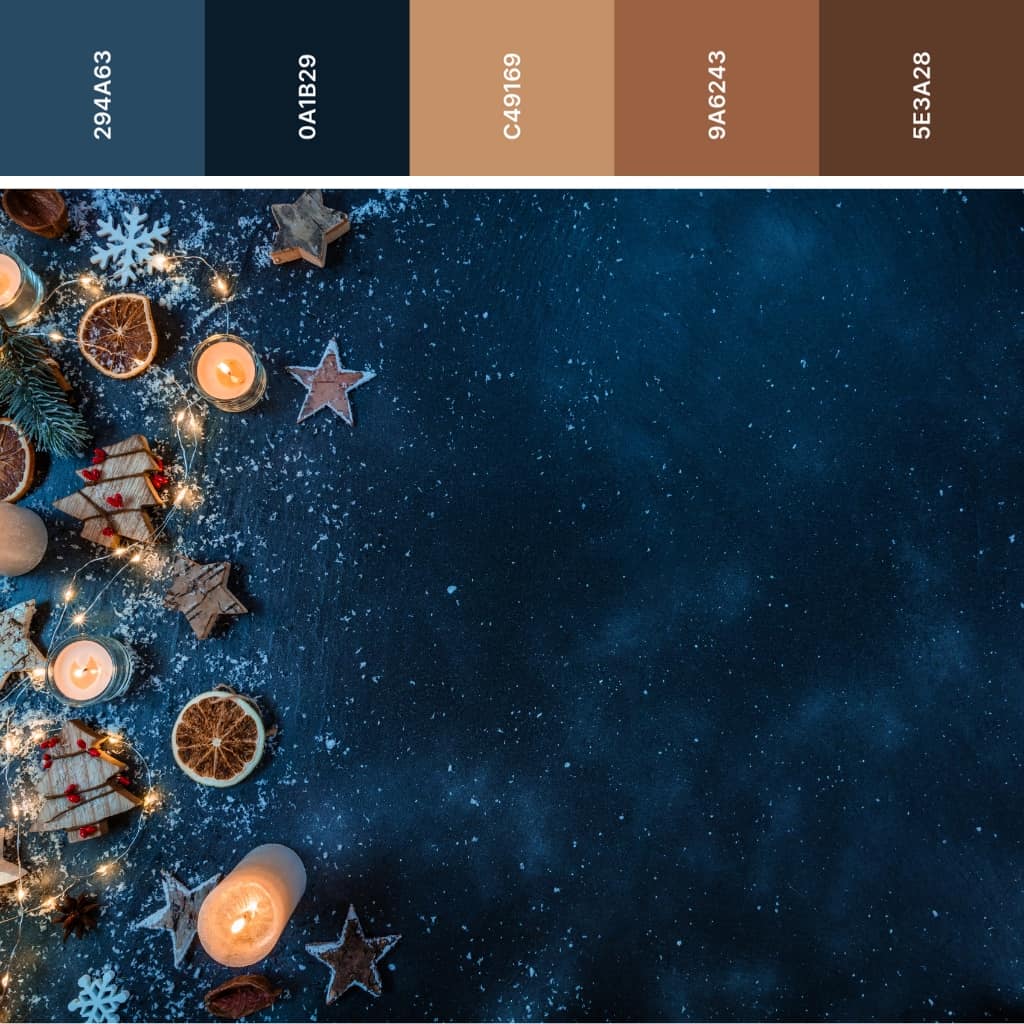 Hex Codes: Dodgers Blue (#294A63), Navy (#0A1B29), Lion (#C49169), Raw Umber (#9A6243), Kobicha (#5E3A28)
Blue, known for its calming properties, brings a sense of serenity and peace to your home during the festive season.
Pairing it with earthy tones like browns and greens creates a harmonious balance between natural elements and a soothing color scheme.
The blue and earthy tones combination can be appealing for those looking to create a winter wonderland atmosphere. Moreover, it's a perfect combo if you want to avoid traditional red and green palettes.
4. Greens and Metallics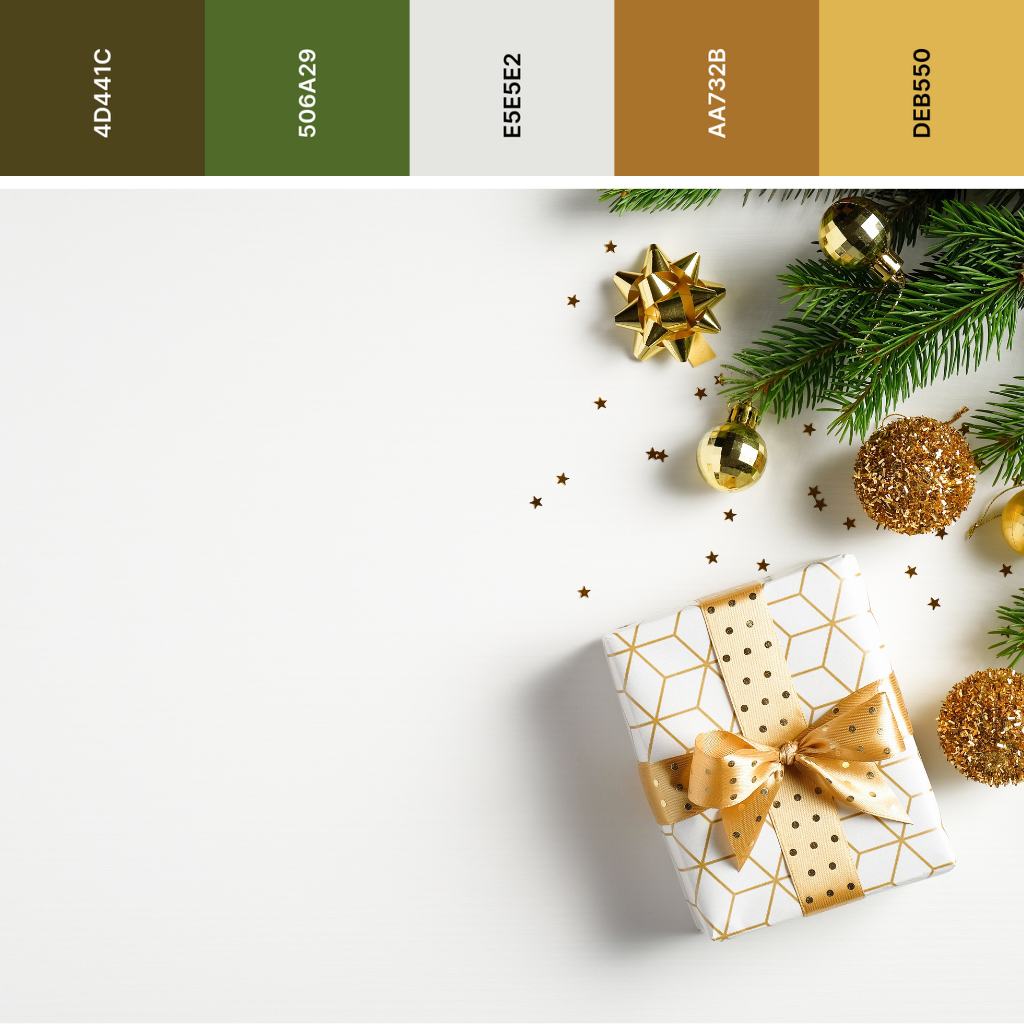 Hex Codes: Drab Dark Brown (#4D441C), Dark Moss Green (#506A29), Platinum (#E5E5E2), Copper (#AA732B), Gold Metallic (#DEB550)
Different shades of green combined with metallics like gold and copper can infuse your Christmas decor with luxury and sophistication.
The combination of green with gold and copper is reminiscent of a regal holiday affair.
Green, representing the lushness of evergreen trees, symbolizes life and hope. The elegance of gold and copper helps create a stunning contrast that elevates your festive ambiance to a new level.
5. Pastels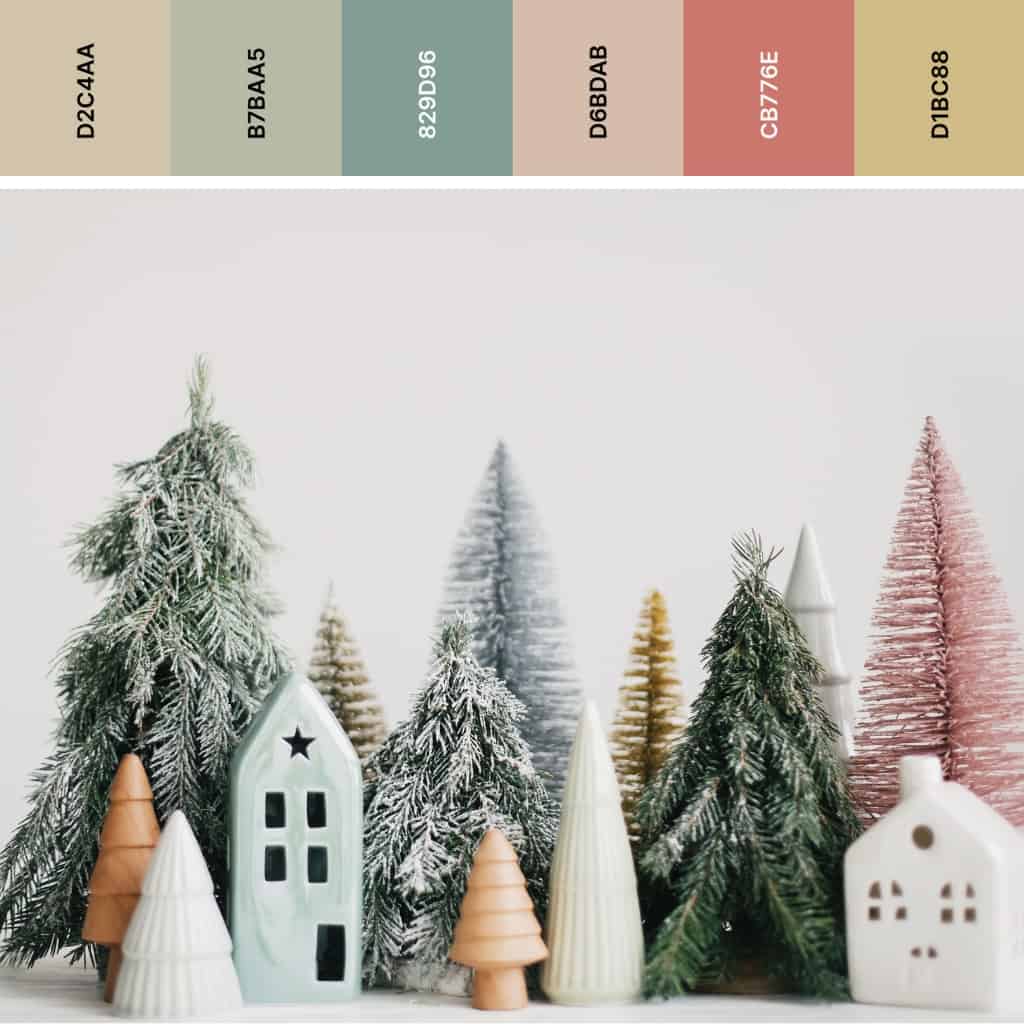 Hex Codes: Dun (#D2C4AA), Sage (#B7BAA5), Cambridge Blue (#829D96), Desert Sand (#D6BDAB), Old Rose (#CB776E), Gold (#D1BC88)
Opting for a palette of pastel colors such as soft green, muted gold, and old rose brings a delightful touch to your Christmas decor.
Often associated with spring, these pastels can be surprisingly charming during the holiday season, creating a unique and enchanting atmosphere.
Moreover, this combination evokes a sense of nostalgia and sweetness.
6. Earthy Colors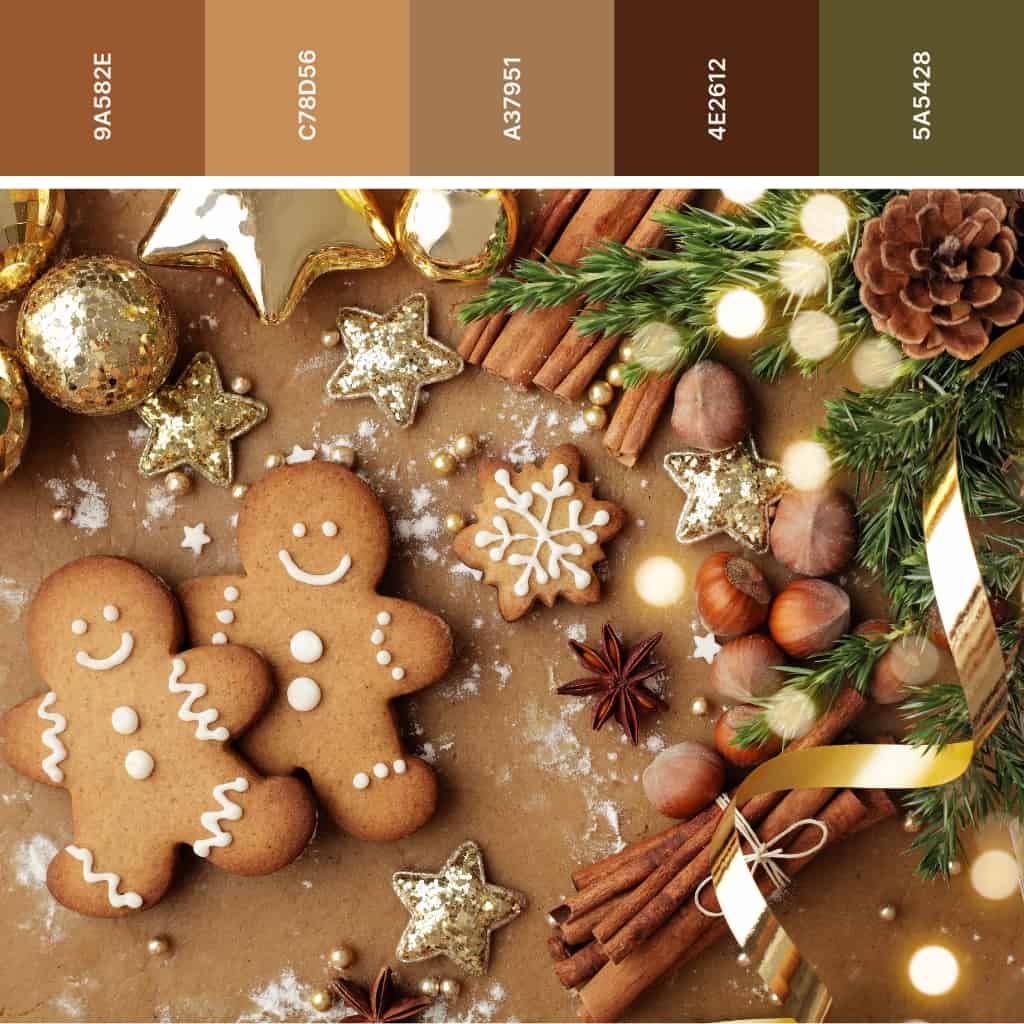 Hex Codes: Raw Umber (#9A582E), Persian Orange (#C78D56), Chamoisee (#A37951), Seal Brown (#4E2612), Field Drab (#5A5428)
For a nature-inspired holiday setting, you can use rich browns, tans, beige tones, and muted earthy greens. After all, gingerbread, cinnamon, and pine cones really suit the winter season.
These hues, inspired by the elements of the earth, create a warm and grounded ambiance.
7. Dark Green, White and Gold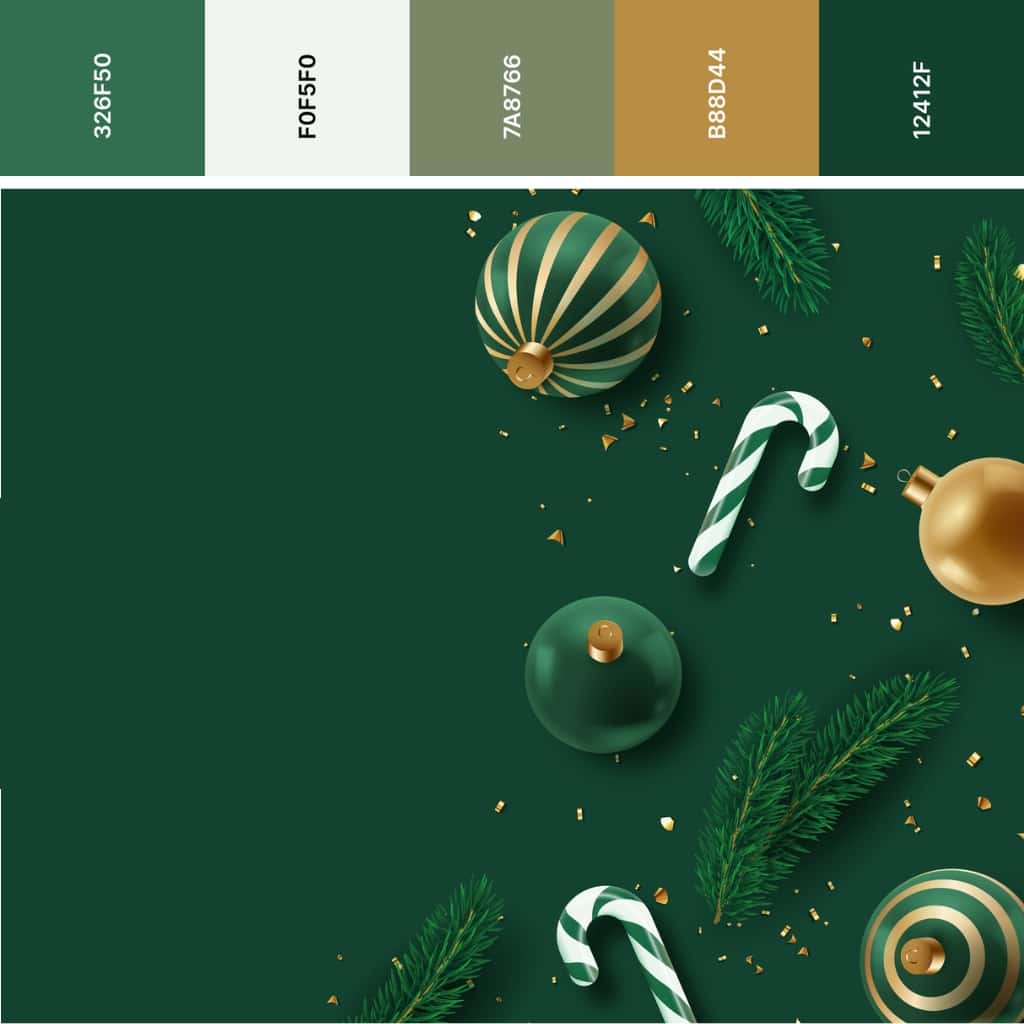 Hex Codes: Dark Spring Green (#326F50), Mint Cream (#F0F5F0), Reseda Green (#7A8766), Dark Goldenrod (#B88D44), Brunswick Green (#12412F)
This combination exudes opulence and elegance, making it an ideal scheme for those who wish to create a festive atmosphere with a touch of grandeur.
Gold symbolizes luxury, wealth, and prestige, while dark green represents abundance and growth. Both lend a note of elegance and sophistication. And white – the color of snowflakes – brings freshness and simplicity.
8. Wood Tones and Red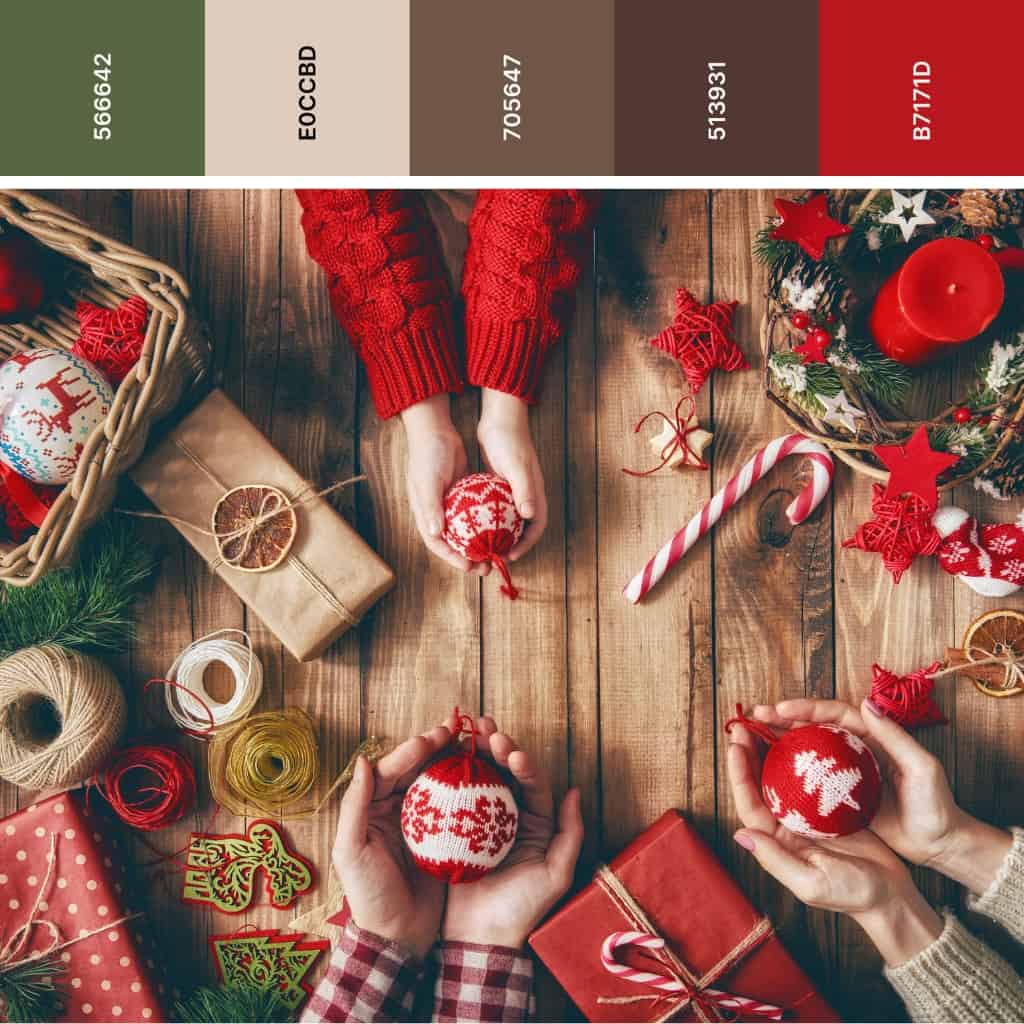 Hex Codes: Dark Moss Green (#566642), Champagne Pink (#E0CCBD), Umber (#705647), Van Dyke (#513931), Cornell Red (#B7171D).
Wood tones, like rich browns and natural woodgrains, add coziness and earthiness to your decor. You get a festive contrast and a warm atmosphere when paired with deep reds like burgundy or cranberry.
Moreover, the fusion of wood tones and dark red creates a classic, cozy, and timeless Christmas decor scheme that invokes feelings of tradition and comfort.
9. Gold, Copper and Browns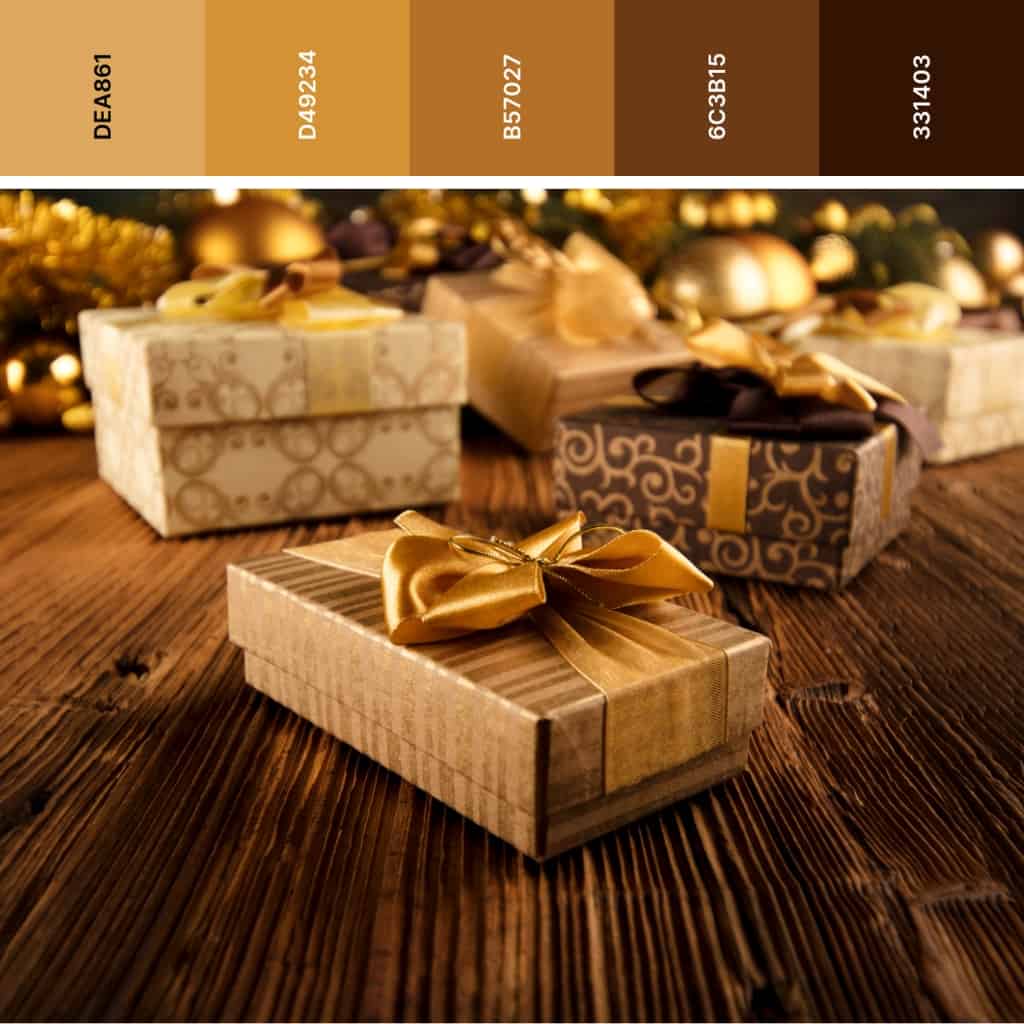 Hex Codes: Metallic Gold (#DEA861), Butterscotch (#D49234), Copper (#B57027), Sepia (#6C3B15), Black Bean (#331403)
These colors create a luxurious ambiance that elevates your holiday celebrations, making them feel special and memorable.
The metallic gold and copper add a touch of glamour. At the same time, the earthy browns bring a cozy atmosphere, striking a perfect balance between sophistication and comfort.
10. Red and Silver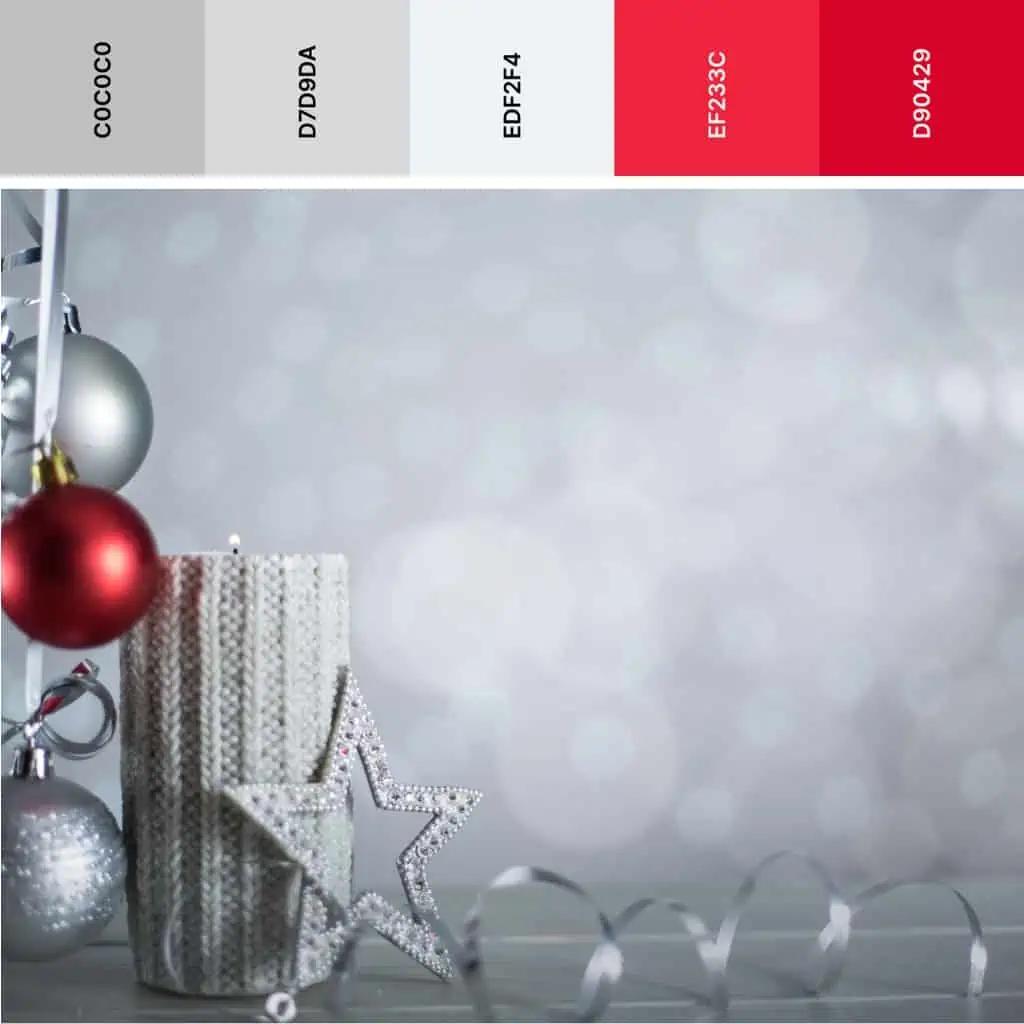 Hex Codes: Silver (#C0C0C0), Platinum (#D7D9DA), Antiflash White (#EDF2F4), Red Pantone (#EF233C), Fire Engine Red (#D90429)
Red and silver is a classic choice often preferred by those who simply love gray. It's modern and sophisticated. You can combine them with cool grays as well.
Still asking yourself why you should use it? Red symbolizes warmth, love, and the festive spirit, while silver adds elegance and a shimmering, wintry feel. Silver is also refined and modern, the perfect alternative to classic gold.
11. Maroon, Gold and Burgundy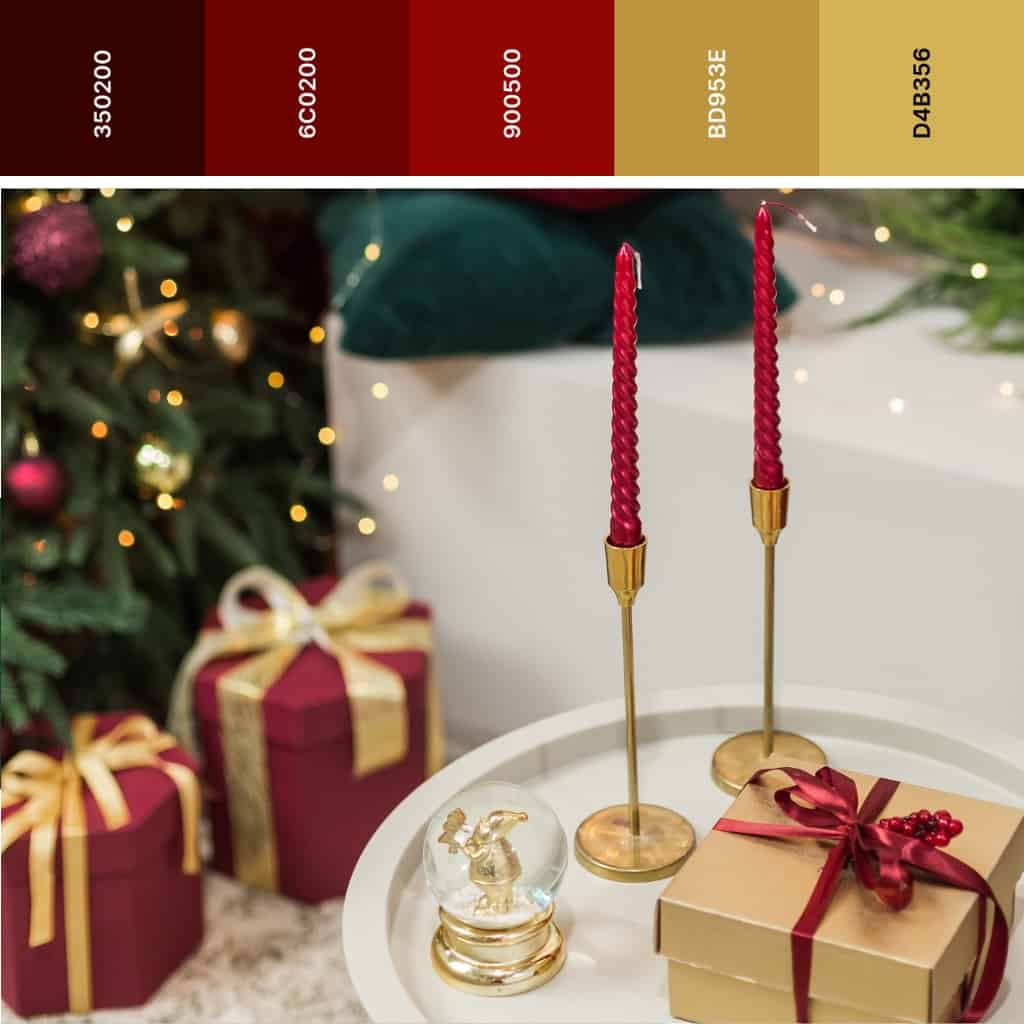 Hex codes: Black Bean (#350200), Burgundy (#6C0200), Maroon (#900500), Satin Sheen Gold (#BD953E), Metallic Gold (#D4B356)
Are you looking for richness and sophistication? Then, this color palette is for you. It feels opulent, cozy, and filled with warmth and splendor.
Maroon and burgundy represent deep, warm, and inviting tones, while gold adds a touch of richness, creating a luxurious and festive holiday ambiance. Here's where luxury meets tradition.
12. Green, Yellow and Orange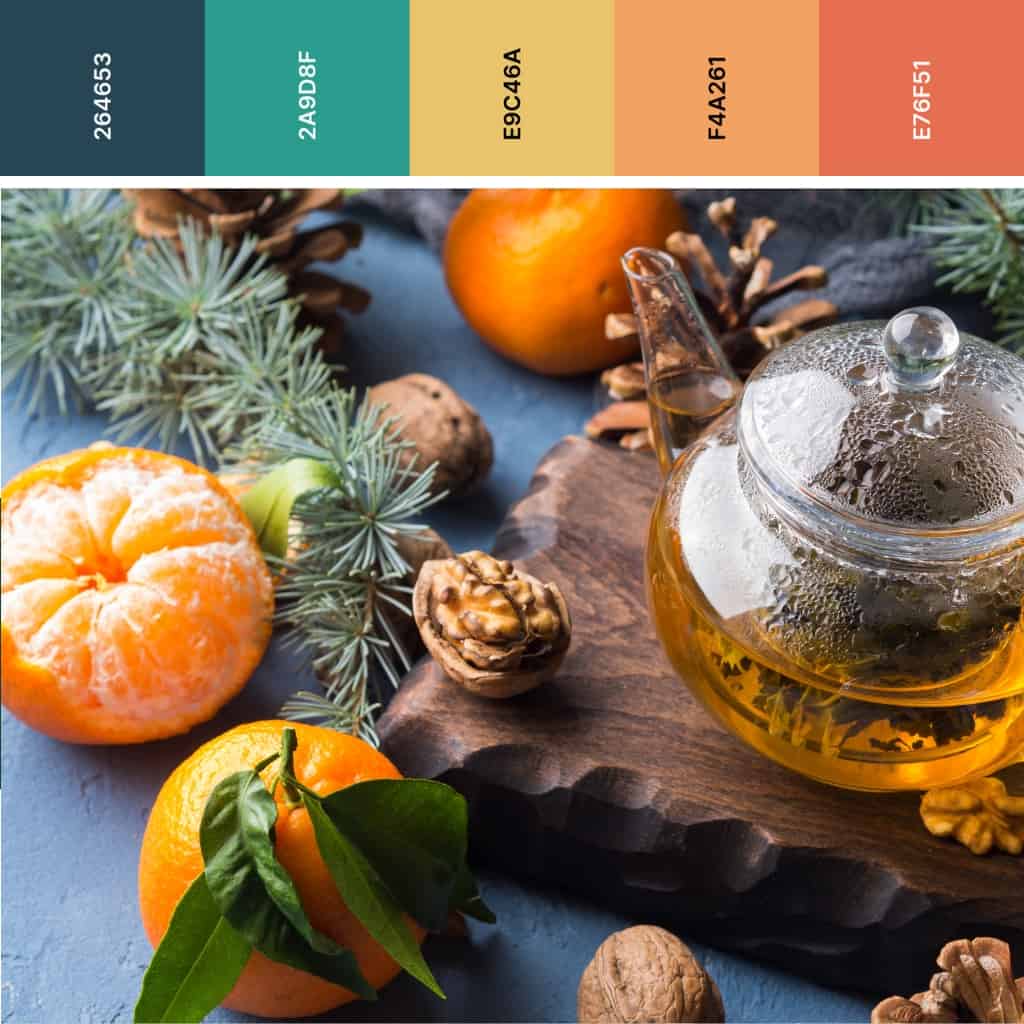 Hex codes: Charcoal (#264653), Persian Green (#2A9D8F), Saffron (#E9C46A), Sandy Brown (#F4A261), Burnt Sienna (#E76F51)
Green, yellow, and orange in various tones, such as Persian-green, saffron, sandy-brown, and burnt-sienna, make a vivid and refreshing Christmas decor motif.
The warm and energetic yellows and oranges can make your Christmas days happier, more optimistic, and filled with joy. That's because these vibrant colors have the power to evoke feelings of positivity and enthusiasm, which are essential during the holiday season.
Greens, especially blue greens, are calming and invigorating, resulting in a scheme that adds a refreshing and cheery mood to your Christmas celebrations.
13. Blue and Gold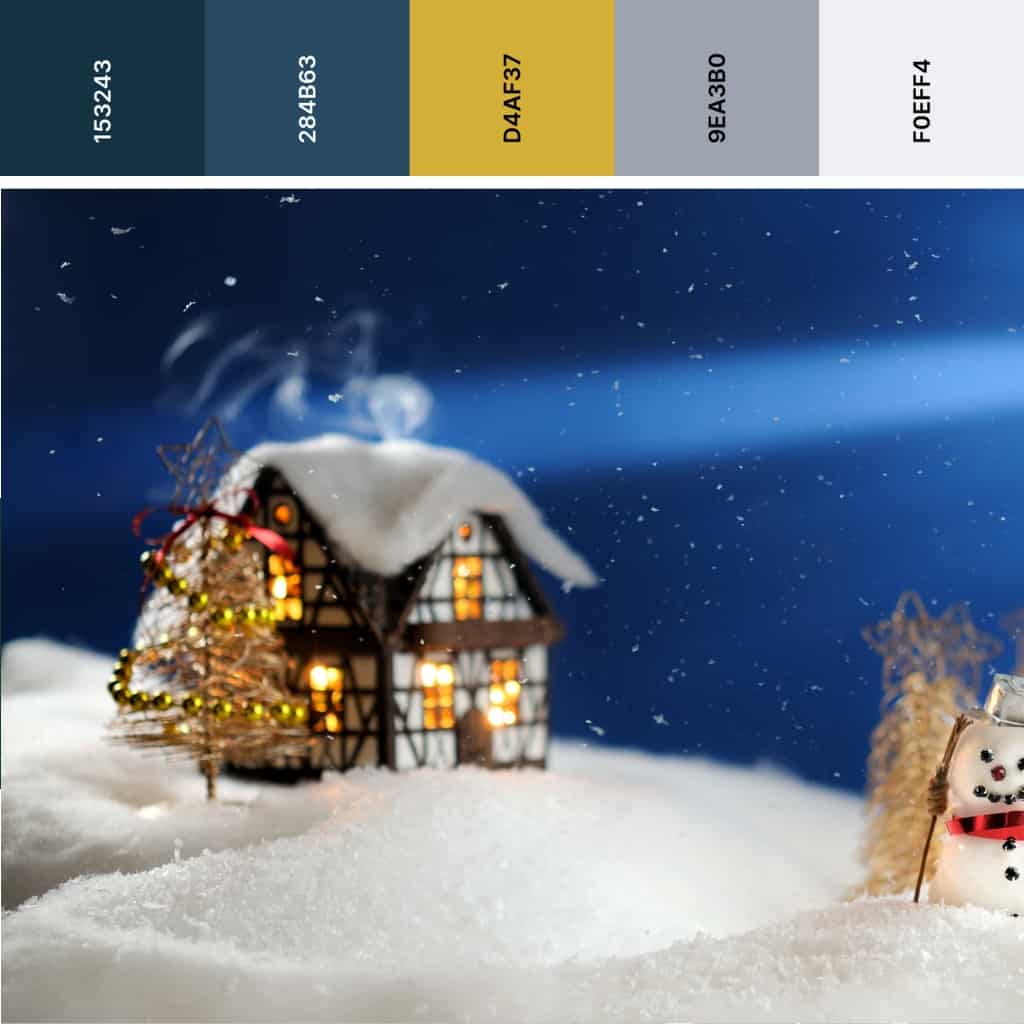 Hex codes: Prussian Blue (#153243), Indigo Dye (#284B63), Metallic Gold (#D4AF37), Cadet Gray (#9EA3B0), Ghost White (#F0EFF4)
This is one of the most beautiful holiday color palettes, especially if you love blue.
Navy, Oxford, or Royal blue goes great with luxurious gold.
Blue represents the calm of winter skies and the serenity of the season, while gold adds a touch of opulence and shimmer.
It's a combination that combines tradition and elegance for a truly special holiday ambiance.
14. Blues and Grays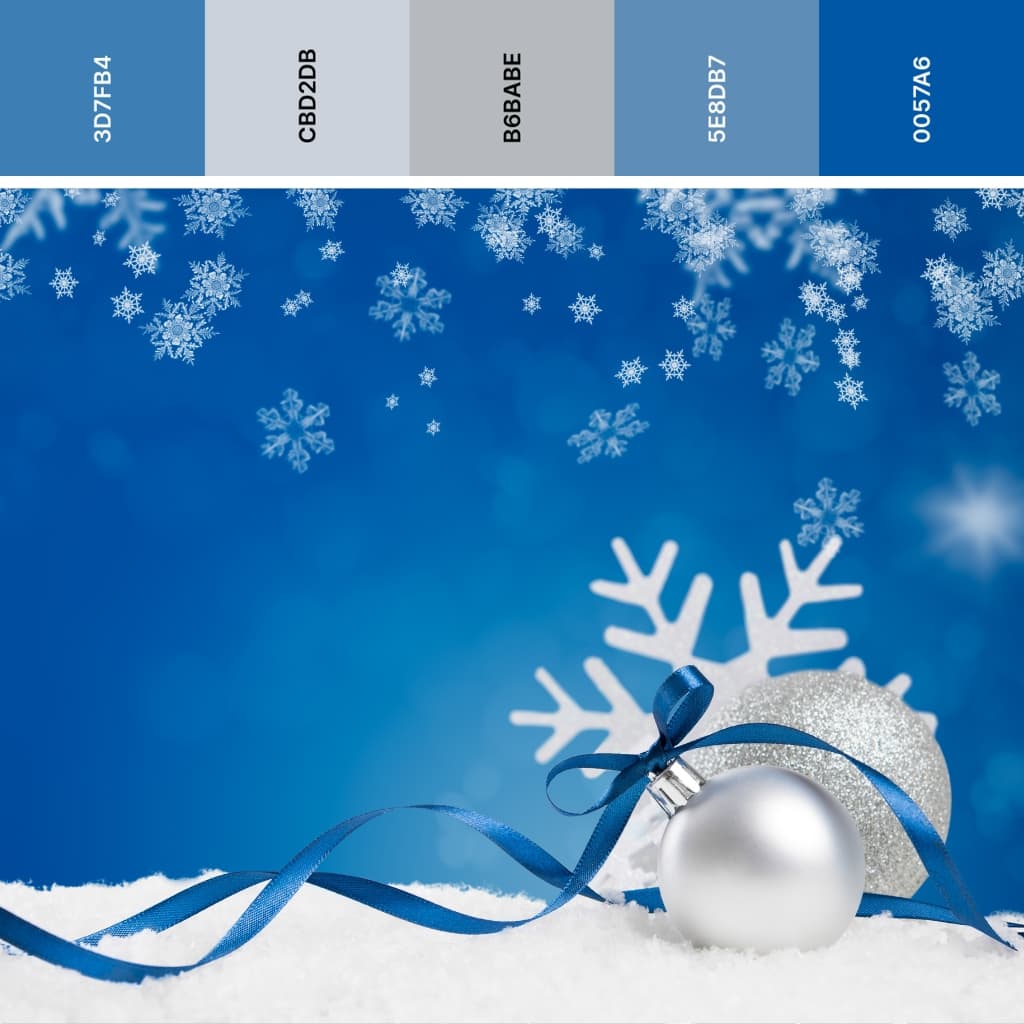 Hex codes: Steel Blue (#3D7FB4), Cool Gray (#CBD2DB), French Gray (#B6BABE), Silver Lake Blue (#5E8DB7), Lapis Lazuli (#0057A6)
This is one of the most beautiful winter color palettes. The cool, muted tones of blue and cool shades of gray evoke the peacefulness and tranquility of the winter season.
Moreover, these colors are non-stimulating because they don't create a jarring or overly vibrant visual impact. Instead, they offer a subtle and understated elegance that can be particularly soothing amid the busyness of the holiday season.
15. White, Gray and Beige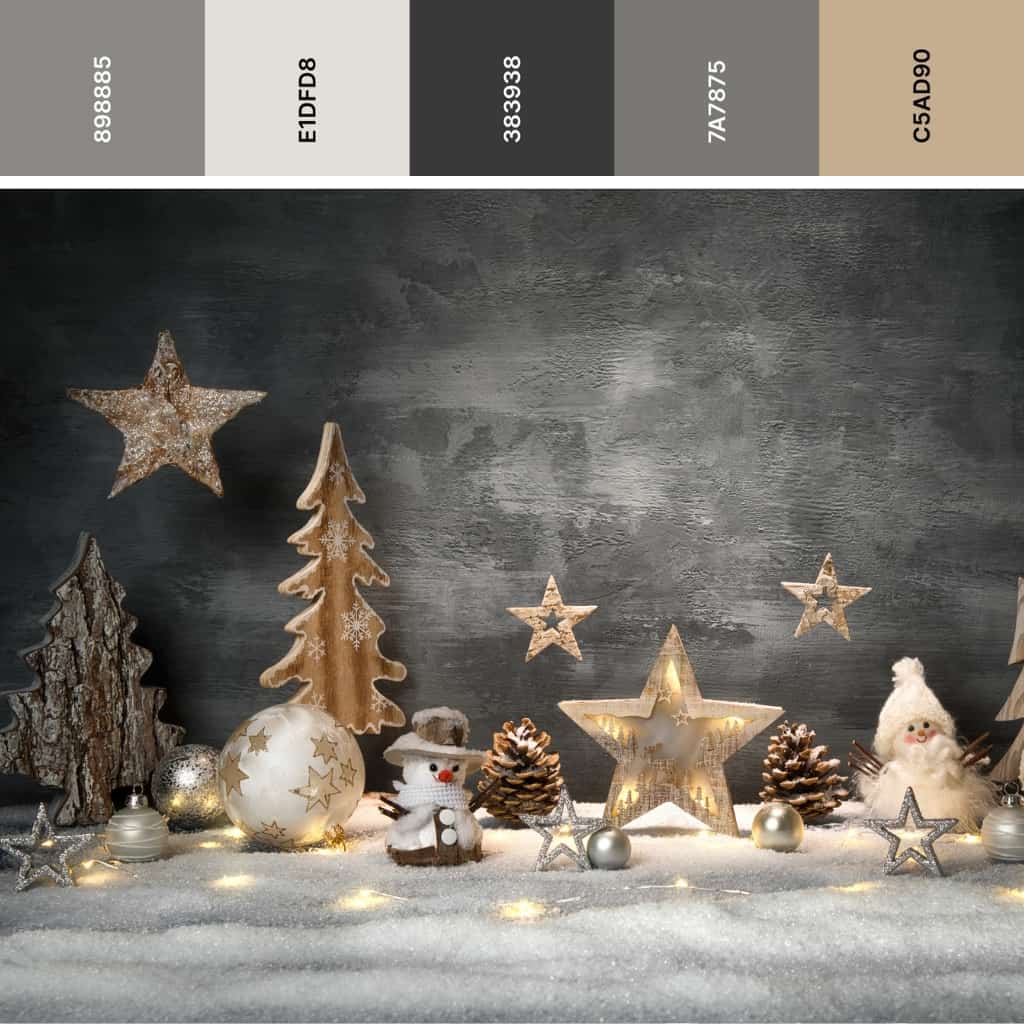 Hex codes: Battleship Gray (#898885), Timberwolf (#E1DFD8), Onyx (#383938), Gray (#7A7875), Golden Beige (#C5AD90)
While not one of the traditional combinations, this palette is elegant and beautiful. In addition, it creates a serene, neutral, and minimalist ambiance that is both elegant and soothing.
The crispness of white, the coolness of gray, and the warmth of beige make a good team, evoking simplicity and sophistication. You can also use pale shades of brown.
16. Emerald, Gold and Pink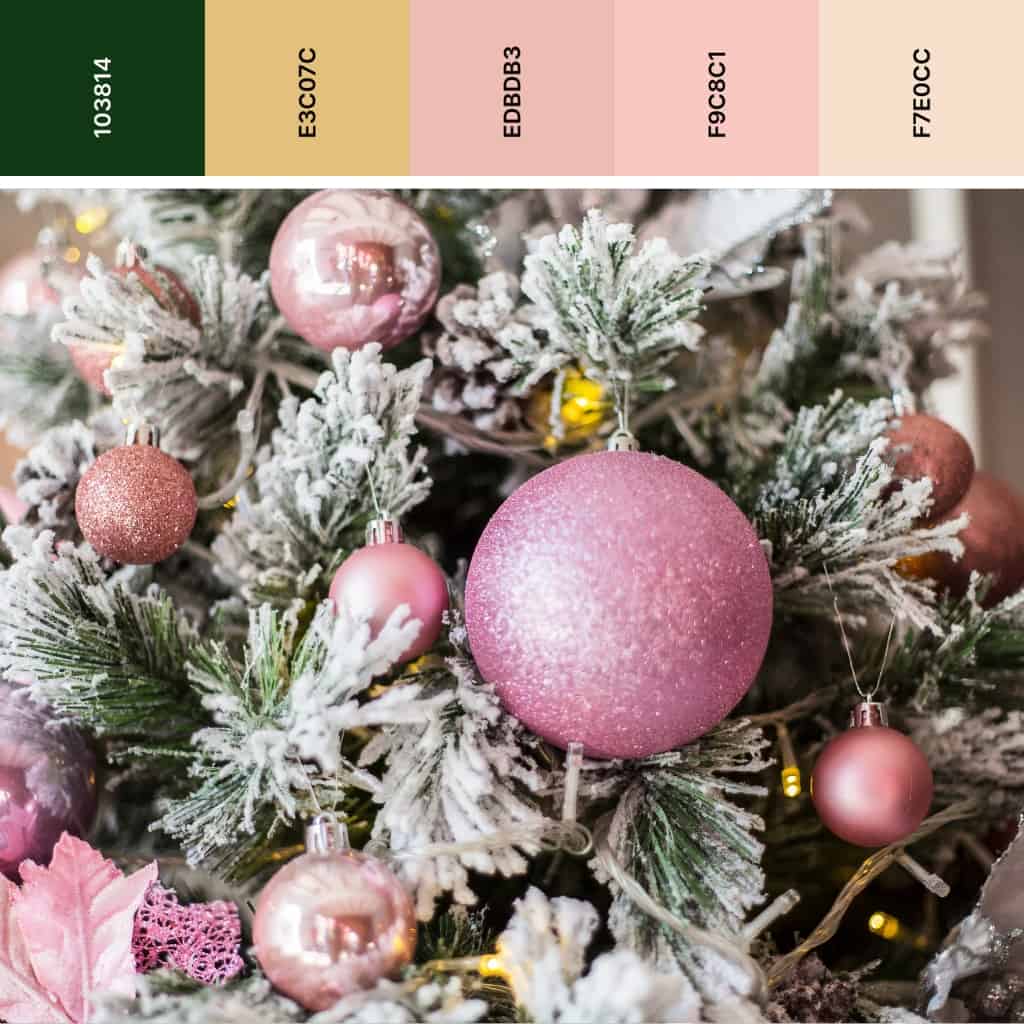 Hex codes: Dark Emerald Green (#103814), Gold (#E3C07C), Melon (#EDBDB3), Tea Rose (#F9C8C1), Dusty Pink (#F7E0CC)
Pink is the color of kindness, love, and compassion. Like brown, it is associated with warmth and comfort.
Emerald – like any other green – is refreshing and calming; gold brings a cheerful and elegant note – like any shade of yellow.
Its rich and luxurious hues capture the essence of the season's glamour.
To avoid an overwhelming design, use pastel tones.
17. Purple, Copper and Green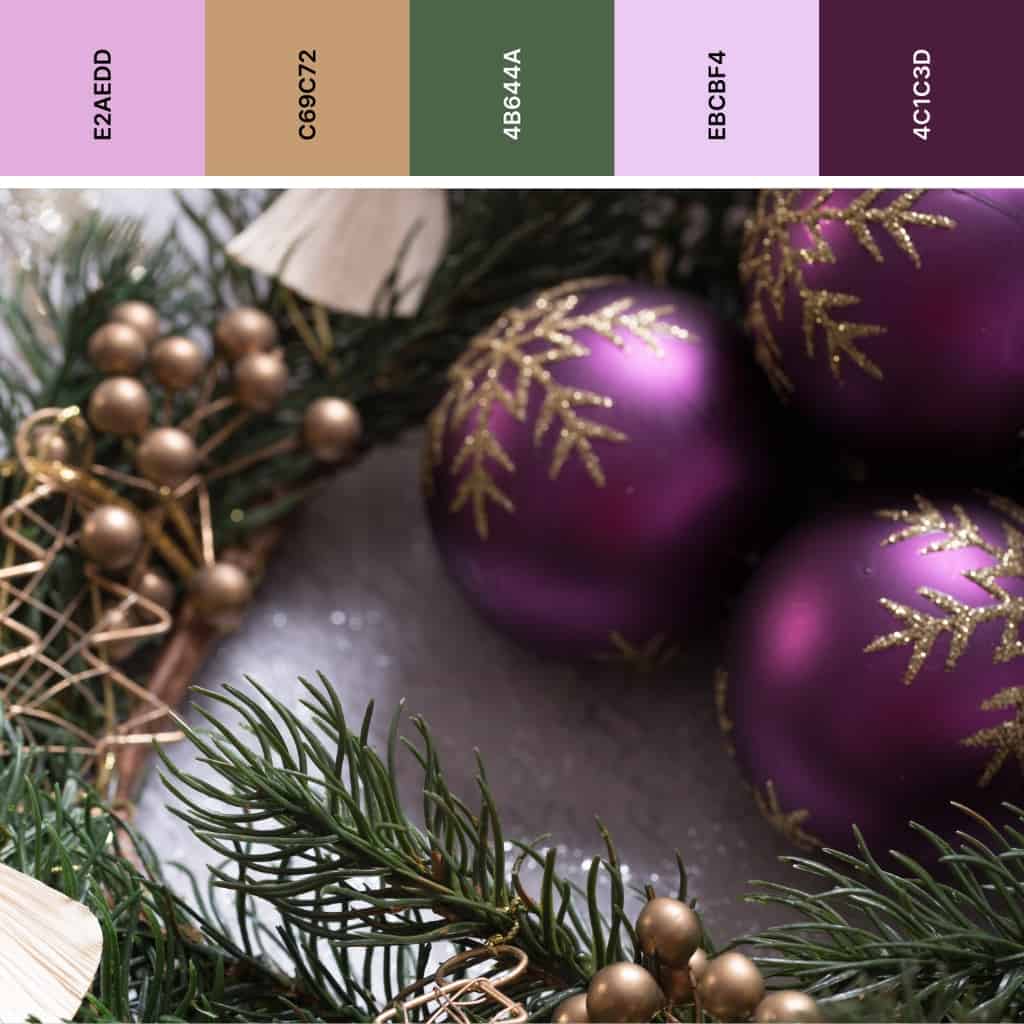 Hex codes: Plum Web (#E2AEDD), Lion (#C69C72), Hunter Green (#4B644A), Thistle (#EBCBF4), Plum (#4C1C3D)
This captivating and regal choice combines the elegance of purple with some earthiness. Shades of purple, like plum and thistle, beautifully contrast with green, while the copper adds some glamour.
Moreover, copper adds warmth and elegance to your decor, while the deep purples infuse a sense of mystery and regal charm.
The vibrant green, reminiscent of the Christmas tree, brings a lively and natural element.
18. Pastel Pinks and White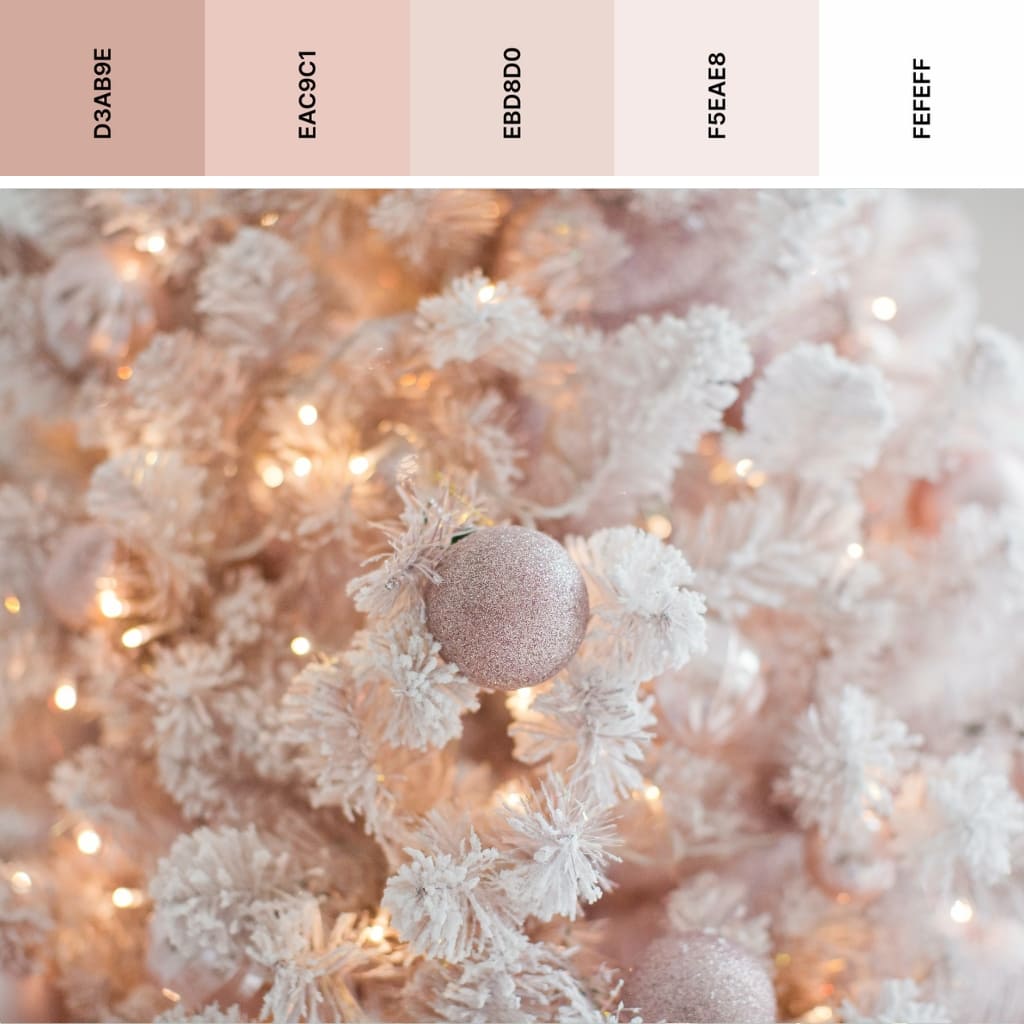 Hex codes: Pale Dogwood (#D3AB9E), Dusty Pink (#EAC9C1), Champagne Pink (#EBD8D0), Seashell (#F5EAE8), White (#FEFEFF)
Pastel pink and white is a combination that evokes a fairytale-like atmosphere.
It creates a whimsical and enchanting ambiance that feels like something out of a storybook.
The soft, dreamy hues of pastel pinks and the crips white bring images of a winter wonderland to mind.
19. Red, Brown and White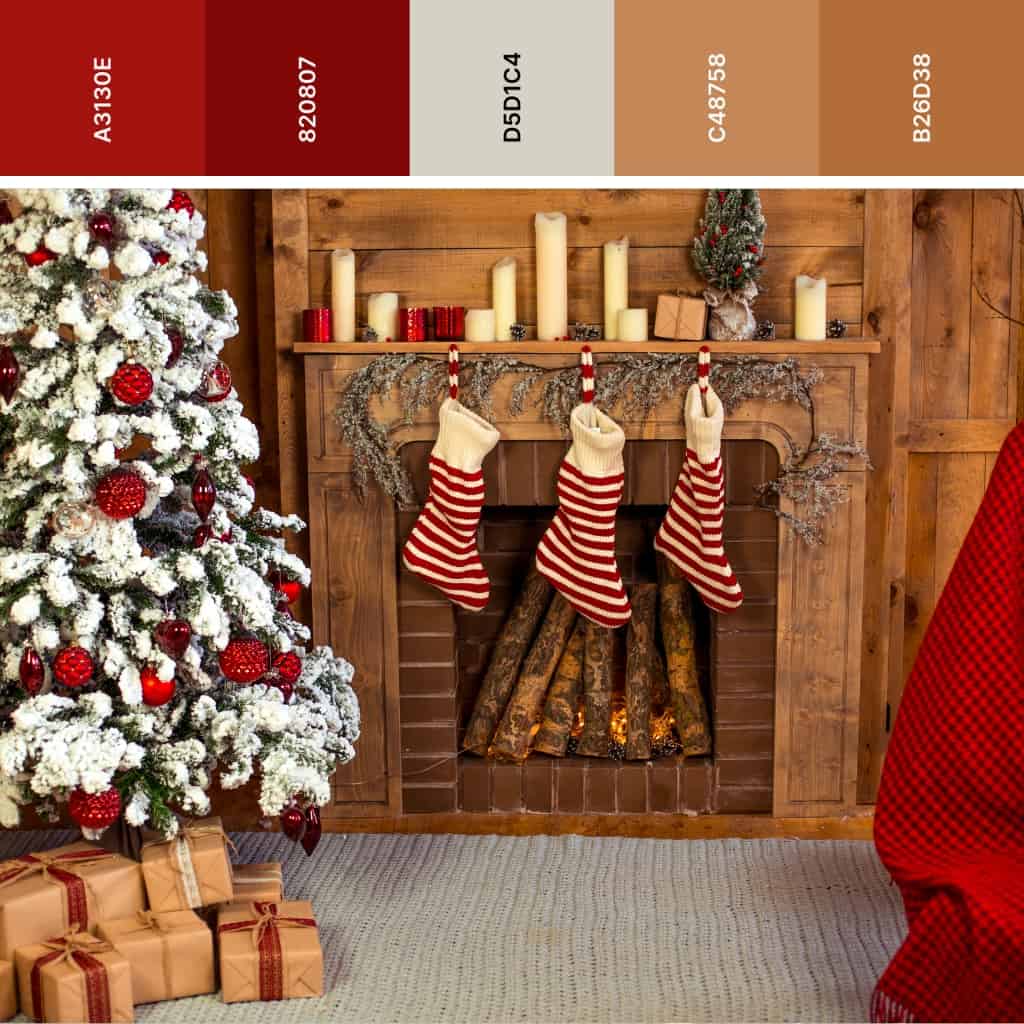 Hex codes: Rufous (#A3130E), Maroon (#820807), Bone (#D5D1C4), Persian Orange (#C48758), Copper (#B26D38)
The red, brown, and white color palette for Christmas is a lovely choice that embodies the warmth and charm of the holiday season.
This palette creates a rustic ambiance that celebrates the comfort and coziness of the season.
Choose soft shades of brown and dark reds like burgundy or maroon to avoid a flashy look.
20. Red and White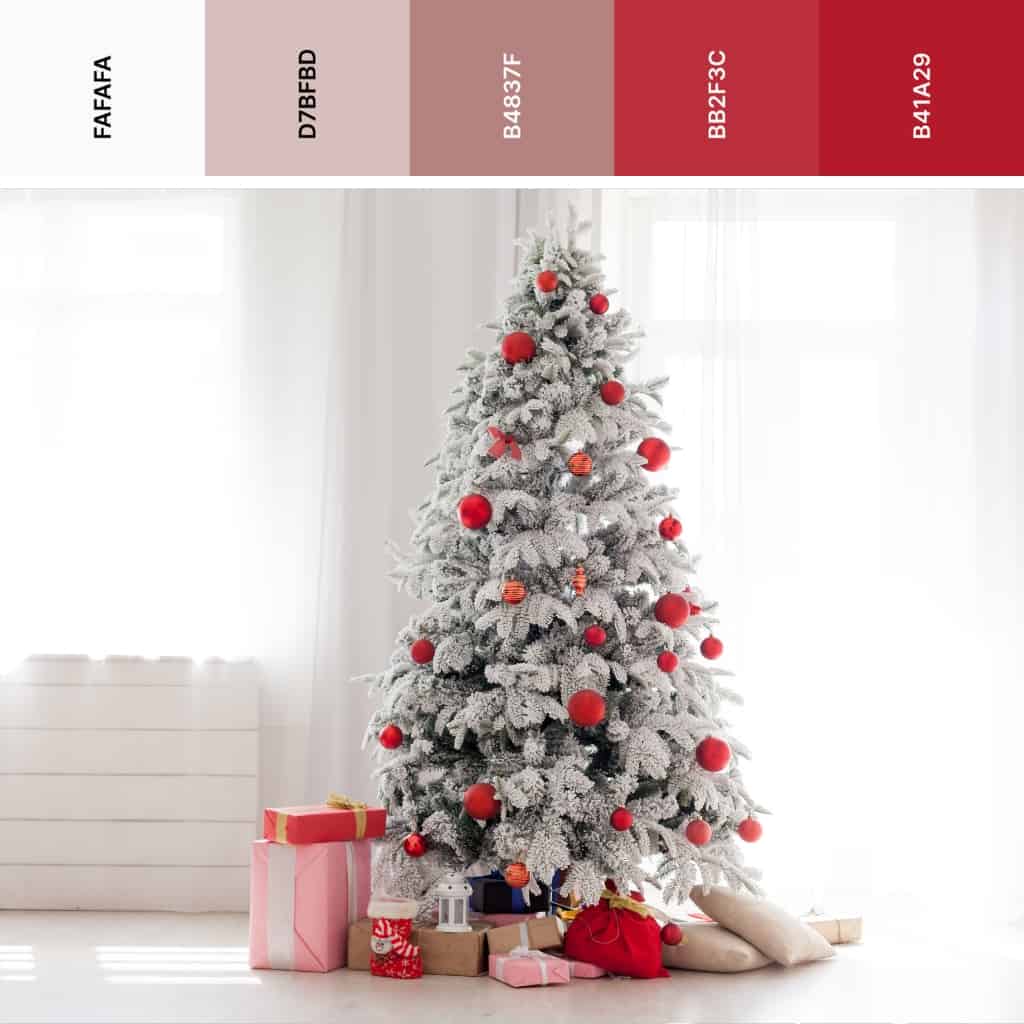 Hex codes: Seasalt (#FAFAFA), Pale Dogwood (#D7BFBD), Old Rose (#B4837F), Cardinal (#BB2F3C), Fire Brick (#B41A29).
Red and white is a classic Christmas color palette that embodies the traditional spirit of the holiday season. You can't go wrong with this combo since it evokes the spirit of the season with warmth and purity.
Red represents the life and blood of Jesus Christ, whose birth we celebrate at Christmas. White, on the other hand, symbolizes purity and peacefulness.
21. Gold and Silver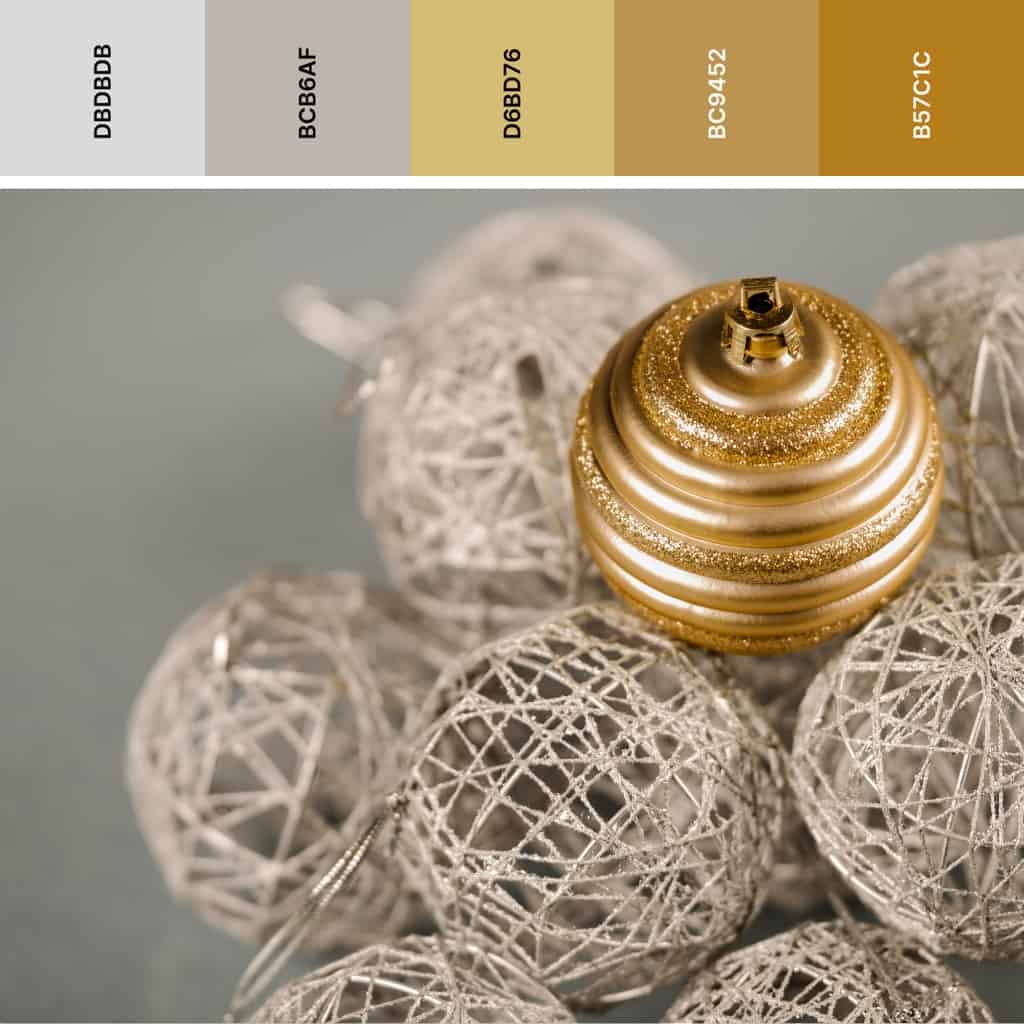 Hex codes: Platinum (#DBDBDB), Silver (#BCB6AF), Ecru (#D6BD76), Lion (#BC9452), Dark Goldenrod (#B57C1C)
The combination of gold and silver is one of the most traditional and timeless holiday color palettes.
This metallic glam brings a feeling of luxury, opulence, and cheerfulness to your holiday decor.
One of the biggest advantages of using gold and silver in your Christmas decor is that they brighten your space while maintaining their neutrality.
Last Words on Holiday Color Palettes
We hope these colors inspired you to create a gorgeous palette for the most wonderful time of the year.
Whether you opt for the classic red and green, the rich gold and silver, or a whimsical mix of pastel pinks and whites, you can create a festive atmosphere that truly captures the essence of the winter holidays.
Did you like these Christmas color palettes? Help us spread the word and share this article with your friends!