Wondering what colors go with red? White, grays, yellows, blues, and green are some colors that go with red. However, the colors that complement red are determined by the tones used.
Even if you're a red lover, decorating with red can seem bold, challenging, or intimidating.
Red is the color of strong emotions and is often associated with passion, energy, power, and desire. That's why the overuse of red in decorating can be overwhelming.
So it's best to use red where you want to feel energized, such as the office, living rooms, dining spaces, or even the kitchen. Definitely not in your bedroom!
When choosing the shade, remember that red colors range from deep, dark tones like burgundy or merlot to reds close to orange – which exude cheerfulness, joy, energy, and optimism.
Dark reds such as burgundy, wine, mahogany, and merlot add sophistication and elegance to any space. On the other hand, pastel reds are associated with joy, sensitiveness, and romance. 
Colors That Go with Red
1. Gray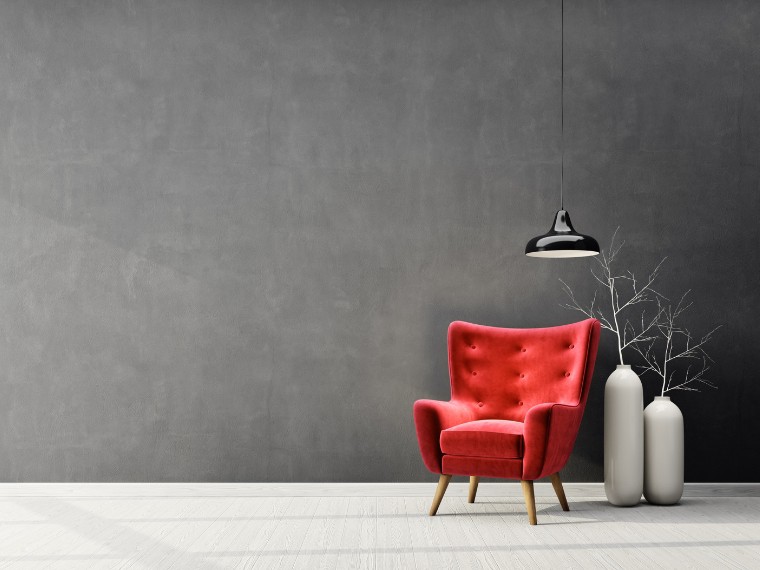 Gray is associated with balance, neutrality, wisdom, and tranquility.
Red and gray is a stylish, sophisticated color combination that works well in modern settings. This classic combo looks great because the two colors complement each other well.
Moreover, gray is a color that goes well with red due to its calming, relaxing, and soothing effects.
This pairing is particularly effective when using a deep red and a light shade of gray. In addition, you can add muted black accents to add an extra touch of elegance.
It is one of the most straightforward combinations that come to mind. Simply place a red chair or sofa in front of a gray wall. You can also choose between a white or grey floor.
Thus, gray is the perfect neutral that softens the energy of red.
2. White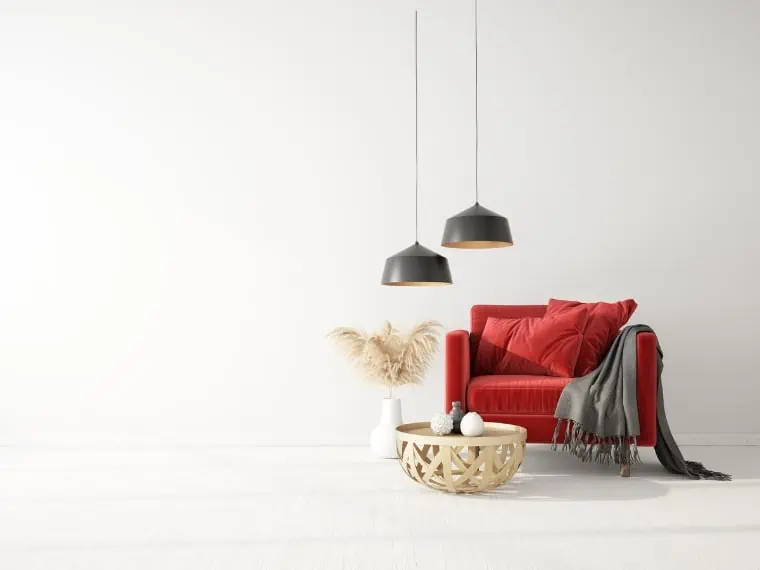 White is the best color that goes with red, followed by gray. Even though all neutrals go well with red, the pairing of red and white feels strong, clean, and stable. 
Also, white is one of the colors that go with red for a stylish look. This combination will always be on trend without being boring or tiring to the eye.
You can use white as the overall color in your living room and add red accents (table, sofa, or armchair) as a pop of color.
Cooler whites help create a more aesthetic look. If you rather want to create a vintage feel, opt for warmer whites.
3. Blue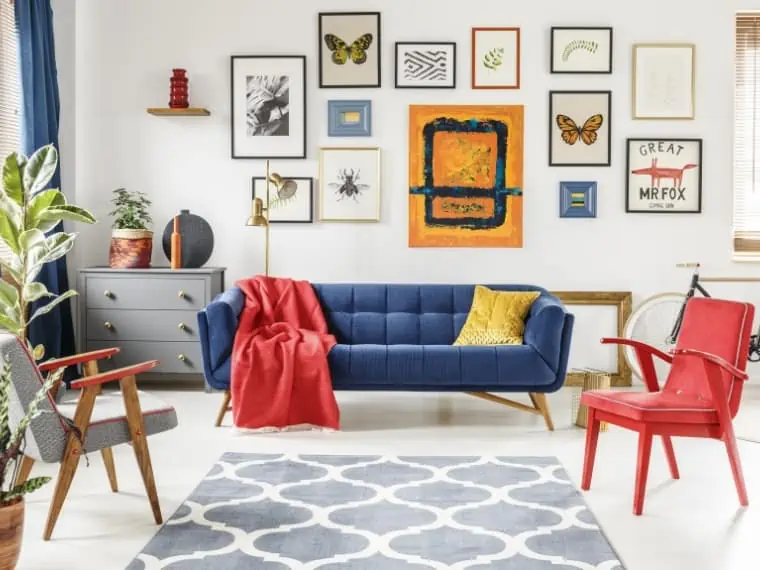 Blue is one of the best colors that go well with red for a classic feel. 
Blue is a relaxing and soothing color, perfect for cooling the warmth of red. Moreover, it creates a sophisticated and elegant color scheme, especially when using darker shades.
Navy or royal blue and muted red create a more classic look. To balance them out, you can use a classic combination that includes white, red, and blue navy in a 60-30-10 color scheme.
Generally, navy blue and cobalt blue are the most beautiful dark blue colors that go with red – especially the brighter shades.
However, while darker blues complement brighter shades of red, tonal reds work better with a softer blue. For example, red tomato complements cyan.
On the other hand, both blue and red are primary colors, and combining them can be too bold.
4. Turquoise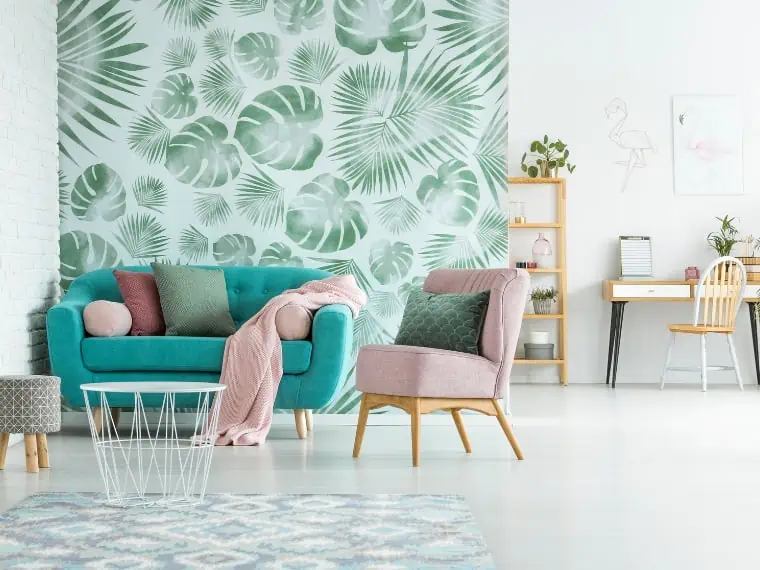 Turquoise is a happy, calm, and friendly color. It radiates the tranquility of blue and the freshness of green. 
Turquoise is versatile because it goes well with coral-hued reds and bolder shades.
Thus, the energy and intensity of red make a perfect marriage with the serenity of turquoise. What's more, this combo creates a lively ambiance. 
Turquoise or peacock-blue tones balance the energy of the red, cooling it a little. 
While burgundy and turquoise offer an understated look, bright reds make a bold statement.
If you want a calmer atmosphere, you can go for red lampshades, curtains, and turquoise walls.
5. Purple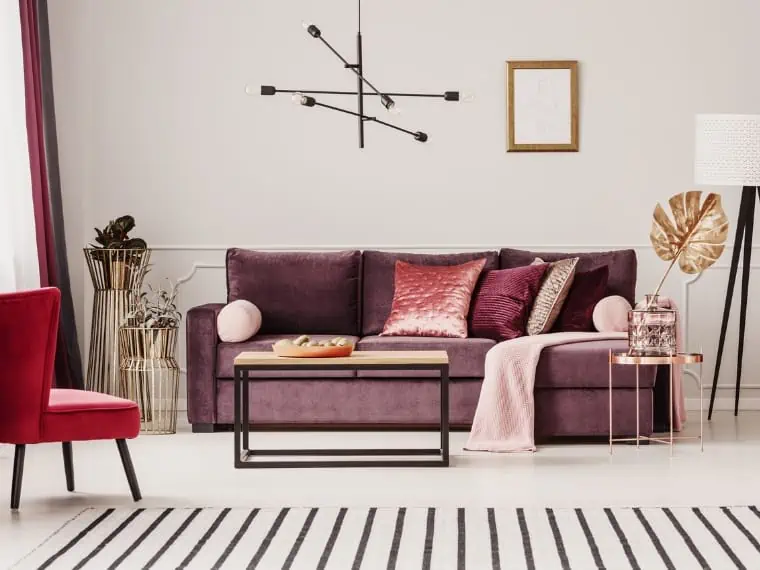 Purple is the color of luxury, mystery, and royalty, enhancing creativity.
Red and purple is a striking and dramatic combination ideal for evoking a sense of luxury and glamour. 
However, red and purple make a stunning combination only when the appropriate tones are combined.
This combination works great in rooms with high-contrast finishes like black and white.
6. Pink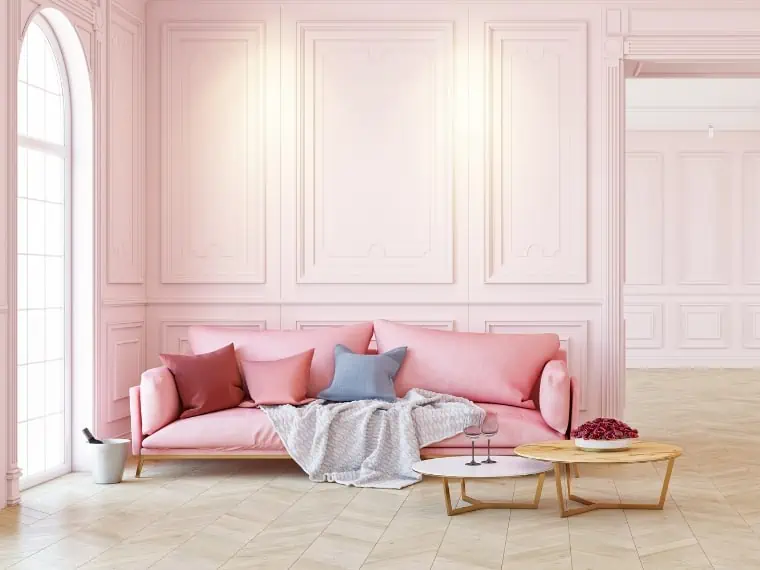 Pink is a softer and more delicate version of red. You can call it the pastel color of red. It goes well with red, creating a harmonious and romantic color scheme.
You can use a muted or bright pink, but keep in mind the tones.
Pastel pink tones go well with deep reds, while bright pinks go well with orange-red hues.
The muted pinks go well with deep reds, especially when you want to add grace, tranquility, and softness to the space.
While pastel pinks make a smoother combination, bright colors make a statement.
7. Green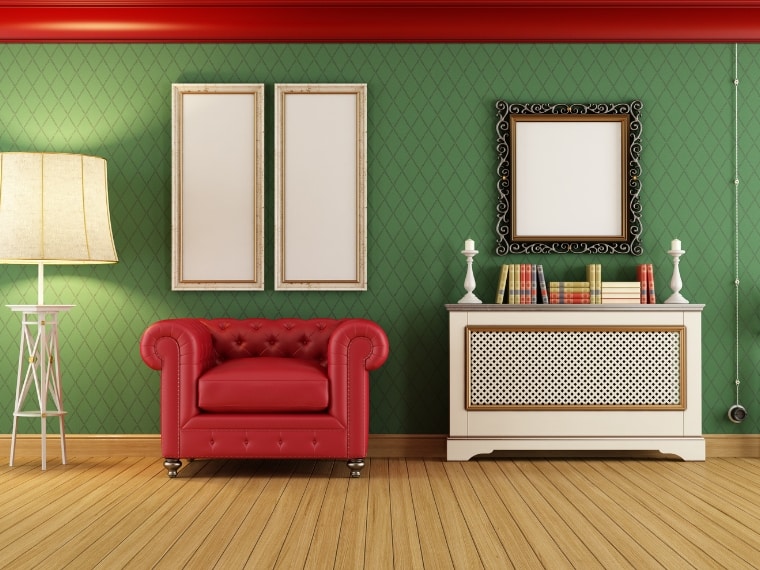 Green is a versatile color that goes well with red. This color combination evokes freshness and naturalness and creates a calm and peaceful atmosphere. 
But if you don't want a Christmas-color vibe, choose the tones carefully. 
Combining darker tones creates a sophisticated look. Red burgundy, for example, looks great with forest green.
On the other side, brighter reds go well with mint green. The warmth of the red is balanced by the coolness of the mint. So basically, mint green is one of the colors that compliment red. In fact, mint green is a pastel green of spring green, which sits opposite red on the color wheel.
Thus, there are many shades of green that go with red, including sage, forest, teal, and moss green.
8. Cream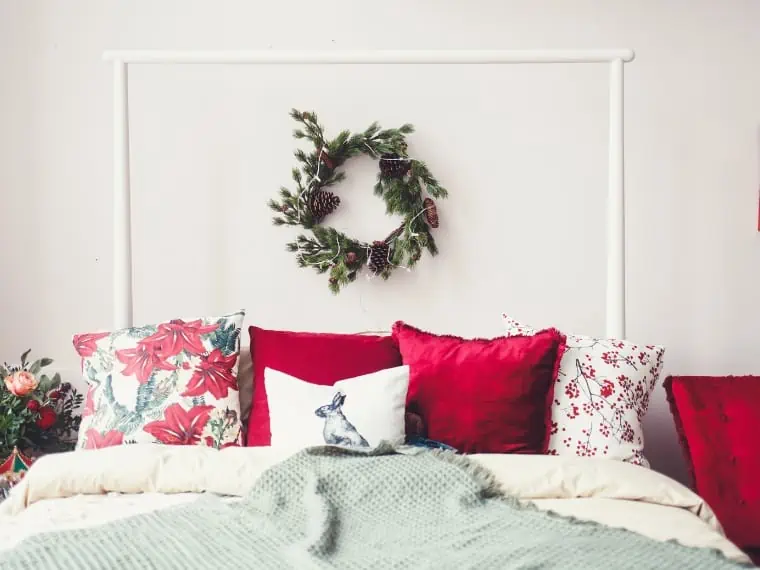 Cream is a color that goes well with red, especially dark tones with a hint of purple. These include burgundy, crimson, and cardinal. 
Whether you want a romantic vibe or a calm atmosphere, use red as an accent in a color palette that includes cream.
Cream is a pastel of yellow, as is pink for red. So it's easy to see why it pairs so well with red.
9. Yellow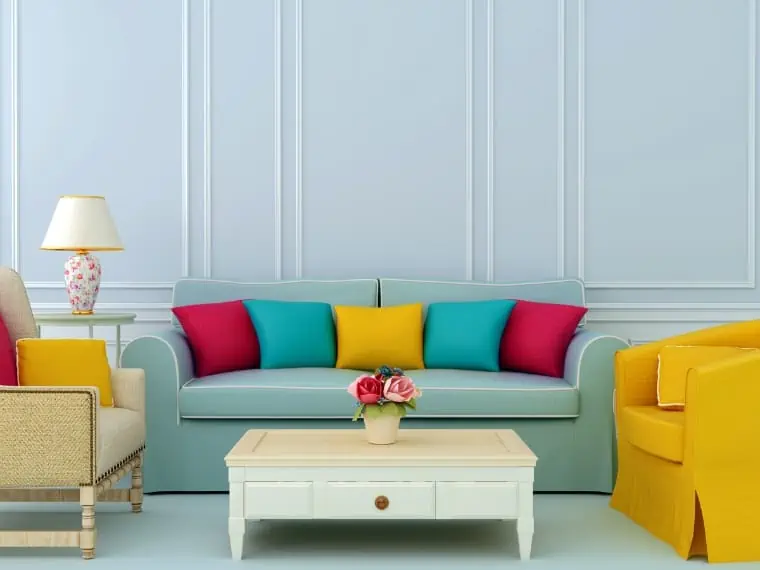 Yellow is a bright and sunny color that pairs well with red, creating a cheerful and uplifting atmosphere.
Yellow is not only a color that goes well with red but also its complementary color. Moreover, yellow is one of the colors that contrast with red. 
This means that this combo offers excellent contrast and is harmonious at the same time.
While yellow is an uplifting color that evokes happiness, joy, and warmth, red is stimulating, intense, and energetic. 
To create a more subtle effect, use a pastel yellow.
Since both colors evoke energy and warmth, it's best to use one of them as an accent. This way, you avoid an overwhelming scheme.
10. Orange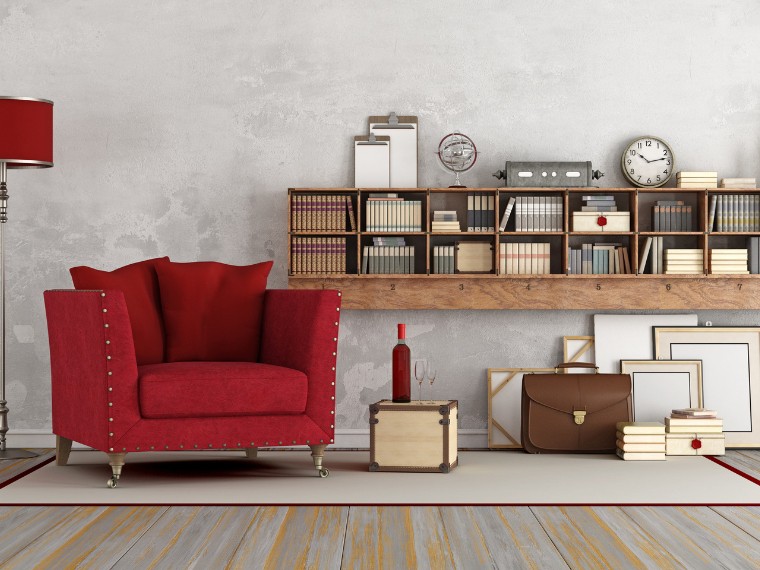 Orange is a warm and vibrant color that pairs well with red. It creates a bold and energetic color scheme that's perfect for creating a sense of excitement and enthusiasm. Moreover, this combo adds dimensionality to any space.
When using red and orange together, consider using proper tones and shades. For example, dark reds such as burgundy, wine, and maroon complement the light shades of orange like apricot.
In addition, this color combo is monochromatic because the colors are close together on the color wheel.
11. Beige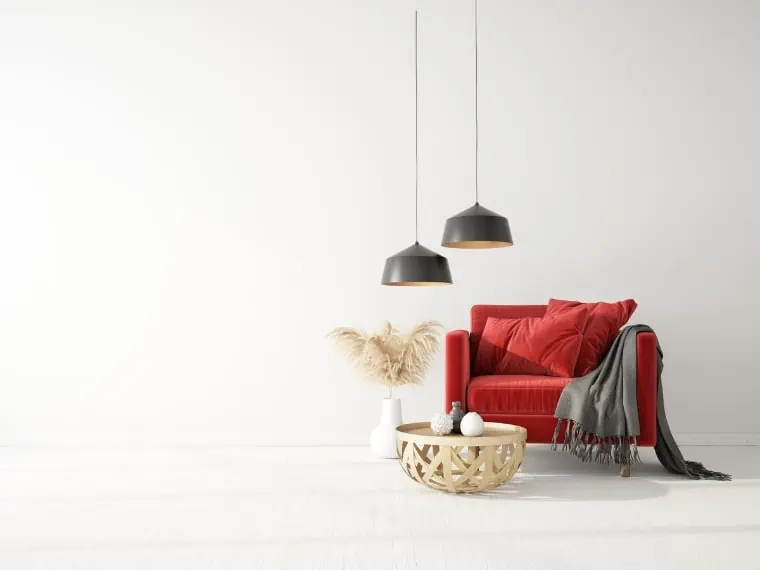 Beige is another color that works well with red because it combines the warmth of brown with the soft crispness of white.
Moreover, beige is one of the colors that best brings out the qualities of red while avoiding the bold contrast – one of the cardinal sins of using red in interior design.
However, any beige works well as a backdrop for a vibrant color like red. As previously said, you can avoid jarring contrasts because it is warmer than any white.
12. Black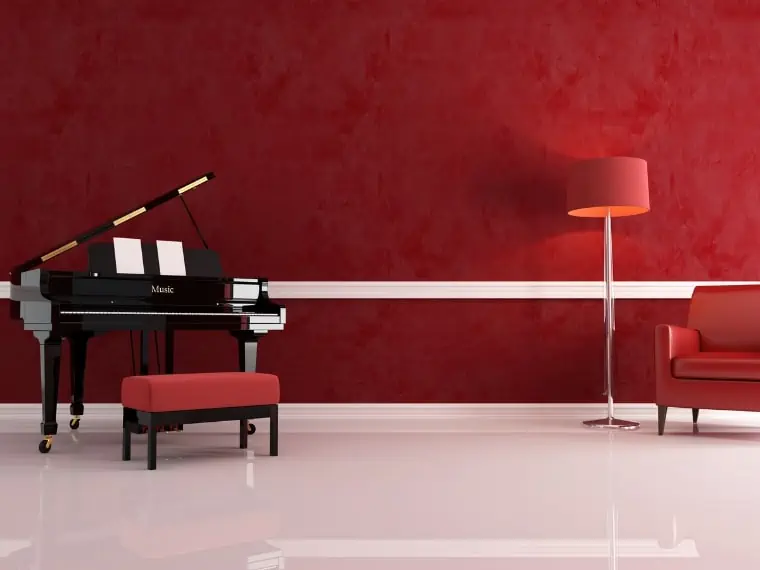 Black is associated with prestige, power, elegance, mystery, and sophistication. It is one of the colors that go with red when you want to give flair, personality, and elegance to any space. 
For example, you can combine watermelon red with black.
This classic color combo is often used in modern design. Moreover, it evokes vigor, vibrancy, and power.
You can also try a maroon or burgundy wall, a black piano with gold accents, a watermelon red chair or lampshade, and a white floor. All of these look incredibly stylish.
13. Brown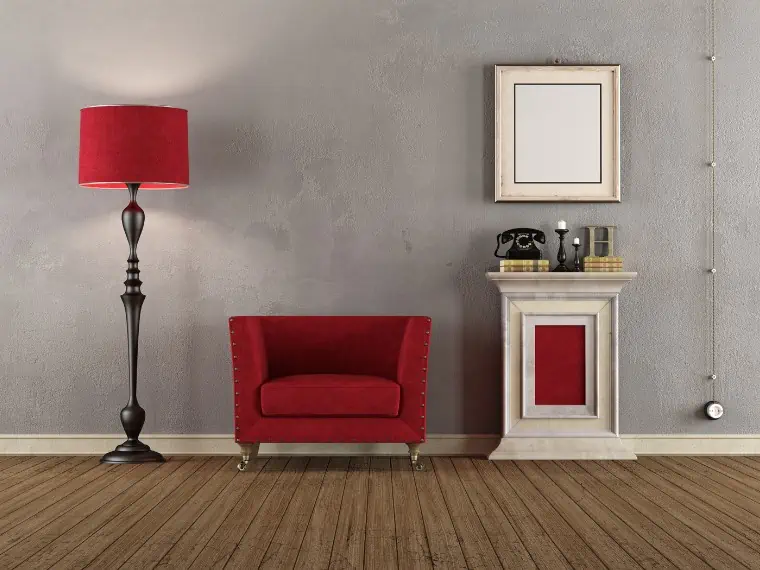 Red and brown make a happy marriage, despite their appearance. Brown represents comfort and stability, softening the energy of red. Both of them are warm.
For a comfortable and sophisticated look, pair chocolate brown with deep red. You can use deep red as your main color and accent pieces like cushions, rugs, or curtains in chocolate brown.
Light brown looks great with rust red. Consider using rust red as your main color if you want a more rustic look. This combination works well in a bedroom with rust red bedding or curtains, and light brown furniture.
Burgundy and tan can be combined for a more classic and timeless look. Alternatively, choose burgundy and bronze. This color scheme looks good in a formal dining room with burgundy walls and a tan tablecloth or curtains.
14. Charcoal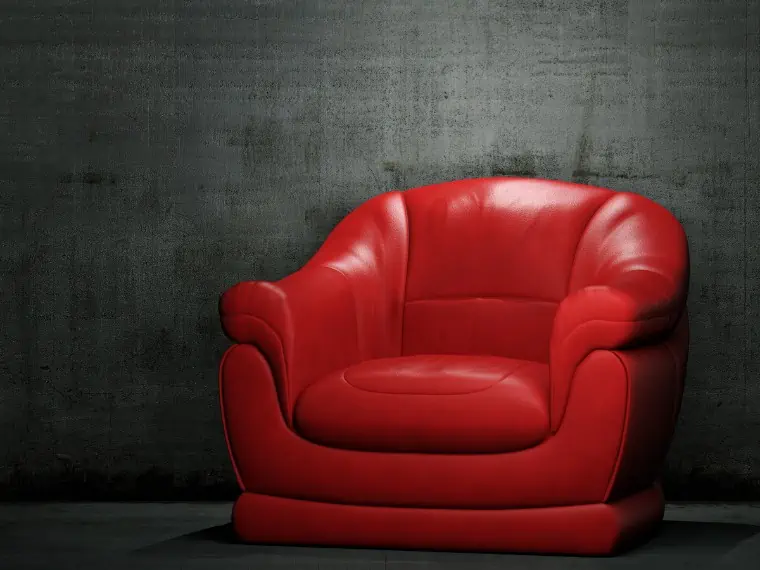 Charcoal is a dark grayish-blue, often associated with mystery and strength.
Like gray, charcoal evokes elegance and sophistication when paired with red. 
With a splash of bright red as an accent, charcoal can look both clean and modern. This combination is frequently used in minimalist interior design.
You can paint a wall in charcoal and use dark red or pastel red accents.
What Colors Go with Red: Pairing Complementary Colors with Different Reds
There are numerous complementary colors for various shades of red. For example:
The primary red goes well with white, yellow, tawny-orange, blue, green, and black. 
Burgundy red works well with charcoal, light gray, golden yellow, turquoise, and umber.
Raspberry red works well with damask rose, white and black. 
Cherry red goes well with gray, pale yellow, light orange, beige, and azure.
Tomato red pairs with mint green, gray, creamy white, sand, and cyan.
Brick red combines well with sage green, blue-gray, beige, and white.
Tips for Choosing the Best Colors that Go with Red
Red goes well with white, gray, charcoal, navy blue, turquoise, green, yellow, cream, gold, brown, purple, pink, and other shades of red. 
However, using similar undertones is important when combining red with another color. For example, pair a red with cool undertones with a pink with cool undertones. Or pair a warm red with warm green.
In terms of color harmony, red works best in monochromatic, analogous, or complementary color palettes. That means avoiding using a triadic color palette that includes red, which can be overwhelming and intimidating.
Matching red in a monochromatic color scheme implies using red as a base color and other reds with different saturation and brightness. So, red goes well with other reds if you want a sophisticated and clean look.
If you want to pair red with a contrasting but harmonious color, use the complementary color scheme. 
Thus, use the color wheel and look at the opposite color of red. This way, it helps you to understand the correct use of undertones.
The complementary color of red is green. So red goes well with green. In addition, red-orange shades like tomato go well with blue-green hues like teal. On the other hand, red-violet colors go well with yellow-green shades.
Red Color Palettes
Here are four red colour palettes you can't go wrong with, whether you're working on a web design or decorating your home.
Red and Gray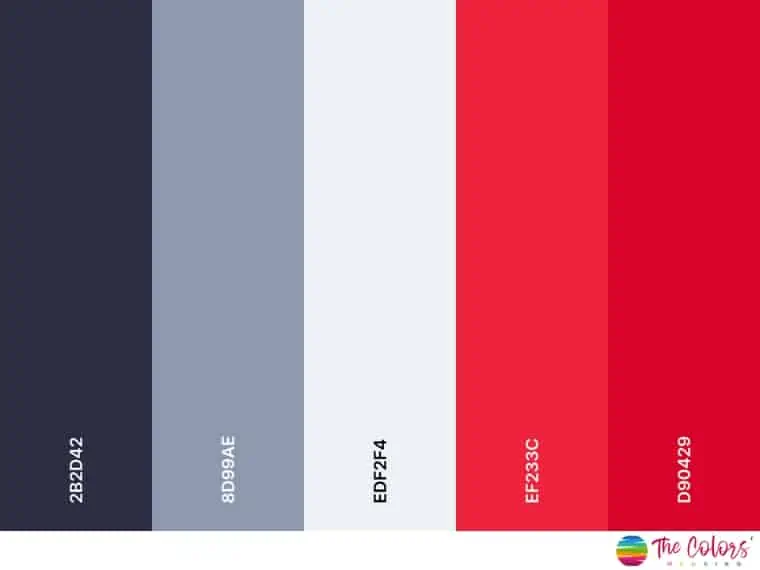 This is one of the most beautiful red color palettes. It combines space cadet (#2B2D42) and cool gray (#8D99AE) with red Pantone (#EF233C) and fire engine red (#D69429). This off-white, known as anti-flash white (#EDF2F4), mitigates the vigor of red.
Red, Tiffany Blue, and Aquamarine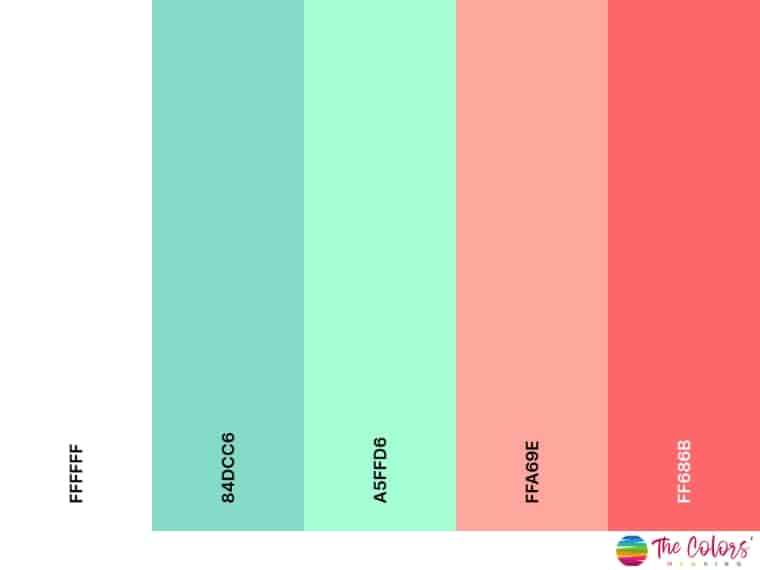 Tiffany blue (#84DCC6) and aquamarine (#A5FFD) are paired with red melon (#FFA69E) and light red (#FF686B) in this red color scheme. White acts as a balancing neutral, smoothing out the coolness of blue and the warmth of red.
Red, Blue, and Cream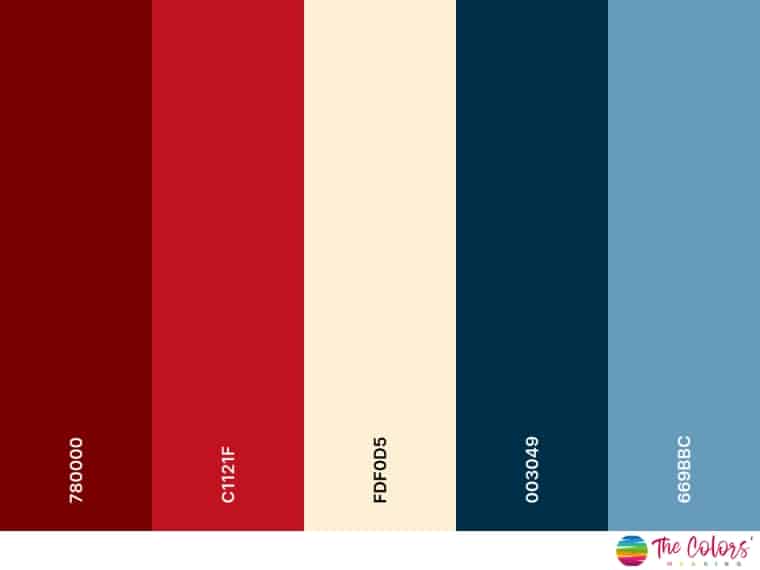 This red color palette incorporates barn red (#780000) and fire brick (#C1121F), as well as prussian blue (#003049) and air superiority blue (#669BBC). Papaya whip (#FDF0D5) is a cream color that works as a great neutral.
Red, Green, and Blue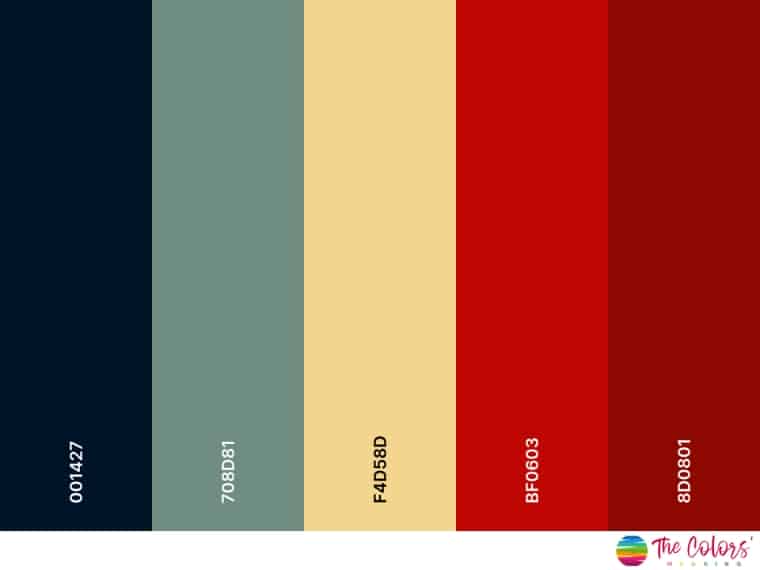 This is one of the most beautiful red color palettes for creating a design that pairs the primary colors of light. Hooker's green (#708D81) and oxford blue (#001427) are combined with engineering orange (#BF0603) and dark red (#8D0801). Jasmine (#F4D58D) is a light golden brown that can be used as a neutral.
Summary: What Colors Go with Red?
Red works well with white, gray, yellow, tawny-orange, blue, green, and black. The red colors that lean toward orange work well with gray, creamy-white, sand, cream, and mint green. The dark reds go well with gray, pale-yellow, sandy, light orange, beige, and azure. Pinkish reds can work well with rose, white, or black.
Last Words on Colors That Go with Red
Even if this bold and vibrant color can be challenging to pair with other colors, choosing the correct tones is key.
As you can see, red goes well with a variety of colors. Although it is a striking color, it can inspire you to pick a color palette that is harmonious and balanced.
Did you like this article about colors that go with red? Help us spread the word and share this article with your friends who might be interested.