The color champagne, often described as a subtle and sophisticated shade, symbolizes understated elegance and sophistication. Much like the sparkling wine it draws its name from, this hue exudes refinement and grace.
This article will cover everything you need to know about the color champagne, including what color is and its psychological meanings, as well as its shades and color codes.
What Color is Champagne?
Champagne is a warm, comforting blend of yellow, orange, and pink, inspired by the sparkling wine of the same name. In addition, this color can also be described as a pale, muted, and slightly golden shade of beige. Its hex code is #F7E7CE.

Champagne Color Codes
| Code | Value | HTML/CSS |
| --- | --- | --- |
| Hex | F7E7CE | #F7E7CE |
| RGB | 247, 231, 206 | rgb(247, 231, 206) |
| HSL | 37°, 72%, 89% | hsl(37, 72%, 89%) |
| HSV | 37°, 16%, 97% | |
| CMYK | 0, 6, 17, 3 | |
Champagne Color Meaning
Champagne was inspired by the bubbly drink of the same name, and thus, it evokes feelings of elegance and sophistication.
As a mixture of yellows, oranges, and warm undertones, this neutral also symbolizes class, romance, and comfort.
Elegance and Sophistication
The sparkling wine has long been associated with nobility and royalty. Its production and consumption were historically reserved for the upper echelons of society, lending an air of exclusivity and sophistication.
Because it is associated with the bubbly drink, this color symbolizes refined taste and a penchant for the finer things in life. As a warm neutral, it symbolizes class and elegance. 
Whether in fashion or interior design, this hue adds a touch of opulence that elevates any setting.
Glitz and Glamour
Champagne – both the beverage and the color – has been linked to luxury and extravagance. It is often reserved for special, upscale occasions, reinforcing its association with glamour.
In the world of cinema, this color has often been associated with Hollywood's golden age. It represents the glitz and glamour of the silver screen, adding a touch of nostalgia to modern-day films.
Joy and Festivity
Since it resembles the color of the effervescent drink, this color is linked to celebrations and special occasions, sharing its hue with the pale gold tones of the drink. 
In addition, it is associated with good times, as the bubbly wine named after it is consumed at parties and important celebratory events. 
Thus, it symbolizes joy, festivity, and the spirit of celebration, making it a drink of choice for marking special and happy occasions.
Simplicity and Comfort
As a golden beige, this color color symbolizes simplicity, evoking feelings of warmth and comfort. That's because this lovely beige is a light brown, which is down-to-earth, welcoming, and friendly.
Shades of Champagne
Since the famous bubbly wine ranges from traditional pale goldens to warmer ambers and rose-tinged hues, Champagne's color palette is very broad.
Champagne
Champagne
Hex #F7E7CE
RGB 247, 231, 206
CMYK 0, 6, 17, 3
Dark Champagne
Dark Champagne conjures images of metallic gold. In the CMYK space, this color is made from equal parts of yellow and black, with a splash of magenta. Its rich and inviting tones add depth and warmth to any space.
Dark Champagne
Hex #C2B280
RGB 194, 178, 128
CMYK 0, 8, 34, 24
Deep Champagne
Deep Champagne exudes sophistication with its muted appearance. Comparable to aged whiskey, it radiates warmth, richness, and elegance. It is similar to Navajo White – a warm and creamy off-white color with yellow undertones.
Deep Champagne
Hex #FAD6A5
RGB 250, 214, 165
CMYK 0, 14, 34, 2
Light Champagne
Light Champagne is a pale beige associated with warmth and comfort. It is also described as an antique white with a yellowish tint.
Light Champagne
Hex #FAECD7
RGB 250, 236, 215
CMYK 0, 6, 14, 2
Beige Gold
Beige Gold strikes a balance between beige and gold, providing just enough brownish tinge to be comforting while also evoking a golden glow that stands for prosperity.
Beige Gold
Hex #F2E2C9
RGB 242, 226, 201
CMYK 0, 7, 17, 5
Medium Champagne
Medium Champagne is a soft and creamy shade with a subtle hint of pale yellow. It resembles the warm and inviting tone of vanilla bean or vanilla ice cream. It's an ideal accent color that never fails to make a statement.
Medium Champagne
Hex #F3E5AB
RGB 243, 229, 171
CMYK 0, 6, 30, 5
Champagne CMYK
Champagne CMYK is a pale orange made in the CMYK space from 10% magenta and 20% yellow. It boasts a glossy finish, creating an unexpected shade that adds depth to any space. It exudes glamour in daily life.
Champagne CMYK
Hex #FFE6CB
RGB 255, 230, 203
CMYK 0, 10, 20, 0
Biscuit
Biscuit is a warm, muted shade that resembles the soft and subtle color of baked biscuits or cookies. Its soft yellowish-brown tone radiates warmth. It's perfect for creating cozy vibes.
Biscuit
Hex #DDB591
RGB 221, 181, 145
CMYK 0, 18, 34, 13
Aesthetic Champagne
When compared to traditional champagne colors, this one has a more daring and intriguing appearance. Moreover, it is distinguished by its combination of light pinkish tones and warm tints, creating a captivating vibe. It stands out without being overwhelming.
Aesthetic Champagne
Hex #F3E5CA
RGB 243, 229, 202
CMYK 0, 6, 17, 5
Champagne Brown
Champagne Brown balances warmth with neutrality, making it ideal for blending into various color schemes. Its earthy warmth comes from mixing the richness of brown with the subtle elegance of champagne.
Champagne Brown
Hex #EAC396
RGB 234, 195, 150
CMYK 0, 17, 36, 8
Pale Champagne
Pale Champagne exudes an inviting air, making it perfect for brightening up any space. With its blend of light yellow shades and creamier undertones, this delicate, vintage-inspired shade creates a welcoming atmosphere.
Pale Champagne
Hex #F9F0DF
RGB 249, 240, 223
CMYK 0, 4, 10, 2
Champagne Blonde
Champagne Blonde is a gentle and warm hue that embodies champagne's soft, golden tones. Combining sweetness with a touch of glitz, this unique shade adds flavor to your surroundings without being overly showy.
Champagne Blonde
Hex #F0DAC1
RGB 240, 218, 193
CMYK 0, 9, 20, 6
Champagne Frost
Champagne Frost is a bluish beige that brings a welcoming sparkle with a touch of frosty undertones. It creates an enchanting and tranquil atmosphere.
Champagne Frost
Hex #E4D8C7
RGB 228, 216, 199
CMYK 0, 5, 13, 11
Antique Gold
Antique Gold is a classic and timeless shade of gold that resembles the richness of antique treasures. This blend of golden hues exudes warmth and sophistication, making it a perfect match for a luxurious ambiance.
Antique Gold
Hex #D4C19C
RGB 212, 193, 156
CMYK 0, 9, 26, 17
Pink Champagne
Pink Champagne combines light pink tones with creamy taupe undertones, creating a delicate and inviting color. Its pastel nature adds warmth and sophistication. Softer than rose gold, it effortlessly stands out without clashing with other colors.
Pink Champagne
Hex #F1DDCF
RGB 241, 221, 207
CMYK 0, 8, 14, 5
Champagne Ice
Champagne Ice is a pale pinkish beige with a cool, frosty undertone. It adds depth and character to any space.
Champagne Ice
Hex #f3e5dd
RGB 243, 229, 221
CMYK 0, 6, 9, 5
Caramel
Caramel is a warm and earthy hue resembling the rich, golden-brown tones of caramelized sugar. It evokes a sense of coziness and sweetness. Its darker brownish tones offer dreamy depth.
Caramel
Hex #DFB28D
RGB 223, 178, 141
CMYK 0, 20, 37, 13
Champagne Beige
Champagne Beige is a soft and muted golden beige that combines the elegance of champagne with the warmth of beige. It exudes a subtle, sophisticated charm that adds warmth without overpowering other colors.
Champagne Beige
Hex #DBC4A0
RGB 219, 196, 160
CMYK 0, 11, 27, 14
Champagne Pink
Champagne Pink is a soft yellow-pink color that exudes playful elegance and feminity. It can also be described as a yellowish pink.
Champagne Pink
Hex #F8DECD
RGB 248, 222, 205
CMYK 0, 10, 17, 3
Champagne Rose
Champagne Rose is a dusty blush shade with rose undertones, evoking feelings of romance and warmth. Its depth conveys passion, while the gentle undertones offer comfort and serenity.
Champagne Rose
Hex #DBBEBB
RGB 219, 190, 187
CMYK 0, 13, 15, 14
Champagne Elegance
Champagne Elegance can be described as an off-white color. Its softness exudes refinement with a touch of understated luxury. It's paler than champagne cream.
Champagne Elegance
Hex #F8EEE0
RGB 248, 238, 224
CMYK 0, 4, 10, 3
Champagne Shade
Champagne Shade is a bright, warm, and sunny hue. It features a soft, golden tone that exudes warmth and cheerfulness.
Champagne Shade
Hex #fad6a5
RGB 250, 214, 165
CMYK 0, 14, 34, 2
Champagne Gold
Champagne Gold is a luxurious blend of muted gold, beige, and yellow tones. It is perfect for creating a sense of luxury and refinement.
Champagne Gold
Hex #FAEEC8
RGB 250, 238, 200
CMYK 0, 5, 20, 2
Bubbly
Bubbly is a light and cheerful shade reminiscent of bubbles in a sparkling wine. It features a pale, creamy tone with a hint of warmth, creating a bright mood.
Bubbly
Hex #F6E4C6
RGB 246, 228, 198
CMYK 0, 7, 20, 4
Cava
Cava is a delicate and pale shade with warm undertones. It shares a resemblance to the soft, golden hue of Cava wine, a bubbly wine from Spain. This color exudes a sense of sophistication and elegance. It is similar to bubbly.
Cava
Hex #F7E4CA
RGB 247, 228, 202
CMYK 0, 8, 18, 3
Champagne Mist
Champagne Mist is a pale taupe with soft pink undertones. It combines the classic taupe with subtle hints of soft pink, creating a delicate hue.
Champagne Mist
Hex #E8DACD
RGB 232, 218, 205
CMYK 0, 6, 12, 9
Champagne Blush
Champagne Blush adds a pleasant glow to any room, combining the warmth of beige with a subtle blush of pink. It can also be described as a dusty pink. Its delicate appearance creates a graceful ambiance with a touch of warmth and femininity.
Champagne Blush
Hex #E6C4B9
RGB 230, 196, 185
CMYK 0, 15, 20, 10
Ivory
Ivory is a very pale yellow inspired by the natural material made from the tusks and teeth of elephants and walruses. This creamy white also described as an off-white color with a tint of yellow, is synonymous with purity, grace, and understated charm.
Ivory
Hex #fffff0
RGB 255, 255, 240
CMYK 0, 0, 6, 0
Champagne Cream
Champagne Cream is a gentle and creamy shade. It captures the elegant essence of champagne while enveloping it in a soothing creamy tone. Its muted pastel tone creates a peaceful oasis.
Champagne Cream
Hex #F8E9D6
RGB 248, 233, 214
CMYK 0, 6, 14, 3
Champagne Ivory
Champagne Ivory is light yellowish with creamy tones that warm any space while remaining neutral. You can also call it a warm off-white.
Champagne Ivory
Hex #FFF8ED
RGB 255, 248, 237
CMYK 0, 3, 7, 0
Champagne Kiss
Champagne Kiss combines gray and warm beige. It has a soft, muted grayish base with a hint of yellow, creating a delicate hue. It can also be described as a pale gray with a subtle touch of yellow.
Champagne Kiss
Hex #e8e4e4
RGB 232, 228, 228
CMYK 0, 2, 2, 9
Chardonnay
Chardonnay is a pale shade of yellow-orange, reminiscent of the sun-kissed vineyards and the warmth of a glass of Chardonnay wine. It's a mixture of orange and champagne that embodies sensuality and sophistication.
Chardonnay
Hex #FFCD8C
RGB 255, 205, 140
CMYK 0, 20, 45, 0
Champagne Mauve
Champagne Mauve is a beige rose with delicate mauve undertones, resulting in a color that carries hints of both pink and gold while maintaining an overall elegant appearance.
Champagne Mauve
Hex #E5C8B5
RGB 229, 200, 181
CMYK 0, 13, 21, 10
Ivory Pearl
Ivory Pearl is a very pale orange created by mixing pale ivory with hints of soft pearl. It radiates subtle luxury, offering a touch of opulence without being overpowering.
Ivory Pearl
Hex #F6E8CA
RGB 246, 232, 202
CMYK 0, 6, 18, 4
Champagne Pearl
Champagne Pearl combines the elegance of champagne with a pearlescent quality that results in a delicate and refined golden sheen. Its subtle golden glitz makes it the perfect neutral for a touch of glamour to your space.
Champagne Pearl
Hex #EADDC7
RGB 234, 221, 199
CMYK 0, 6, 15, 8
Cream Puff
Cream Puff is a soft, warm, and inviting hue in the pastel color family. Its gentle blend of creamy white and delicate peach undertones brings warmth and cheerfulness, creating a welcoming atmosphere.
Cream Puff
Hex #FFF1D8
RGB 255, 241, 216
CMYK 0, 5, 15, 0
Champagne Silver
Champagne Silver is a medium greige created by mixing beige and gray. This soft, muted hue with a silvery glow blends the comfort of beige with the neutrality of gray, bringing an elegant touch to your environment.
Champagne Silver
Hex #DDD1C4
RGB 221, 209, 196
CMYK 0, 5, 11, 13
Ivory Cream
Ivory Cream is a delicate blend of creamy white with subtle undertones of warm beige. It is the color of simplicity and comfort. The subtle beige undertones evoke a sense of tranquil serenity, offering a calming backdrop.
Ivory Cream
Hex #DAC0A7
RGB 218, 192, 167
CMYK 0, 12, 23, 15
Dark Champagne Gold
Dark Champagne Gold evokes a sense of luxury and prestige. It is a harmonious blend of deep gold with subtle hints of champagne, creating a bold yet sophisticated look.
Dark Champagne Gold
Hex #D7C69D
RGB 215, 198, 157
CMYK 0, 8, 27, 16
Light Champagne Gold
Light Champagne Gold is a soft, elegant pale yellow with golden undertones contributing to its luxurious look. Its light golden tints create an ambiance of grandeur, making it a stunning choice for a touch of warm elegance.
Light Champagne Gold
Hex #FAF0D5
RGB 250, 240, 213
CMYK 0, 4, 15, 2
Champagne White
Champagne White is a very pale and elegant shade of white often used in interior design to create an atmosphere of sophistication and cleanliness.
Champagne White
Hex #F4EFE5
RGB 244, 239, 229
CMYK 0, 2, 6, 4
Bubbles
Bubbles is a soft, pale blue with a hint of green, creating a tranquil and uplifting mood. Moreover, it is a delightful and refreshing color that mirrors the effervescence of soap bubbles catching the sunlight. This color embodies serenity, trustworthiness, and youth.
Bubbles
Hex #E7FEFF
RGB 231, 254, 255
CMYK 9, 0, 0, 0
Pastel Champagne
Pastel Champagne, is a pale, muted shade of champagne whitened just enough to look soft yet maintain its personality. This light champagne color with a pastel twist pairs well with pale blues.
Pastel Champagne
Hex #FCF1DC
RGB 252, 241, 220
CMYK 0, 4, 13, 1
Pearl White
Pearl White is a delicate and muted off-white that resembles the soft luminescence of natural pearls. It embodies purity, grace, and sophistication, making it a favorite in numerous creative domains.
Pearl White
Hex #F8F6F0
RGB 248, 246, 240
CMYK 0, 1, 3, 3
Pale Gold
Pale gold, as the name suggests, is a subtle yet radiant shade that lies between the ethereal golden glow and the joy of muted yellow. Its tones are perfect if you want to design with warmth and elegance at the same time.
Pale Gold
Hex #E6BE8A
RGB 230, 190, 138
CMYK 0, 17, 40, 10
Old Champagne
Old Champagne, a darker version of light champagne gold, is a pale mixture of yellow's brightness and orange's warmth. This yellowish-orange or sandy yellow is perfect for celebrating life's special moments.
Old Champagne
Hex #F7E7CE
RGB 247, 231, 206
CMYK 0, 6, 17, 3
Pale Beige
Pale Beige is actually a medium golden tan with a slightly yellowish tone that strikes a balance between soft beige and gold. You can also describe it as a dark khaki with golden undertones.
Pale Beige
Hex #DED1B4
RGB 222, 209, 180
CMYK 0, 6, 19, 13
Pale Honey
Pale Honey is a lighter shade compared to the deeper and richer tones of pale gold. It has a lighter, more subdued color, resembling the soft, golden honey hue with a touch of transparency. It has an effervescent charm that can delight your scheme.
Pale Honey
Hex #F6D7AB
RGB 246, 215, 171
CMYK 0, 13, 30, 4
Prosecco
Prosecco is a pale, straw-like hue with hints of gold and amber. It was named after the sparkling wine originating from the Veneto region of Italy. Known for its fresh and fruity flavor profile, it has won hearts worldwide. Its soft glow brings joy and effervescence to your life.
Prosecco
Hex #FAD6A5
RGB 250, 214, 165
CMYK 0, 14, 34, 2
Sandstone
Sandstone is a warm and neutral color named after the sedimentary rock of the same name. This rock is composed of grains of mineral, rock fragments, and sometimes organic material that have been compacted and cemented together over millions of years. Its warm and earthy tones symbolize strength and endurance.
Sandstone
Hex #786D5F
RGB 120, 109, 95
CMYK 0, 9, 21, 53
Sparkling Wine
Sparkling Wine is a lively and inviting color that mirrors the golden effervescence of fine bubbly. It embodies joy, sophistication, and the spirit of celebration.
Sparkling Wine
Hex #EFCF98
RGB 239, 207, 152
CMYK 0, 13, 36, 6
Sand Beige
Sand Beige is a gentle mixture of brown and taupe color that mirrors the warmth and calmness of sandy shores. Also described as a taupe with a golden glow, this hue embodies simplicity and grandeur. With its gentle and warm undertones, this soothing and neutral hue is also associated with calmness and comfort.
Sand Beige
Hex #AE9B7D
RGB 174, 155, 125
CMYK 0, 11, 28, 32
Soft Beige
Soft Beige is a pale, muted golden brown with a warm appearance. The golden tints infuse a sense of warmth and radiance, making it appear soft, elegant, and inviting. It also evokes simplicity, versatility, and a sense of calm.
Soft Beige
Hex #DDC7A0
RGB 221, 199, 160
CMYK 0, 10, 28, 13
Sparkling Pink
Sparkling Pink is a bright and cheerful color that embodies the vivacity and playfulness of pink with a touch of added brilliance. It's known for its energetic and playful qualities, often conveying a sense of joy, youthfulness, and positivity.
Sparkling Pink
Hex #f5cee6
RGB 245, 206, 230
CMYK 0, 16, 6, 4
Vanilla Cream
Vanilla Cream is a very pale and muted blend of orange and peach. This soft and creamy hue is linked to the sweetness and warmth of vanilla while maintaining a subtle and elegant quality.
Vanilla Cream
Hex #F7E0D2
RGB 247, 224, 210
CMYK 0, 9, 15, 3
Wine Yellow
Wine Yellow is a rich and warm color that mirrors the hues of aged wine and the golden glow of vineyards at sunset. It embodies sophistication, luxury, and a sense of comfort. When used in interior design, it creates a sense of coziness and opulence.
Wine Yellow
Hex #D7C485
RGB 215, 196, 133
CMYK 0, 9, 38, 16
HSL 46°, 51%, 68%
Champagne Color Chart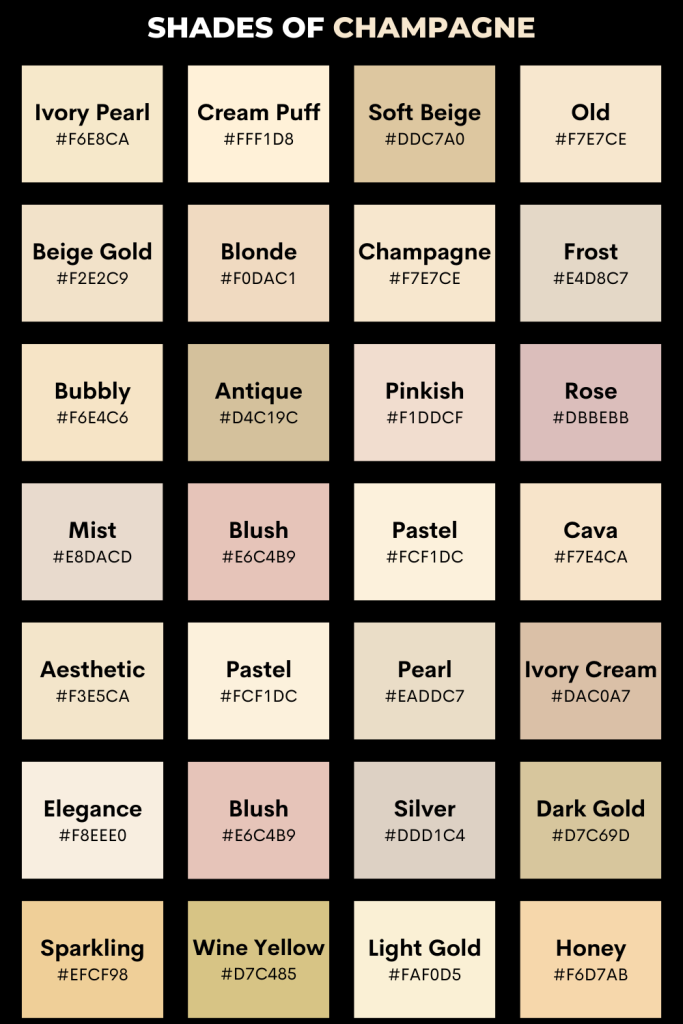 F.A.Q About the Champagne Color
What Color is Champagne?
Champagne is a light sandy yellow created by mixing yellow and orange or soft brown. It can also be described as a sandy yellow or a yellowish-orange.
Is Champagne Pink or Beige?
Champagne is typically a pale, muted beige. It is often associated with the soft, warm tones in the Champagne region's vineyards, which inspired its name. However, the color champagne can vary from pale golden beige to warmer yellows and even rose-tinged hues.
What Colors Make Champagne?
To make the color champagne, you need to mix yellow and dark orange or light brown. You can also blend beige and pale gold or yellow tones. This combination produces a soft, warm, and elegant color reminiscent of the drink named after.
What is the history behind the color Champagne?
The term "Champagne" as a color originated in the 19th century, inspired by the hues of the Champagne region's vineyards during autumn. Champagne symbolizes celebration, elegance, and refinement, evoking feelings of joy and sophistication.
What Does the Color Champagne Represent?
Champagne symbolizes celebration, elegance, and refinement, evoking feelings of joy and sophistication. Its soft, warm tones evoke feelings of romance and sophistication, making it a favorite choice for special occasions.