Are you looking for colors that go with teal? Here's a list of teal palettes, including their hex color codes.
Teal is a deep greenish-blue color, named after the common teal bird, which has a striking stripe of this color around its eyes. Originating as a color name in England in the 1920s, teal has become a staple in design and fashion.
Regarding its psychological meaning, teal combines the tranquility of blue with the balance and growth vibes of green. Thus, it provides a calming and balanced effect. It's no wonder this color is associated with healing, sophistication, and elegance.
When it comes to teal color palettes, this color pairs well with earth tones, pastels, as well as vibrant colors. Soft neutrals, pastels, and even some vibrant shades like mustard or coral complement teal beautifully.
What Colors Go with Teal?
Teal is a versatile color that goes well with many colors, including neutrals (cream, beige, gray, white, black), light (yellow, coral, red), pastels (soft pink, peachy pink, lavender), and deep hues (burgundy, navy blue).
Some of the colors that that go with teal include:
Pink: Playful romance
Orange: Vibrant zest
Coral: Lively contrast
Mustard yellow: Sunny warmth
Gold: Luxury
Navy blue: Regal depth
Turquoise: Serene harmony
White and cream: Crisp elegance
Gray: Modern contrast
Brown and beige: Comfort and relaxation
Burgundy: Deep passion
Lavender and lilac: Dreamy whimsy
Purple: Regal mystery
Black: Dramatic impact
Teal is a sophisticated color that adds elegance to any space. To create a teal color palette, keep in mind color theory. However, neutrals and metallics go great with teal.
For example, if you match it with a warm beige, you can complement the color palette with wood tones. That way, you balance the coolness of blue and the warmth of beige and wood tones.
Teal also works well as an accent color, whether it's a wall, furniture items, or other accessories.
Colors That Go With Teal
Here are some teal color combinations to decorate your space:
Teal and Coral
Pair teal with colors on the opposite side of the color wheel to create a great contrast. One of them is coral. 
Teal and coral are a bold and exciting combination perfect for summer. The warmth of the coral helps to bring out the vibrancy of the teal, creating a playful and lively atmosphere.
Another cheerful color that goes with teal is yellow. This combo creates a sunny and upbeat atmosphere.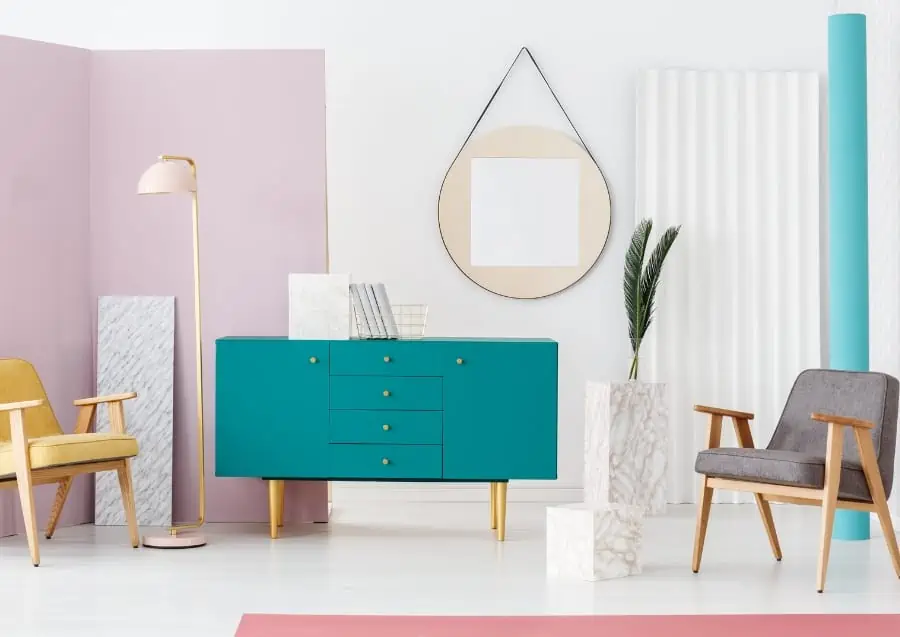 Teal and Dusty pink
Teal goes well with dusty or light shades of pink. Thus, this playful combo results in a lighthearted atmosphere.
Teal and Brown
Teal and rich brown create a rustic atmosphere, creating a balanced harmony of teal's rejuvenating effect with brown's comfort and stability. One of the browns that go with teal is chocolate brown.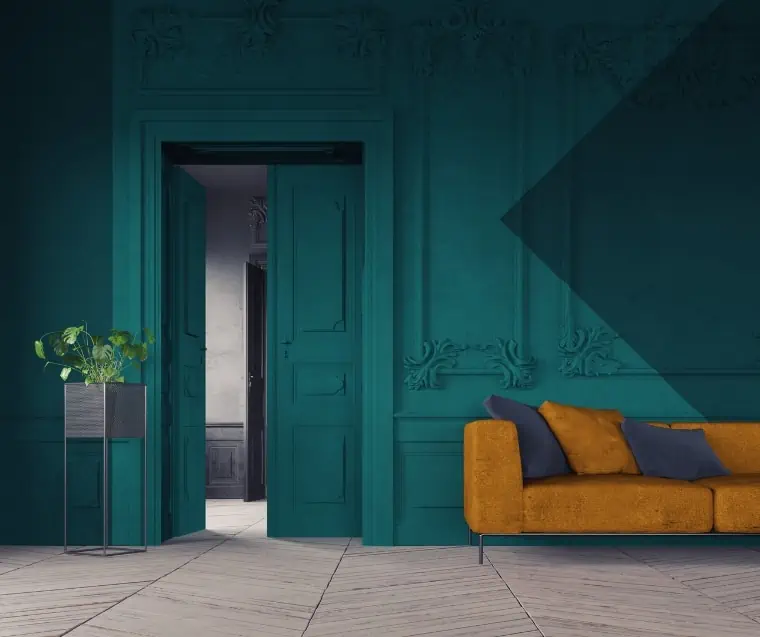 Teal and Gray
Teal and gray are a sophisticated and elegant pairing. The cool tones of the two colors complement each other beautifully, creating a serene and calming atmosphere.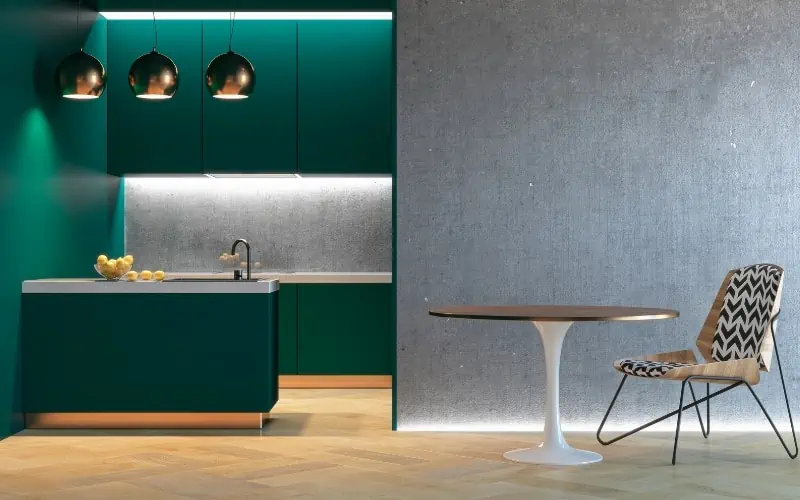 Teal and Gold
Metallics go well with teal, especially gold. Both colors are associated with elegance and luxury. Pairing teal with gold creates an inviting and sophisticated atmosphere. You can use the 60-30-10 rule, with 60% neutral colors, 30% teal, and 10% gold, to achieve the desired harmony.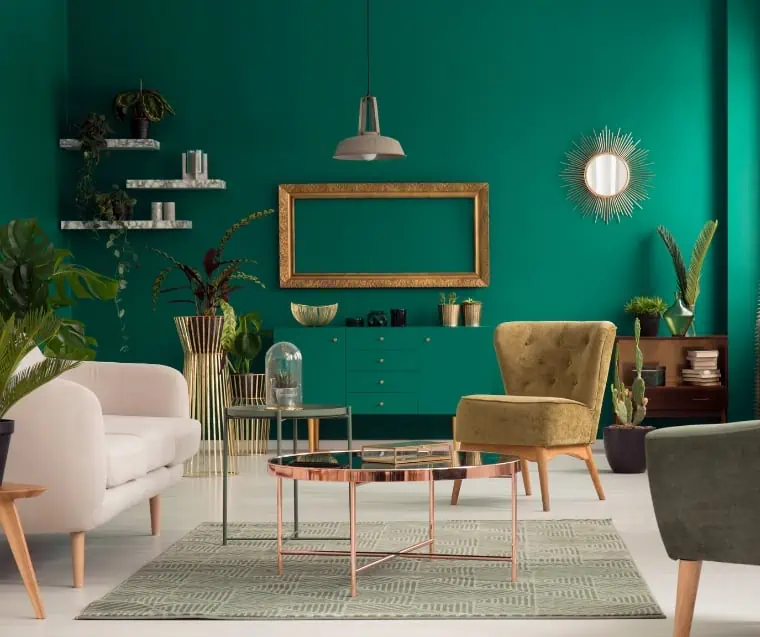 Teal and White
Teal and white are a classic combination that creates a clean and fresh look. In addition, the white helps to balance out the boldness of the teal, creating a calming effect.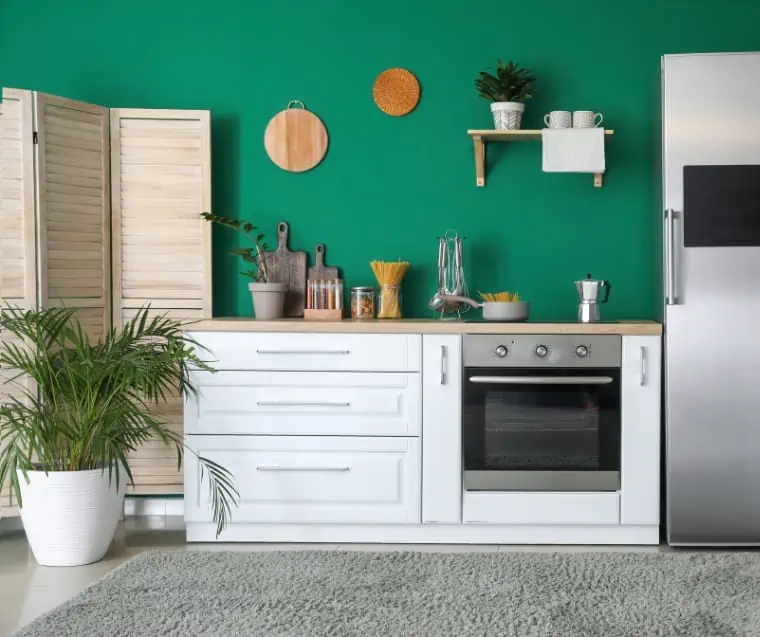 Teal and Mustard
Teal green and mustard are a warm and inviting combination perfect for fall. The mustard's richness helps balance the teal's coolness, creating a cozy and comforting atmosphere. This combination works particularly well in living rooms.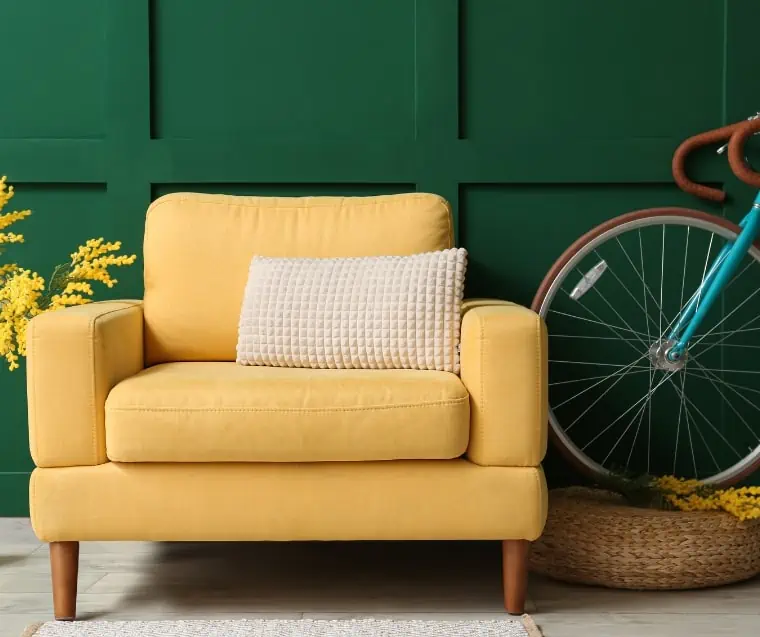 Teal and Green
Color harmony can be of many types, one of which is the monochromatic scheme. Thus, matching teal with its neighbors on the color wheel lets you create a monochromatic color palette.
Teal and Dark Red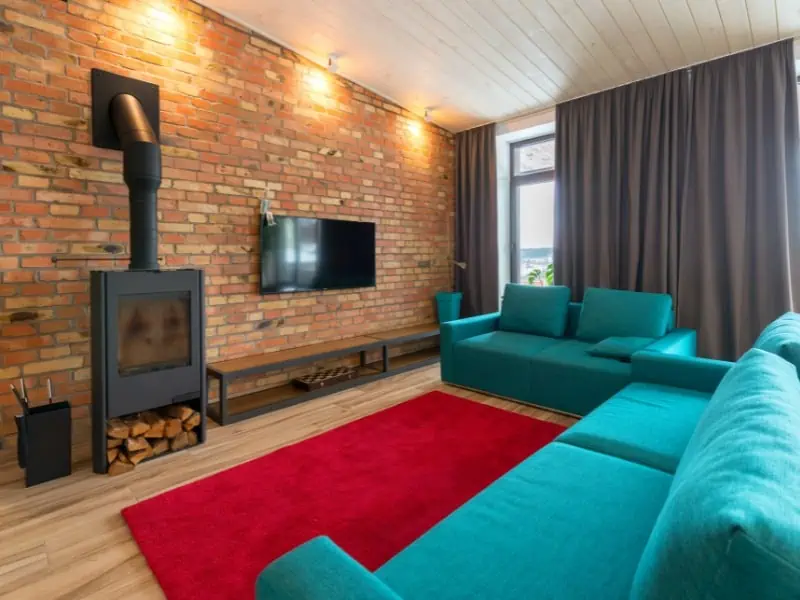 Looking for a bold color combination that creates a dramatic atmosphere? Then pair teal with dark shades of red, like maroon. 
You can also pair teal with black for a sophisticated look. This combo is more of a modern combination.
Teal Color Palette Ideas
This vibrant color palette combines the deep serenity of nature with the vivid colors of a lovely sunset. Moreover, these teal colors create a rich backdrop for the warmth of saffron, sandy brown, and burnt sienna.
These lovely colors offer a harmonious balance, featuring the essence of nature's beauty in a teal color palette that's both fresh and timeless.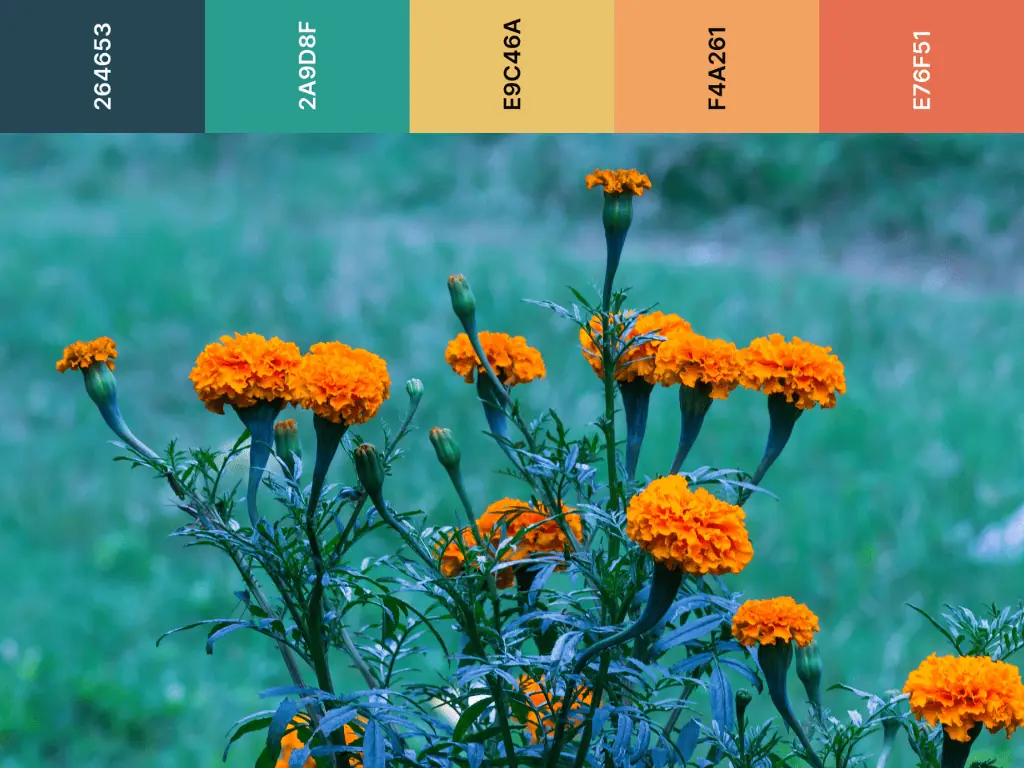 This teal color palette is reminiscent of the ocean's depths.
It transitions to the brighter verdigris and the traditional teal, starting with a light blue.
Darker tones like Caribbean current and midnight green round out the palette.
This monochromatic selection offers a refreshing color palette that can be used for different designs.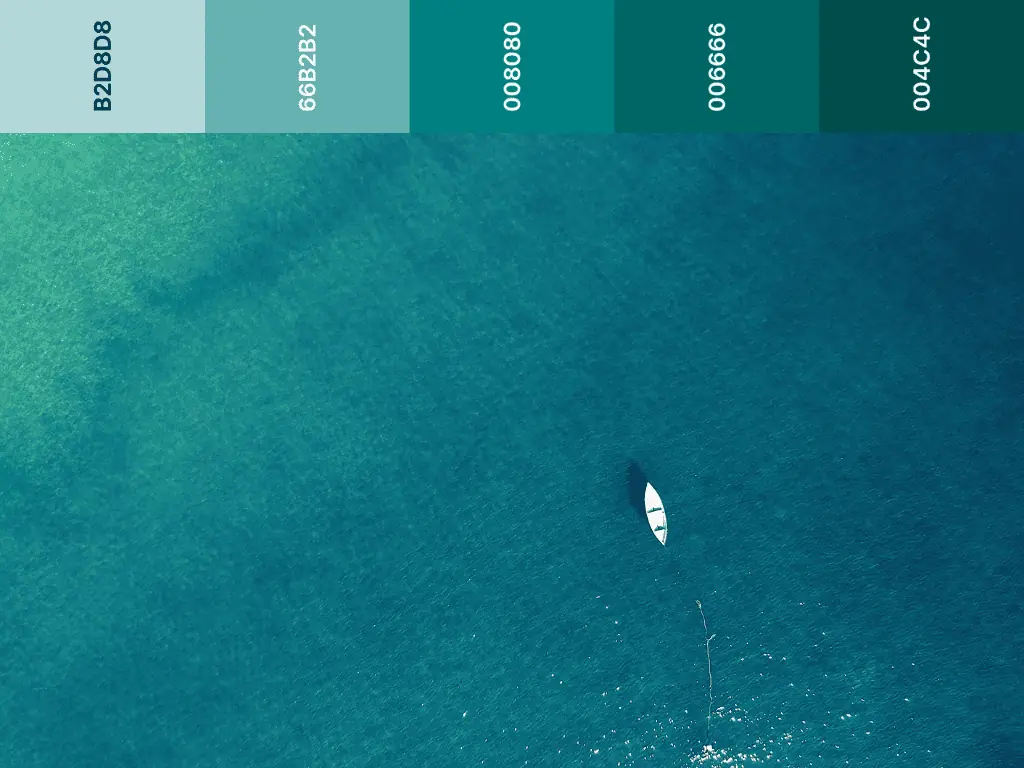 This color palette is inspired by the vibrant and refreshing hues of coastal getaways.
The pale peachy pink and soft brown bring warm, beachy undertones reminiscent of sandy shores and tropical sunsets.
In addition, the pale blue adds a touch of airy serenity, like the clear sky.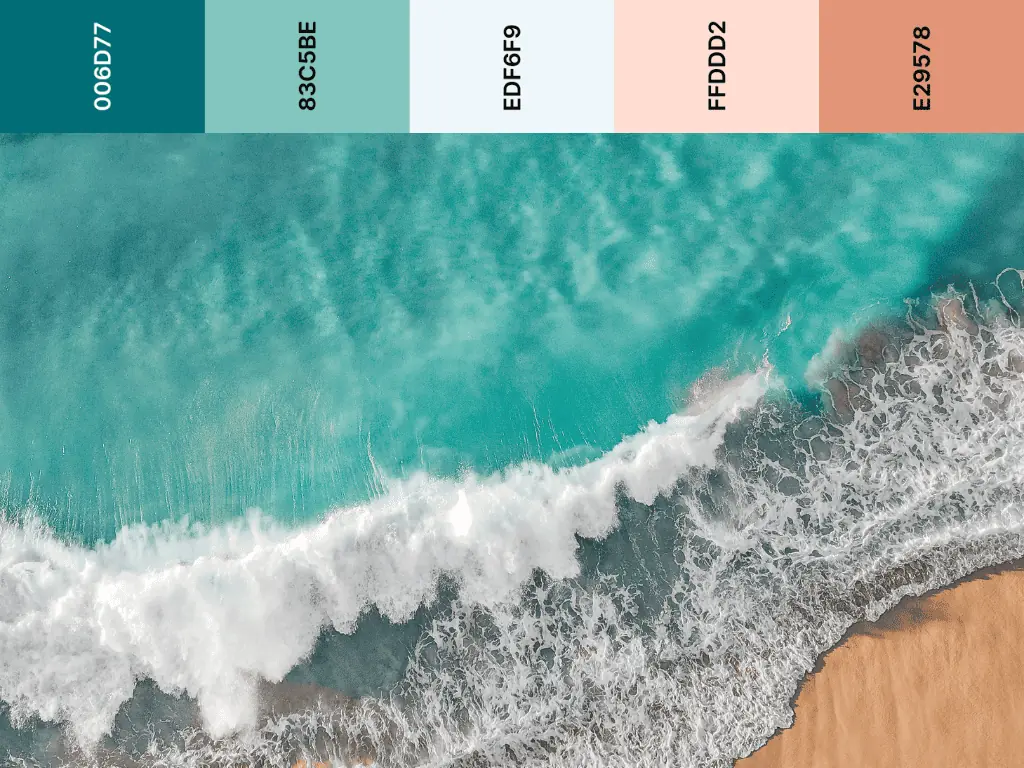 This palette encapsulates the fleeting moments of twilight, capturing the gentle transition from day to night.
Orange and Hunyadi yellow depict the fiery glow of the setting sun, casting its golden hues against the vast white expanse of the sky.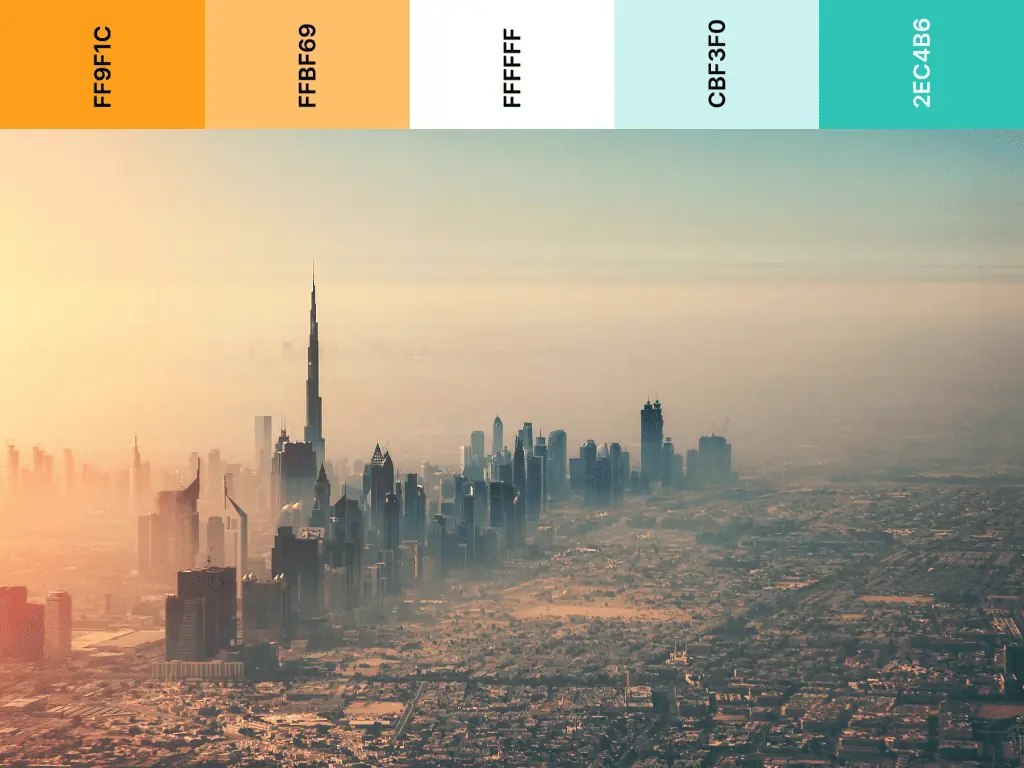 This vibrant color scheme is well-balanced by lovely contrasts.
The presence of rich black and baby powder further adds complexity to the palette.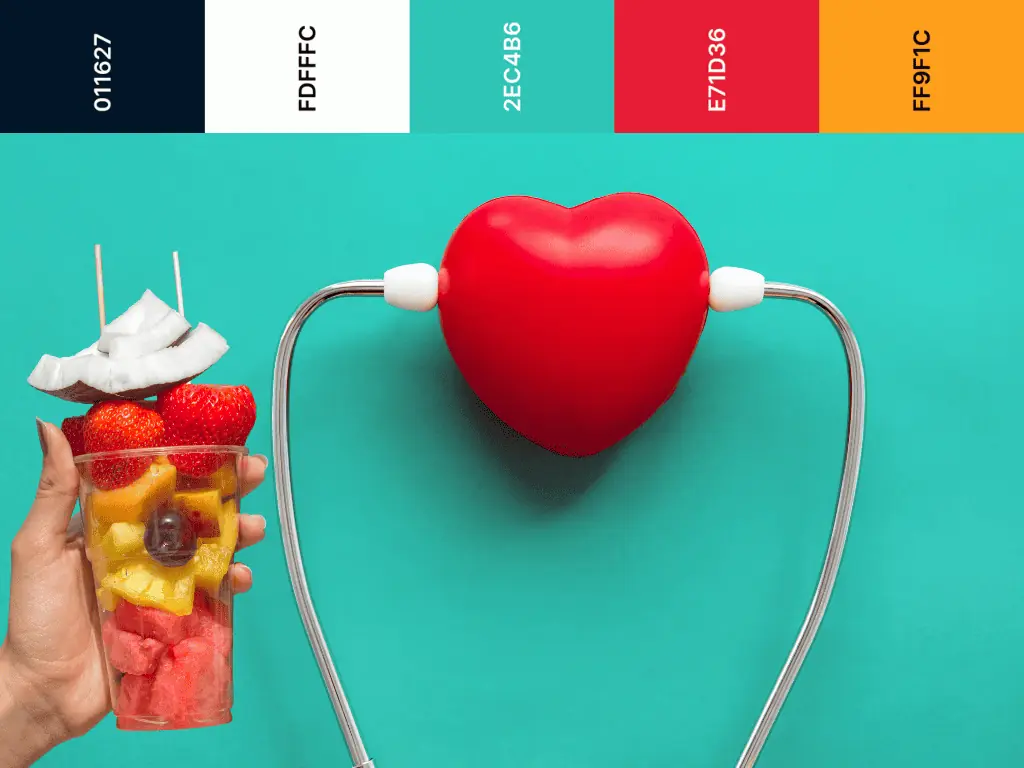 This dark teal color palette delves into rich, deep aquatic tones. This is a great choice if you're looking for a monochromatic scheme.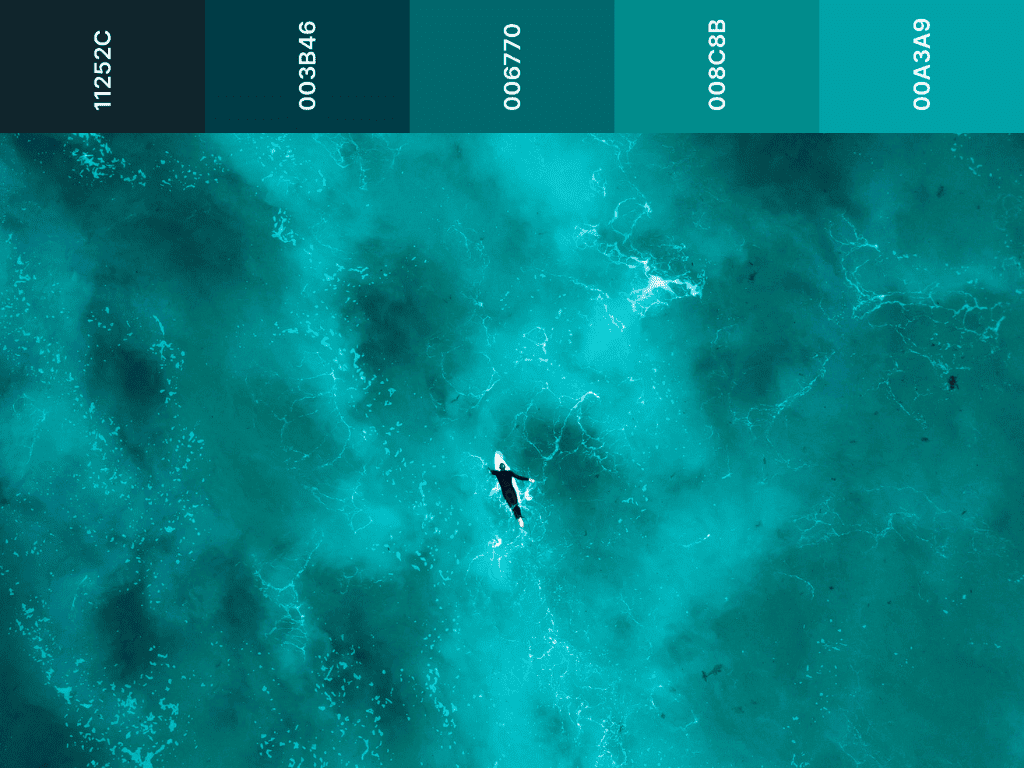 This teal color palette blossoms with lively energy and nature-inspired hues.
Midnight green is a dark leafy color, robin egg blue is a bright sky color, and mint cream is a soft neutral. The two standout colors are light red and Naples yellow, resembling the vibrancy of red-yellow flowers.
Together, these colors create a simple and colorful garden scene.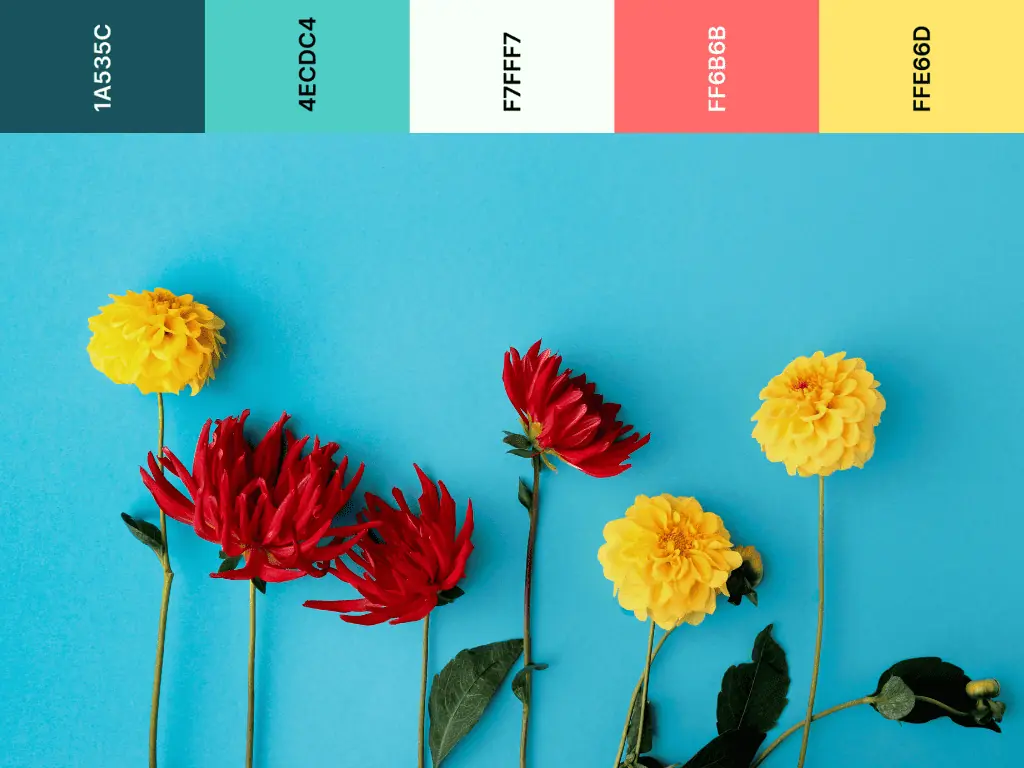 This gorgeous color palette blends nature's calmness with the energy of a blooming flower.
The true stars are apricot, tangerine, and jasper – a reddish-brown, representing the flower's delicate petals transitioning from the soft peachy-pink hue to the fiery reddish-brown.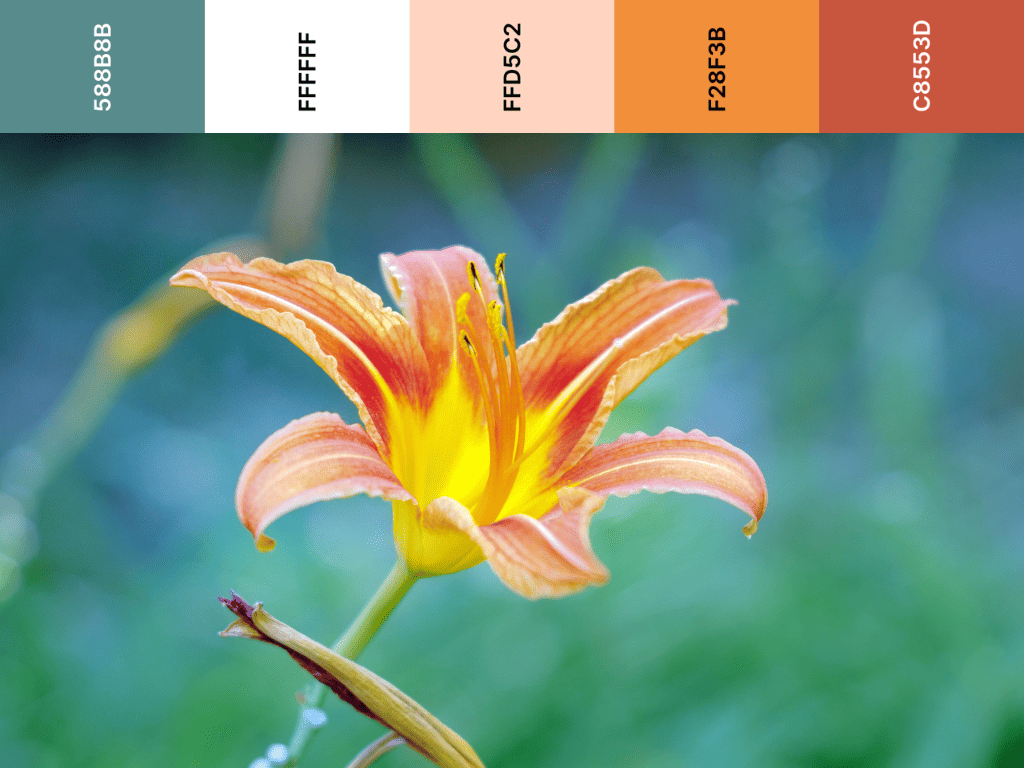 This teal color palette combines the deep, muted tones with soft, creamy neutrals.
Champagne and desert sand are associated with warmth and elegance, providing an outstanding balance to the deep teal hues.
Moreover, they also add a sweet and soft touch to the richness of teal.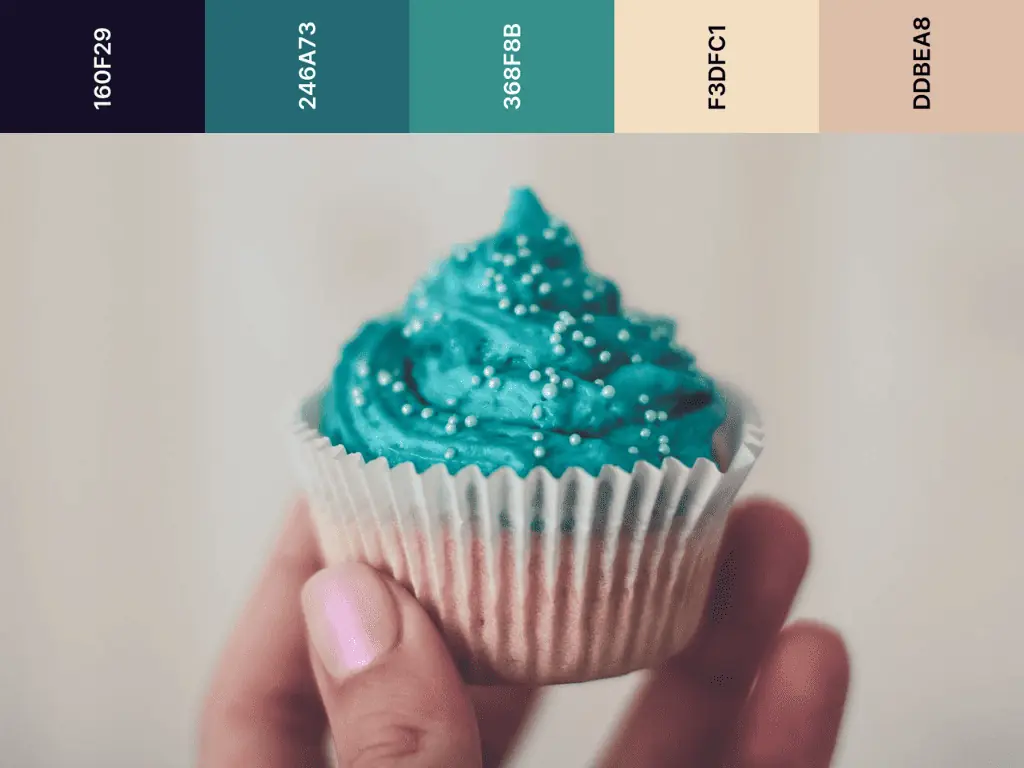 Teal and Orange (or Yellow)
Yellow-orange, orange, and red-orange are a few examples of colors that could be added to a blue-green or teal palette. It's not surprising since red-orange is the complementary color to blue-green.
Another beautiful combination is between teal and bright yellows like amber, saffron, Hunyadi, or even gold.
In this combination, you can also go for reddish-brown or sandy fawn.
If you want a softer teal color palette, go with a pale yellowish-orange color like apricot and dusty peachy pink.
Teal and Gold
Gold and teal go well together, evoking feelings of luxury and sophistication.
Gold, associated with royalty, luxury, and grandeur, carries an air of elegance. It shines, it glitters, and it draws attention. Teal, on the other hand, is a blend of blue and green, reflecting the peacefulness of the sea and the refreshing quality of nature.
These two colors might seem worlds apart, but when paired together, they create a balance of opulence and tranquility. Moreover, the boldness of gold is tempered by the muted tones of teal.
Teal and Pink
Teal and pink color palettes have been popular in wedding themes, party decorations, and invitations due to their romantic yet fresh appeal.
Teal goes with many pink shades, ranging from dusty pinks like rose gold, cherry blossom pink, and lavender pink to hues closer to red, like carnation pink and even a soft imperial red.
This well-balanced combination blends the calmness of teal with the romance of pink, resulting in a soft, well-grounded, and uplifting combo.
These colors can also bring a fresh, modern touch to home décor. For example, pink walls and teal accents can make a space pop.
Teal and Red
Teal and red color palettes provide a lovely contrast between the cool tranquility of blue-green and the fiery passion of red.
Teal, with its soothing aquatic undertones, provides a serene backdrop, evoking feelings of calmness and sophistication. Red, on the other hand, brings warmth, energy, and vibrancy to the fore.
Moreover, this combination challenges traditional design norms and offers a bold statement.
Combine teal with browns, tans, or grays if you want a grounded yet vibrant palette.
Teal and Blue
Teal and blue color palettes are known for their calming, harmonious vibes. This combo can transform a room into a tranquil oasis. Whether it's a bedroom aiming for restful vibes, a bathroom with a spa-like feel, or a living space that wants to evoke the calm of the sea, teal and blue are exceptional choices.
When paired with shades of blue and cool neutrals, medium-toned, bright teal hues create a stunning combination.
Teal is a blue-green that combines the coolness of blue with the freshness of green. Furthermore, it is associated with open communication, spiritual awareness, and clarity of thought.
Blues add depth and a sense of calm to teal's revitalizing and rejuvenating qualities, evoking serene seascapes or clear skies.
When these colors are combined, they evoke feelings of serenity, trustworthiness, and introspection.
You can combine them with gold or pale pinkish-orange like salmon for a splash of warmth.
Teal and Green
Teal and green color palettes capture nature's beauty, evoking the depth of the sea as well as the vibrancy of lush landscapes. Both are rejuvenating and revitalizing.
Thus, this color combination is refreshing and grounding, making it appropriate for almost any design.
When it comes to interior design, these color schemes can give living spaces a botanical, tropical, or coastal feel.
These colors work especially well in sunrooms, bathrooms, and bedrooms, creating a soothing, nature-inspired atmosphere.
This combination is also effective for web and graphic design, particularly for eco-friendly, nature-oriented, or travel companies.
Teal and Turquoise
Both teal and turquoise symbolize tranquility and clarity of thought. However, turquoise is more about emotional and spiritual balance, being slightly more creative.
Try a turquoise and teal color palette if you're looking forward to a holiday or love the ocean scenery in the summertime. This delightful combination is reminiscent of tropical lagoons, clear skies, and exotic paradises.
These color palettes create a coastal, tropical atmosphere. Furthermore, they are ideal for creating a refreshing and relaxing atmosphere in bathrooms, bedrooms, and lounges.
These colors, associated with sun-soaked vacations, are also popular in fashion, particularly in the summer.
Teal and Purple
Purple and teal color palettes merge teal's tranquility and decency with purple's wisdom and creativity.
Teal is an open-minded color that goes well with the royalty, luxury, and power of purple.
This combination is both vibrant and harmonious, invoking feelings of creativity, luxury, and balance.
Furthermore, this combo symbolizes enlightenment, open communication, and spiritual awareness.
Last Words on Colors That Go With Teal
Teal is more than just a color; it's an emotion, a feeling of calm and sophistication. Whether revamping your home, updating your wardrobe, or rebranding your business, introducing some teal might be the fresh touch you've been seeking.
Did you enjoy this article about teal color palette ideas? If so, why not spread the word? Share it with your friends who are also looking to find some inspiration.