Looking for a tan color? Tan is more than just a color; it is a generic term to describe a warm, pale brown. In today's article you will discover different shades of tan along with their color codes.
The color tan is a lovely hint of brown that has grown in popularity in recent years because it evokes feelings of warmth and comfort.
But let's find out more about this color, what it looks like compared to beige, taupe, or khaki, what it means, and what the most popular tan shades are, along with their color codes.
What Color is Tan?
Tan is a pale shade of brown named after the tanning process by which the animal hide becomes leather.
This term is derived from the Old German "tannin" ("oaks"), which is derived from the Medieval Latin "tannāre," which refers to the use of oak in tanning (converting) animal hide into leather. [1]
Beige vs. Tan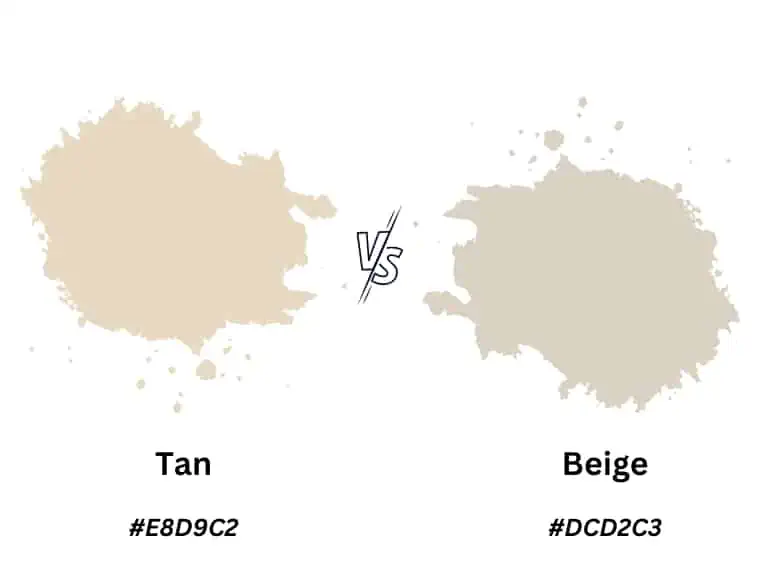 Beige and tan, while similar, do have some differences. Beige is a paler gray-toned variation of tan, whereas tan leans towards a deeper, more brownish color. 
On the other hand, tan, with its brownish leaning, exudes a warmer feeling and lacks the gray or yellow tones found in beige.
Beige #DCD2C3
Tan #E8D9C2
Tan vs. Khaki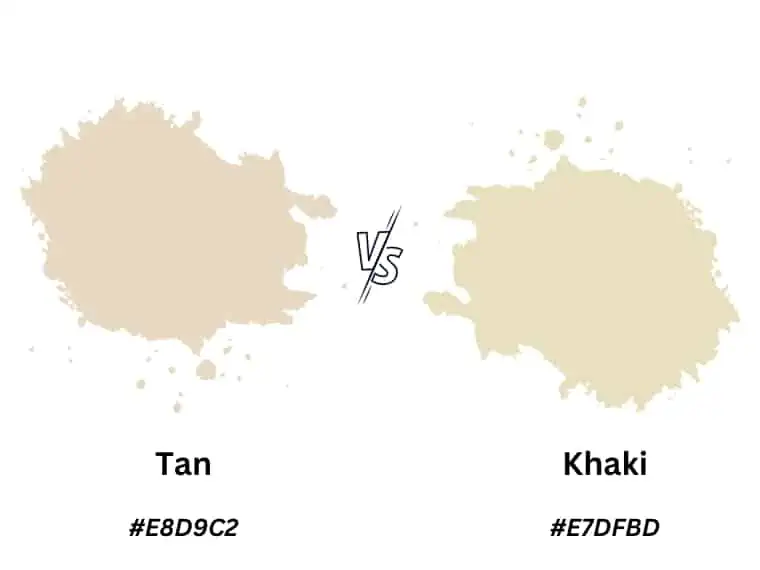 Tan and khaki are both shades of brown, however, they are not the same. 
Tan is a pale shade of brown, while khaki is a more muted shade of yellowish-brown.
So tan, beige, and khaki, tan are different colors. Tan is a light shade of brown, beige is a greyed-toned brown, and khaki is a more muted brown with a slightly yellowish undertone.
While tan and khaki are warm, beige leans towards neutral due to its gray tones.
Tan #E8D9C2
Khaki #E7DFBD
Tan vs. Brown
Brown is an umbrella term for shades resulting from the mix of red, yellow, and black, while tan is a pale tone of brown.
In the RGB color space, brown is 58.8% red, 29.4% green, and 0% blue, while tan is 82.4% red, 70.6% green, and 54.9% blue.
Brown #964B00
Tan #D2B48C
Tan vs. Nude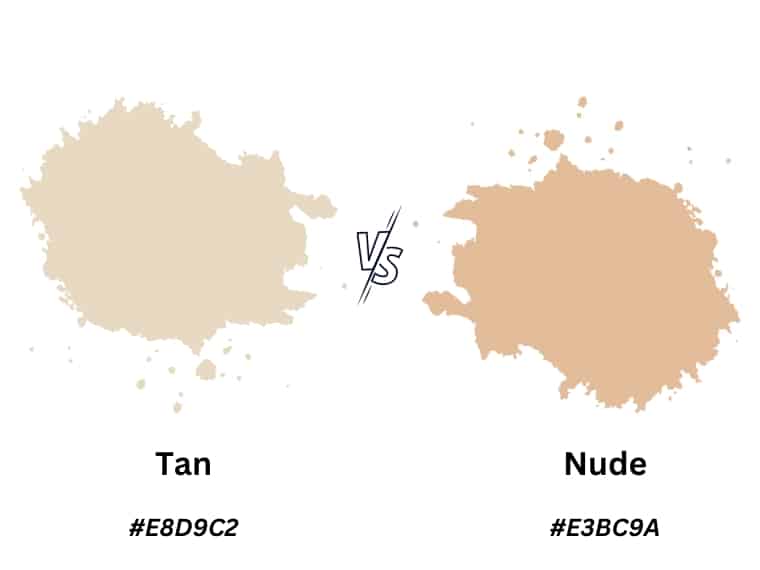 Nude is slightly brighter than tan, but it is still a pale brownish hue with a peachy undertone, whereas tan is a very pale brown color.
Nude #E3BC9A
Tan #D2B48C
The History and Etymology of Tan Color
The term "tannian" from late Old English meant transforming hide into leather by soaking it in tannin. 
This word originated from the Medieval Latin term "tannare," used around 900 AD. The word has been used with two meanings: to tan (someone's) hide into leather or to dye something tawny. 
"Tannare" comes from the word "tannum," which describes crushed oak bark often used in the leather tanning process.
It's believed that the word "tannum" may have originally come from a Celtic source, such as the Breton word "tann," which translates to "oak tree" in English. [2]
In the late 15th century, "tanning" referred to the process of tanning leather with a substance made from crushed bark.
So, the term used throughout history as "tannin," "tan," "tanning," or "tawny" is derived from the medieval Latin "tannare."
Tan was first mentioned as a color in the 16th century, specifically in 1591.
Tan Color Meaning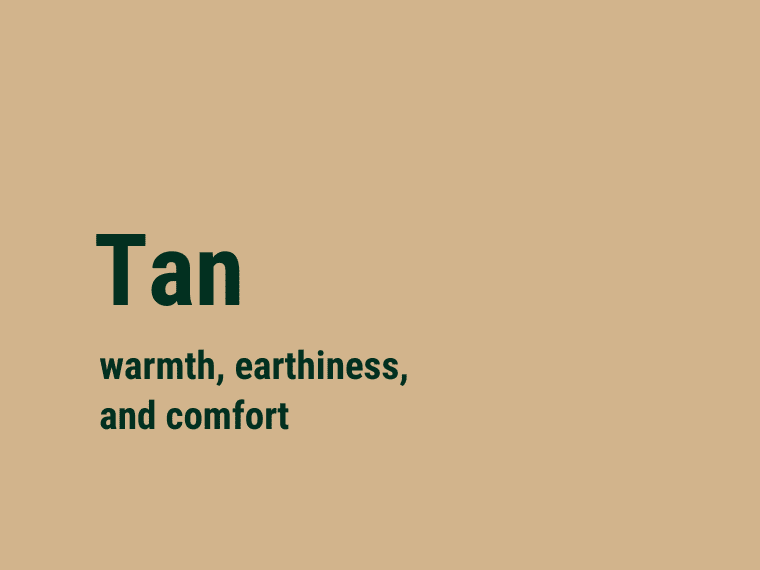 Tan is derived from the brown color family and thus borrows many of the meanings of this color, evoking feelings of warmth, earthiness, and security.
The color tan also means stability, comfort, honesty, and reliability.
Moreover, tan offers an organic feeling and is brilliant at expressing emotions related to the natural world.
Tan Color Codes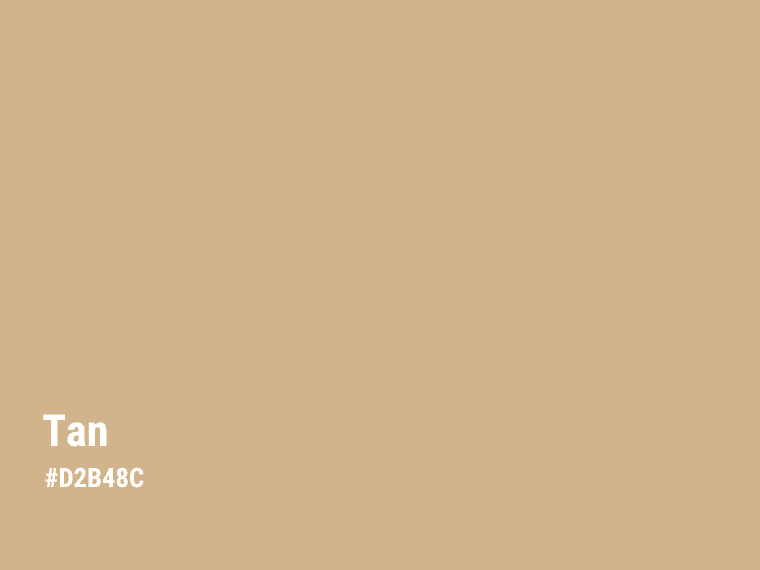 Tan is a warm, pale shade of brown with hex code #D2B48C. When it comes to the RGB space, tan is made up of 58.8% red, 29.4% red, and 0% blue. Its RGB values are R: 210, G: 180, B: 140. If you want to print tan, you must set your CMYK value to 0, 14, 33, 18.
The light tan hex code is #ECDEC9. Its RGB values are R: 236, G: 222, B: 201. In terms of RGB percentages, light tan consists of 92.55% red, 87.06% green, and 78.82% blue. Its CMYK values are 0, 6, 15, 7.
| CODE | VALUE | HTML/CSS |
| --- | --- | --- |
| Hex | D2B48C | #D2B48C |
| RGB | 210, 180, 140 | rgb(210, 180, 140) |
| CMYK | 0, 14, 33, 18 | |
| HSL | 34.3°, 43.7%, 68.6% | hsl(34.3, 43.7%, 68.6%) |
| HSV | 34.3°, 33.3, 82.4 | |
Shades of Tan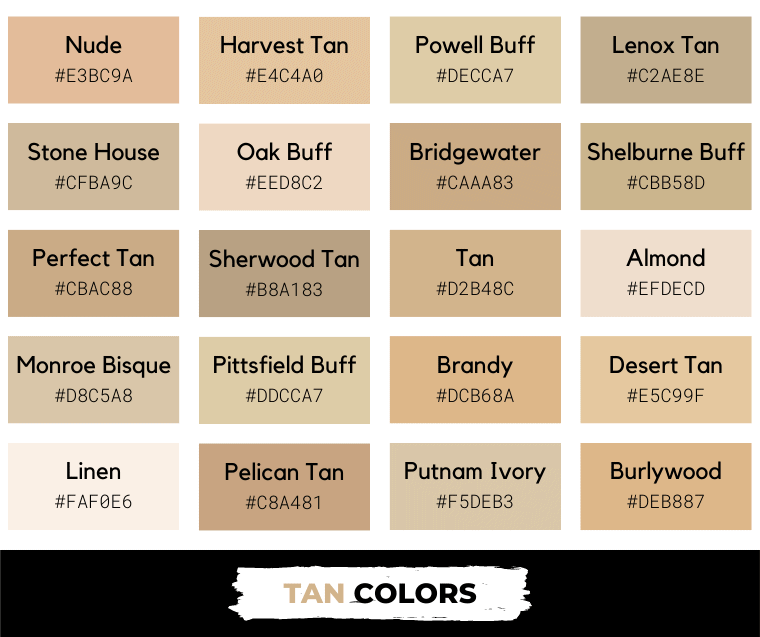 The most popular shades of tan include Harvest, Oak Buff, Almond, Stone House, Sherwood, Bridgewater, Shelburne Buff, Pittsfield Buff, Perfect Tan, Lenox, and Powell Buff.
Nude
Nude is a soft shade of brown with peachy undertones, resulting from a mix of brown and white. This color has been named after the Western-European Caucasian skin tone.
While Nude is officially classified as brown, it also often resembles shades of tan and peach.
Nude
Hex #E3BC9A
RGB 227, 188, 154
CMYK 0, 17, 32, 11
Harvest Tan
Harvest Tan, a warm and comforting tan shade, is a deep, earthy hue with strong orange undertones. 
This color originates from the natural shades of ripe grain crops. Moreover, it's one of interior design's most beautiful tan colors due to its ability to bring warmth and energy into home décor. 
Harvest Tan
Hex #E4C4A0
RGB 228 196 160
CMYK 0, 14, 30, 11
Linen
Linen is a very light shade of brown, originating from the fibers of the flax plant. It has a warm undertone and is slightly off-white in appearance. Its hue is similar to tan, but it has more of a yellowish-tinted cast than tan does. 
Linen
Hex #FAF0E6
RGB 250,240,230
CMYK 0, 4, 8, 2
Oak Buff (PPG1083-3)
Oak Buff is an earthy, candy corn orange shade that looks like a more muted, paler version of the traditional tan color. As its name suggests, this soft, warm tan color with golden undertones is derived from the bark of oak trees.
Oak Buff
Hex #EED8C2
RGB 238, 216, 194
CMYK 0, 9.2, 18.5, 6.7
Wheat
Wheat is a warm, pale tan color variation originating from plants of the same name. This lovely color combines yellow with orange to give it a slight tinge of both colors.
Wheat
Hex #F5DEB3
RGB 245,222,179
CMYK 0, 9, 27, 4
Almond
Almond is a warm, light brown color that originates from the nut of the same name. It has an off-white hue and is considered a muted tan. 
Moreover, it pairs well with shades of gray, blue, green, and other earthy colors.
Almond
Hex #EFDECD
RGB 239, 222, 205
CMYK 0, 7, 14, 6
Stone House (1039)
This is another gorgeous tan color by Benjamin Moore.
Stone House is a medium shade of tan reminiscent of café au lait. Even though it is very close to beige, its undertones make it a warm color. 
Stone House goes well with shades of gray-purple, deep gray-greens, gray-blues, and even lighter beiges.
Stone House
Hex #CFBA9C
RGB 207, 186, 156
CMYK 0, 10.1, 24.6, 18.8
Sherwood Tan (BM 1054)
If you're looking for an earthy tannish brown, this is the color for you. 
Benjamin Moore Sherwood Tan is reminiscent of morel mushrooms, as it is a robust shade of tan. 
The Sherwood Tan color code is 1054, also known as CC-336. Its hex code is #B8A183.
Sherwood Tan
Hex #B8A183
RGB 184, 161, 131
CMYK 0, 12.5, 28.8, 27.8
Bridgewater Tan (1096)
Bridgewater Tan is a muted gold with a yellow undertone, named after the Bridgewater Canal, famous for its orange color. This was made by the Duke of Bridgewater, the father of British inland navigation. [2]
Bridgewater Tan
Hex #CAAA83
RGB 201, 174, 132
CMYK 0, 11, 31, 20
Shelburne Buff (HC-28)
Shelburne Buff is a warm, mid-tone brown with strong yellow undertones. It is reminiscent of natural stone and clay, with its underlying tones of sienna and umber.
Thus, it gets this name because it resembles the hue of the sun-baked stone and clay found in the hills of Shelburne, Massachusetts.
Moreover, this muted color is perfect for creating cozy and welcoming spaces. 
Shelburne Buff
Hex #CBB58D
RGB 202, 170, 131
CMYK 0, 10.8, 30.5, 20.4
Pittsfield Buff (HC-24)
Here is another paint color by Benjamin Moore that looks a bit more neutral than tan.
Pittsfield Buff is an inviting and comfortable beige with peachy undertones. The color name has its roots in the historic city of Pittsfield, Massachusetts, where it was first used to paint the town's iconic buildings in the early 19th century.
Moreover, it's part of the Benjamin Moore collection of colors inspired by America's historic landmarks.
Pittsfield Buff
Hex #DDCCA7
RGB 221, 204, 167
CMYK 0, 7.7, 24.4, 13.3
Powell Buff (HC-35)
Powell Buff is a warm, muted shade of beige. This powdery and soft neutral shade is both soothing and comfortable.
It's an outstanding option for anyone who wants to create a welcoming ambiance that oozes warmth and comfort.
Powell Buff
Hex #DECCA7
RGB 222, 204, 167
CMYK 0, 8.1, 24.8, 12.9
Lenox Tan (HC-44)
Lenox Tan is a warm golden beige, which comes close to khaki and tan, keeping a comfortable and elegant note at the same time. 
Because of its golden undertones, it is more a beige than a tan, usually a warmer pale brown with creamy undertones.
Lenox Tan
Hex #C2AE8E
RGB 194, 174, 142
CMYK 0, 10.3, 26.8, 23.9
Behr Perfect Tan (N280-4)
Behr Perfect Tan (N280-4) is a medium-dark tan color with strong yellow undertones. It looks like a warm, sandy brown. 
This color originates from Behr's paints collection and is softer than Behr Pelican Tan color.
Behr Perfect Tan
Hex #CBAC88
RGB 203, 172, 136
CMYK 0, 15.3, 33, 20.4
Behr Pelican Tan (S260-4)
Behr Pelican Tan is a dark shade of tan with an orange undertone. In RGB space, the color has a lot of red in composition, which gives it its subtle muted orange appearance.
However, this tan evokes feelings of the beach and tropical climates. 
It pairs nicely with colors like deep blues, greens, and light neutrals such as white or cream.
Behr Pelican Tan
Hex #C8A481
RGB 200, 164, 129
CMYK 0, 18, 35.5, 21.6
Bisque
Bisque is a warm, creamy color originating from the French word meaning "bisque," which is a type of soup made from crayfish. [3]
Bisque has strong yellow-orange undertones, making it a more peachy tan, similar to champagne – a muted, light orange.
Bisque
Hex #FFE4C4
RGB 255, 228, 196
CMYK 0, 10.6, 23.1, 0
Burlywood
Burlywood is a pale brown that looks very similar to tan. However, it has yellow undertones that are slightly warmer than tan.
Burlywood
Hex #DEB887
RGB 222, 184, 135
CMYK 0, 17.1, 39.2, 12.9
Monroe Bisque
This is another creamy neutral by Benjamin Moore.
Monroe bisque is a soft, creamy ecru that balances white's coolness and brown's warmth. However, some people consider it a warm beige with yellow undertones.
This color originates from the traditional French bisque porcelain, made in the 1700s and known for its creamy ivory hue. 
This porcelain was made of clay made from a mixture of feldspar, kaolin, and flint.
Monroe Bisque
Hex #D8C5A8
RGB 216, 197, 168
CMYK 0, 9, 22, 15
Putnam Ivory (HC-39)
Putnam Ivory is a tan shade with distinct brownish undertones and subtle hints of cream and yellow. 
However, in interior design, this color is considered a warm beige. The name "ivory" comes from the fact that this color features a beige tinge.
The Putnam Ivory color code is HC-39. Its hex code is #DAC9AB.
Putnam Ivory
Hex #DAC9AB
RGB 218, 201, 171
CMYK 0, 7.8, 21.6, 14.5
Muslin
Muslin is a warm beige color with an orange undertone and a splash of pink.
This color by Benjamin Moore can work very nicely in your space, especially if you have beige tiles from the 90s or 2000s.
Moreover, it has an LRV of 67, which means it's on the slightly higher side of the light range. 
If you have a slightly dark room, muslin adds a soft warmth. For bright rooms, combine it with a color with a lower LRV.
Muslin
Hex #E1D6C1
RGB 225, 214, 193
CMYK 0, 4.9, 14.2, 11.8
Desert Tan (2153-50)
Dessert Tan is a yellowy tan, specifically a pale, sandy brown with warm, yellow undertones. This color reminds us of the calmness of desert landscapes.
The dessert tan hex code is #E5C99F, while its RGB values are R: 229, G: 201, B: 159. Its Benjamin Moore color code is 2153-50.
Desert Tan
Hex #E5C99F
RGB 229, 201, 159
CMYK 0, 12, 31, 0.1
Tan Brown
Looking for a dark tan? Then choose this brown tan.
Tan brown is a muted, warm-toned brown slightly darker than the traditional tan.
Its CMYK values show a strong orange undertone.
Tan Brown
Hex #AF8F6D
RGB 175, 143, 109
CMYK 0, 18, 38, 31
Brandy
This is another lovely tan color. It originates from the name of the spirit brandy, which is an alcoholic beverage made from wine or other fermented fruit juice. 
Brandy
Hex #DCB68A
RGB 220,182,138
CMYK 0, 17, 37, 14
Calico
Calico is a muted, light tan, with hints of warm yellow undertones. It's a more muted and paler than brandy.
Calico
Hex #E2C49C
RGB 226, 196, 156
CYMK 0, 13, 31, 11
Different Tan Color Names
Besides these tan shades, there are also other similar colors. Here is a visual list of different tan colors with their names and color codes.
Dark Tan
Hex #97694F
RGB 151, 105, 79
CMYK 0, 18, 28, 41
Calico
Hex #D5B185
RGB 213, 177, 133
CMYK 0, 14, 31, 16
Whisper of White
Hex #EADBCA
RGB 234, 219, 202
CMYK 0, 6, 14, 8
Café Au Lait
Hex #A67B5B
RGB 166, 123, 91
CMYK 0, 17, 29, 35
Hawaiian Tan
Hex #99522B
RGB 153, 82, 43
CMYK 0, 28, 43, 40
Camel
Hex #C19A6B
RGB 193, 154, 107
CMYK 0, 15, 34, 24
White Pearl
Hex #EDE1D1
RGB 237, 225, 209
CMYK 0, 5, 12, 7
3am Latte
Hex #C0A98E
RGB 192, 169, 142
CMYK 0, 12, 26, 25
Boutique Beige
Hex #E1CEAD
RGB 225, 206, 173
CMYK 0, 8, 23, 12
Brown Sugar
Hex #A17249
RGB 161, 114, 73
CMYK 0, 29, 55, 37
Cameo
Hex #CCA483
RGB 204, 164, 131
CMYK 0, 16, 29, 20
Butterum
Hex #C68F65
RGB 198, 143, 101
CMYK 0, 28, 49, 22
Cane Sugar
Hex #E3B982
RGB 227, 185, 130
CMYK 0, 19, 43, 11
Double Biscotti
Hex #D5BA9E
RGB 213, 186, 158
CMYK 0, 11, 22, 16
Caramel Crumb
Hex #C39355
RGB 195, 147, 85
CMYK 0, 25, 56, 24
Caramel Macchiato
Hex #C58D4B
RGB 197, 141, 75
CMYK 0, 28, 62, 23
Cardboard
Hex #C19A6C
RGB 193, 154, 108
CMYK 0, 20, 44, 24
Chalet
Hex #C29867
RGB 194, 152, 103
CMYK 0, 22, 47, 24
Cocoon
Hex #DAC39F
RGB 218, 195, 159
CMYK 0, 9, 23, 15
Coyote
Hex #DC9B68
RGB 220, 155, 104
CMYK 0, 30, 53, 14
Gold Digger
Hex #D1B075
RGB 209, 176, 117
CMYK 0, 16, 44, 18
Hummus
Hex #EECC99
RGB 238, 204, 153
CMYK 0, 14, 36, 7
Manhattan
Hex #E2AF80
RGB 226, 175, 128
CMYK 0, 23, 43, 11
Negroni
Hex #EEC7A2
RGB 238, 199, 162
CMYK 0, 16, 32, 7
Dark Buff
Hex #976638
RGB 151, 102, 56
CMYK 0, 19, 37, 41
Double Doeskin
Hex #AC916E
RGB 172, 145, 110
CMYK 0, 11, 24, 33
Outback
Hex #C9A375
RGB 201, 163, 117
CMYK 0, 19, 42, 21
Prosecco
Hex #FAD6A5
RGB 250, 214, 165
CMYK 0, 14, 34, 2
Soba
Hex #D1B49F
RGB 209, 180, 159
CMYK 0, 14, 24, 18
Double Rickshaw
Hex #9D7F65
RGB 157, 127, 101
CMYK 0, 12, 22, 38
Sparkling Champagne
Hex #EFCF98
RGB 239, 207, 152
CMYK 0, 13, 36, 6
Toast and Butter
Hex #D2AD84
RGB 210, 173, 132
CMYK 0, 18, 37, 18
Desert
Hex #C19A6B
RGB 193, 154, 107
CMYK 0, 15, 34, 24
Tostada
Hex #E3C19C
RGB 227, 193, 156
CMYK 0, 15, 31, 11
Half Canterbury Clay
Hex #D3BF99
RGB 211, 191, 153
CMYK 0, 8, 23, 17
Half Doeskin
Hex #C1AF93
RGB 193, 175, 147
CMYK 0, 7, 18, 24
Kalgoorie Sands
Hex #BB8B67
RGB 187, 139, 103
CMYK 0, 19, 33, 27
Light Brown
Hex #AD8150
RGB 173, 129, 80
CMYK 0, 17, 36, 32
Light Taupe
Hex #B38B6D
RGB 179, 139, 109
CMYK 0, 16, 27, 30
Lion
Hex #C19A6B
RGB 193, 154, 107
CMYK 0, 15, 34, 24
Mckenzie
Hex #AF8751
RGB 175, 135, 81
CMYK 0, 16, 37, 31
Mongoose
Hex #A58B6F
RGB 165, 139, 111
CMYK 0, 10, 21, 35
Mocha
Hex #9D7651
RGB 157, 118, 81
CMYK 0, 15, 30, 38
Mushroom
Hex #BA9E88
RGB 186, 158, 136
CMYK 0, 11, 20, 27
Navajo White
Hex #CDB38B
RGB 205, 179, 139
CMYK 0, 10, 26, 20
Nougat
Hex #D6C1AB
RGB 214, 193, 171
CMYK 0, 8, 17, 16
Okey Dokey
Hex #BCA184
RGB 188, 161, 132
CMYK 0, 11, 22, 26
Pale Brown
Hex #B1916E
RGB 177, 145, 110
CMYK 0, 13, 26, 31
Putty
Hex #CDAE70
RGB 205, 174, 112
CMYK 0, 12, 36, 20
Quarter Canterbury Clay
Hex #E5D2AF
RGB 229, 210, 175
CMYK 0, 7, 21, 10
Quarter Sorrell Brown
Hex #C1A07D
RGB 193, 160, 125
CMYK 0, 13, 27, 24
Rodeo Dust
Hex #C7A384
RGB 199, 163, 132
CMYK 0, 14, 26, 22
Tan Color Palette
Here is a tan color palette from dark to light, transposed on a gradient. If you want a dark tan shade, you can use hex code #BFA47F.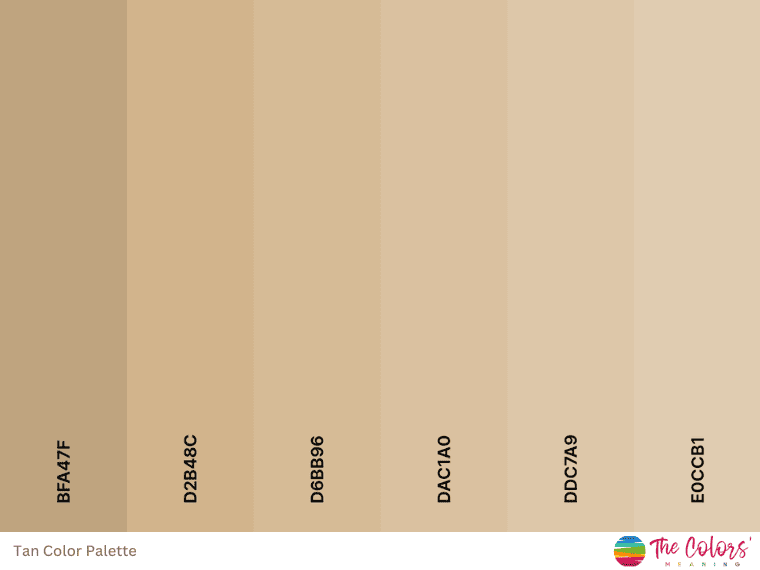 Last Thoughts on Tan Color
Hopefully exploring the different shades of tan along with their color codes has helped you make a decision.
Did you enjoy this post about the color tan? Please help us by sharing it with your friends who might be interested in designing with this stunning color.
F.A.Q.
Is tan a color?
Yes, tan is a color – a light tone of brown, but more than that, it can also be an umbrella term referring to light shades of brown.
What is a tannish color?
A tannish color refers to a hue that resembles the color tan. Tan is a light, somewhat muted shade of brown that is often associated with the color of tanned leather. If something is "tannish," it means it's somewhat like tan.
Is tan a shade of brown?
Yes, tan is a light, muted shade of brown that looks like light brown leather. It generally has warm undertones.
Are tan and taupe the same color?
No, tan and taupe are different colors, even if they are both shades of brown. Tan is a pale brown that has a muted, golden appearance due to its undertones. Taupe, on the other side, is a darker brown-gray.