Wondering what colors go with royal blue? You've come to the right place. In this article, you'll find out the colors that go with royal blue, including its complementary colors.
Royal blue is a bold and bright blue with a red undertone, making it ideal for those looking for a high-energy and sophisticated shade of blue.
It's a color that works well in various settings, from interior design to fashion. Yet, when it comes to combining it with other colors, some people may need help finding the correct pairings.
In this article, we'll explore some of the best colors that go with royal blue and how to incorporate them into your home decor or outfits.
Meaning of the Color Royal Blue
Compared to blue, one of the primary colors of RYB and RGB color spaces, royal blue has red undertones.
Royal blue is a deep, rich blue shade associated with royalty, elegance, and prestige. Moreover, it exudes luxury and sophistication.
Furthermore, royal blue, like other shades of blue, can promote calm, trust, and relaxation. However, when used excessively, it can cause feelings of sadness.
Even if royal blue is often confused with navy blue, there is a misconception. Find out why below!
History of Royal Blue
Royal blue was first used in the 1810s and originated in England. This color was created to make a dress for Queen Charlotte.
However, before 1950, royal blue was much darker.
Since the late 1980s, this color has been associated with the current RGB code by the World Wide Web Consortium – the group that deals with web standards.
There are also lesser-known versions of royal blue, such as Queen or Imperial blue. Queen blue is a medium shade of royal blue, as opposed to imperial blue, which is closer to navy blue.
As a result of its origin, royal blue is also used on the flag of the United Kingdom, known as the Union Jack.
Colors That Go with Royal Blue
Let's discover what colors go well with royal blue to create harmonious, beautiful, and elegant color combinations.
1. Neutrals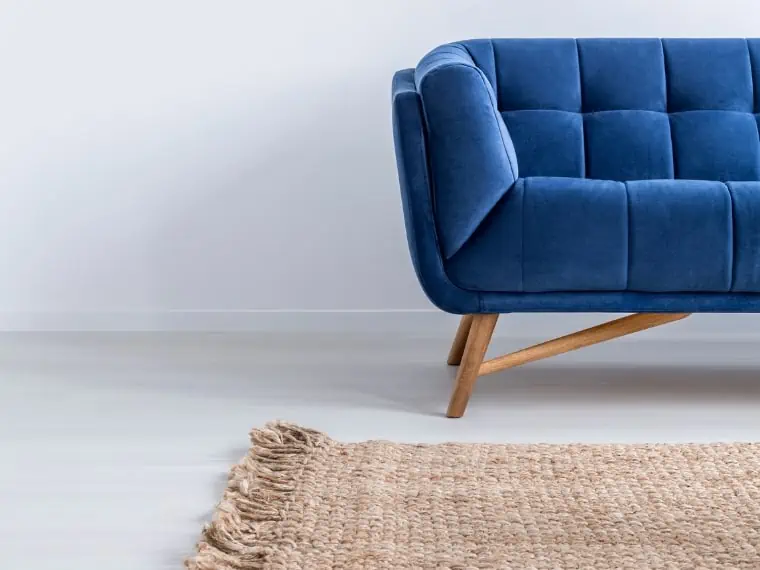 Royal blue looks great with neutrals. Colors such as white, gray, cream, ivory, and beige can help balance out the boldness of royal blue and produce a modern look and a comfortable environment. 
By matching royal blue and white, for example, you can get a timeless combo perfect for a wedding or other formal event. 
Moreover, matching royal blue with gray or beige can produce a serene and relaxing ambiance in the bedroom or living area.
If you want to give the impression of more space, you can use white or a light shade of tan. There is no need to paint the room royal blue, but rather introduce a royal blue sofa or armchair.
2. Metallics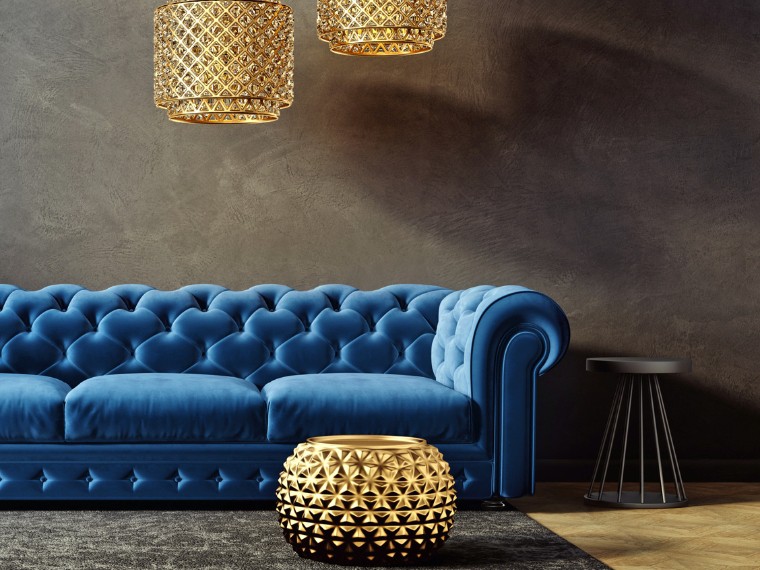 Metallics are also great colors that go with royal blue. Silver and gold both pair well with royal blue, adding a touch of glamour and elegance to any outfit or decor. 
If you have white walls, and royal blue furniture items, gold accents go beautifully with this color.
Also, suppose you're painting a royal blue wall. In that case, you can go for white flooring, champagne drapes, and gold accents like a chandelier, lamp, or coffee table.
For example, a gold or silver lamp in a royal blue bedroom can create a regal and sophisticated atmosphere.
Any metallic color, therefore, looks stunning as a royal blue color combination.
3. Light Pink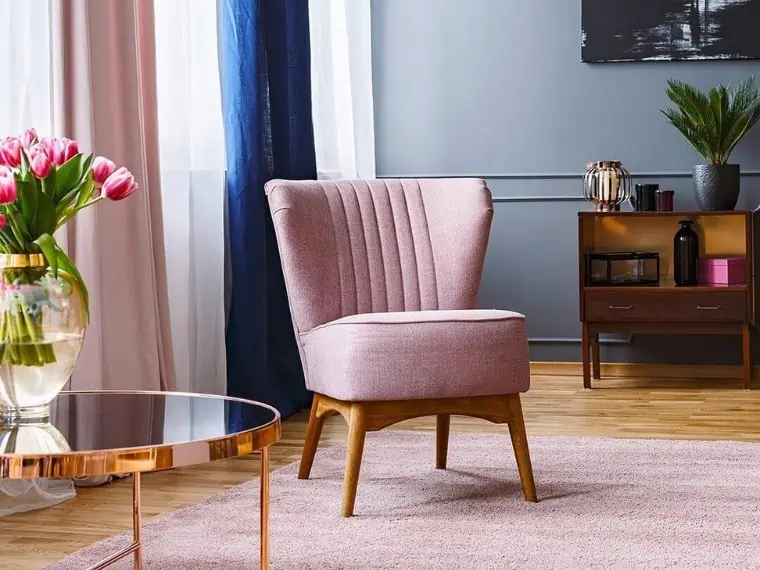 Consider combining royal blue and pink for a more playful and nurturing vibe. 
The contrast between the boldness of royal blue and the softness of pink can create a stunning effect. 
The pairing of royal blue and pink makes for a daring and striking combination. But not just any shade of pink. Pick light, dusty, or hot pinks.
Both colors have red undertones that make them look bright and lively when they are put together.
While the combo of royal blue and hot shades of pink is a bold combination, choosing a dusty or light pink can bring added energy to any living room. It also helps to balance out royal blue, whether it's furniture or walls.
A royal blue sofa paired with pink cushions or a dusty pink armchair with a royal blue wall can create a fun and playful atmosphere, perfect for a casual setting.
Moreover, to achieve a good balance, you can paint your walls a lighter shade of pink, such as blush, to soften the impact of the royal blue furniture.
To create a more attention-grabbing space, you can add pops of brighter pink accents, such as throw pillows or blankets.
You can take inspiration from this combination for your outfit too. A royal blue blazer paired with a pink blouse is a combination that will attract many eyes.
4. Yellow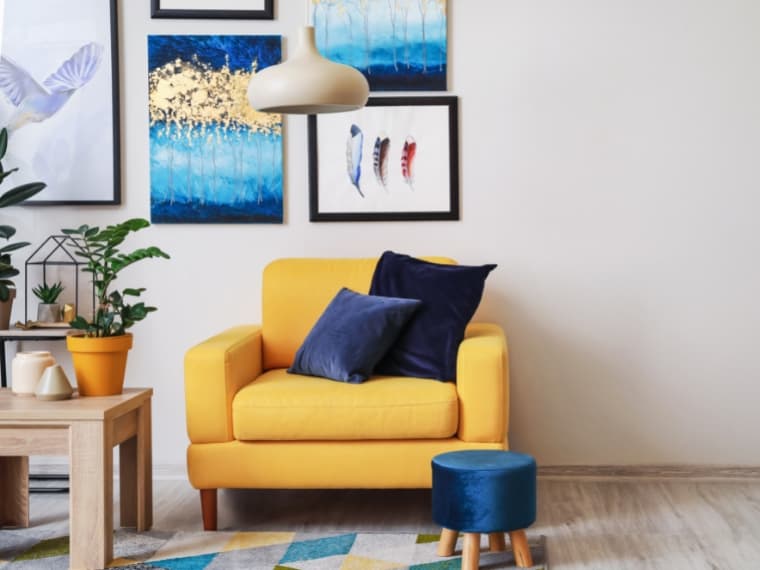 Yellow is one of the best colors that go with royal blue. Yellow is a joyful and vibrant color that can add a touch of energy and vibrancy to any outfit or room. 
Royal blue goes great with yellow because they are complementary colors. It is among the most stylish combinations. 
However, both are vibrant colors, so knowing how to balance them is essential. The easiest way is to use both as accent colors. 
For example, if you use the 60-30-10 rule, you can achieve spectacular results. This means using 60% neutral color, 30% royal blue, and 10% yellow as an accent.
5. Dark Green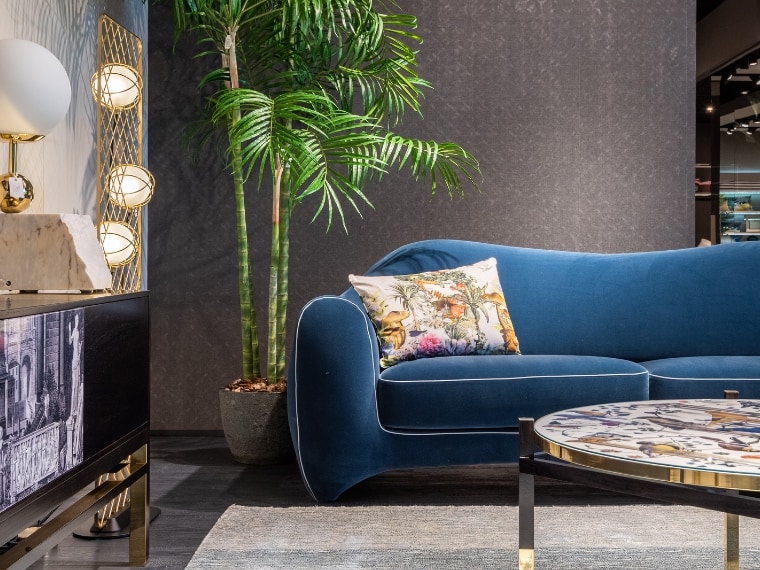 For a more natural and earthy look, consider pairing royal blue with dark shades of green. 
Since they are next to each other on the color wheel, blue and green are analogous colors and can create a harmonious palette.
As a result, green colors that match royal blue include emerald, olive, mint, forest, and sage.
These colors can make a place feel tranquil and restful because they are reminiscent of nature.
Whatever shade of green you choose, it should be used in moderation, especially as an accent. 
You can get a soothing combo if you go for a sage or olive green.
Choosing a blue-green shade, such as teal, will create a sophisticated effect. You can use the 60-30-10 rule to achieve the right balance and avoid being overwhelmed. Specifically, 60% warm neutrals, 30% royal blue, and 10% green as an accent.
When it comes to outfits, a royal blue dress paired with a mint green shawl can create a fresh and vibrant look perfect for a spring wedding.
6. Orange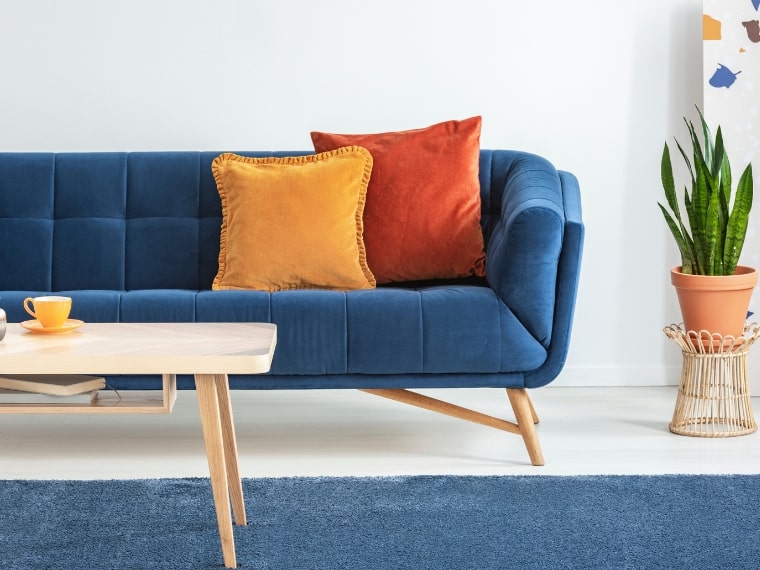 Royal blue and orange are complementary colors that result in a vibrant combination. However, not just any shade of orange will do. Thus, choosing a brighter orange or a burnt orange would be best. 
Terracotta is a warm earthy tone, more precisely, a burnt orange with a touch of brown. Royal blue offers extra vibrancy and lightness if you have terracotta furniture or a fireplace wrapped in terracotta tiles.
Even if you have a royal blue sofa, you can add cushions in different shades of orange.
When it comes to events, orange and royal purple is a popular combination. While royal blue is associated with loyalty and peace, orange is stimulating, offering optimism and enthusiasm.
For this reason, this combo is often used at wedding celebrations. Whether it's the bridesmaids' royal blue dresses with bouquets of orange roses, or the groom's suit with orange and royal blue accents, this combo is extraordinary.
7. Tan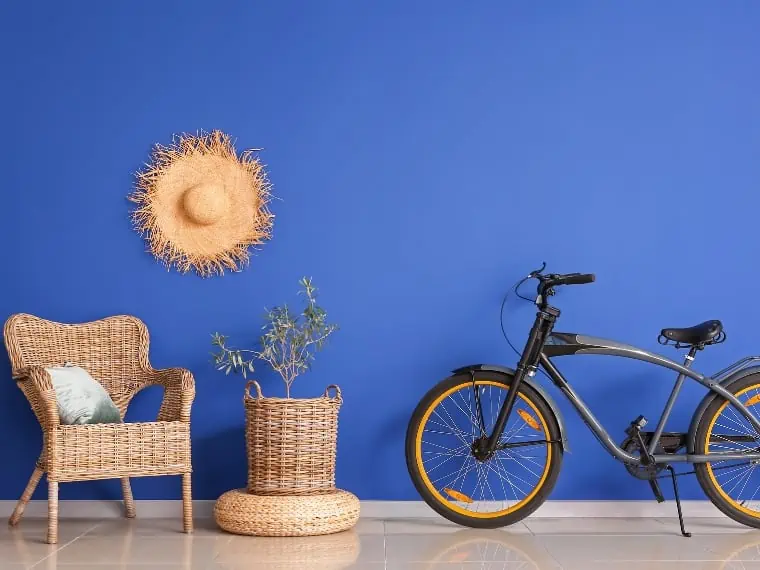 Choosing a neutral scheme gives you the opportunity to include royal blue, for example, in the form of a sofa with bronze or taupe accents.
To give your home a cozy warmth, pair a royal blue wall with a neutral floor and some tan or taupe accents.
If you're not sure what neutrals you can use, above you can see that any neutral goes perfectly with royal blue, including cream, tan, ivory, or white.
8. Brown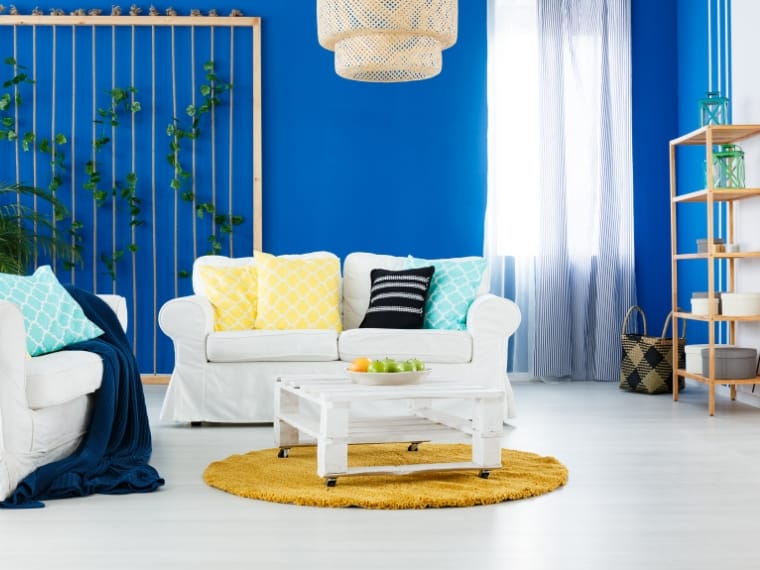 Lighter shades of brown or those closer to yellow go perfectly with royal blue. Some examples include goldenrod, harvest gold, wheat, caramel, or taupe. 
Since there are so many shades of brown, you have to decide what feel you want the combo to provide to choose the right shade.
For example, suppose you have a royal blue painted wall. In that case, you can choose neutral flooring, a white sofa and table, a brown rug, and some light wood decorative elements.
Using darker shades of brown can make the atmosphere too overwhelming.
9. Copper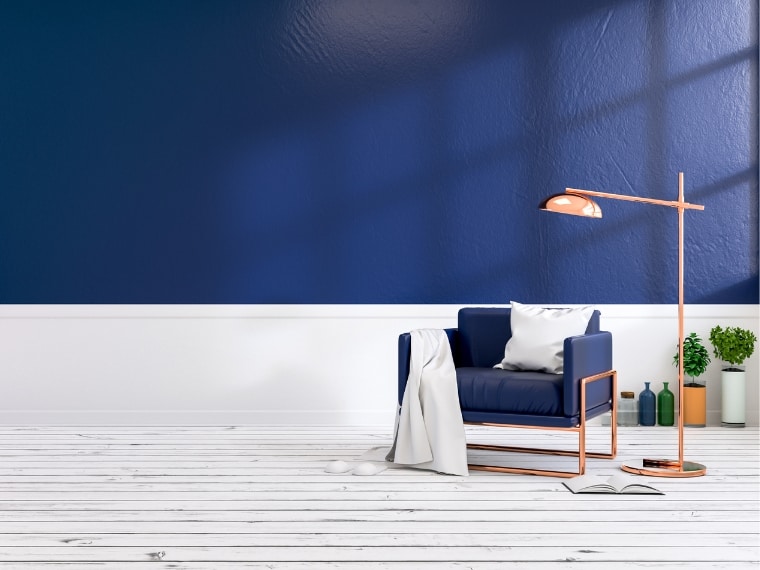 Although part of the brown family, we decided to mention this combination separately: royal blue and copper. 
Copper used as an accent can create a luxurious effect in combination with a royal blue wall and a white parquet floor.
Decorative copper elements can include a chandelier, a lamp, or even the legs of an armchair.
10. Red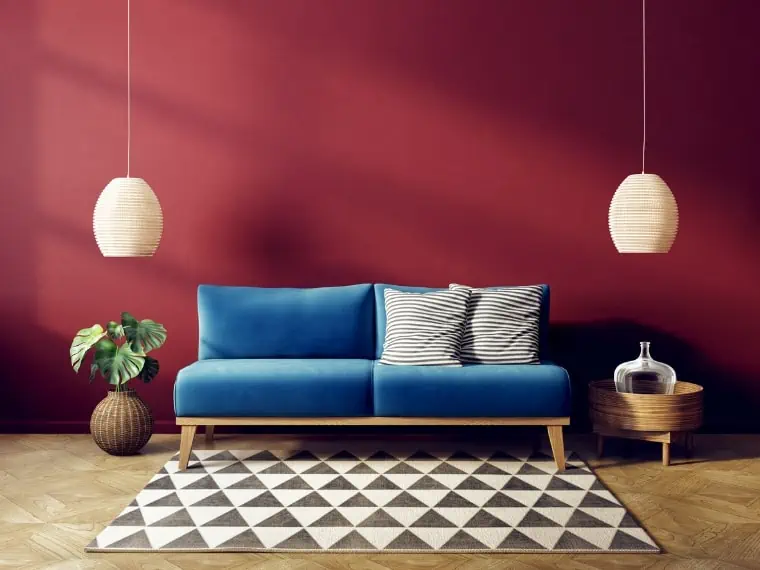 Royal blue and red is a bold combination and can create an excellent atmosphere for sailing enthusiasts. However, to avoid being overwhelmed, mix it up with neutral colors like tan or white. You can also use both as accent colors.
If you want a bolder effect, you can use a dark shade of red, closer to maroon. For example, a dark red wall and a royal blue sofa. The rest should be in neutral tones, so it doesn't get too overwhelming.
Dark Blue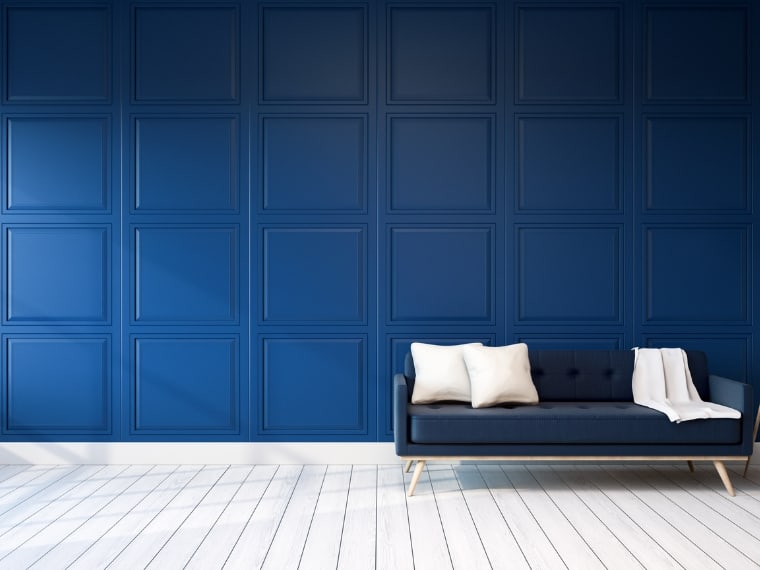 Royal blue also goes well with other shades of blue, such as navy, teal, cerulean or midnight. Too much blue, on the other hand, can be emotionally draining.
You probably believe that this color scheme is better suited for guest rooms, reception areas and lounges.
However, one study found that blue light increases subjective alertness and performance on attention-based tasks. This could imply that it can also be used in places such as offices. [1]
Royal blue versus Navy blue
Royal blue is different from navy blue. This is a misconception because royal blue is more saturated than navy blue, which is darker. However, they go well together as an analogous color combination.
Complementary Colors for Royal Blue
On the color wheel, complementary colors are those that are opposite one another. When used together, they create a dynamic and eye-catching look. 
The complementary color for royal blue is orange. This color scheme works nicely because the orange's warm tones balance the blue's cool tones. In fact, it is a principle of color theory. 
Depending on the shade chosen, there may be several complementary colors for royal blue, including:
Yellow
Gold
Rust
Peach
Coral
Analogous Colors
Analogous colors are those that are adjacent to each other on the color wheel. When used together, they create a harmonious look. Analogous colors for royal blue include:
Navy blue
Turquoise
Sky blue
Violet
Purple
Bold Color Combinations with Royal Blue
If you want to make a bold statement with your royal blue outfit, consider pairing it with a bold color. 
Dusty pink, burnt orange, emerald green, and bright yellow are just a few colors that can create a striking look when paired with royal blue. 
Remember that the colors must be balanced, so they don't clash when using bold color combinations.
How to Use Color Combinations with Royal Blue
Now that you know which colors go well with royal blue, it's essential to understand how to use these color combinations. Here are some things to remember:
Use one dominant color and one accent color.
Use both colors as accents, following the 60-30-10 rule, with 60% neutral colors.
Use color blocking to create a bold and modern look.
In terms of outfits, pair your royal blue with accessories in complementary colors.
Use neutral colors as a base and add pops of color with royal blue and other colors.
Use a color wheel to determine which colors go well together when in doubt.
F.A.Q.
What is the meaning of royal blue?
Royal blue is a deep, rich shade of blue that is associated with royalty, luxury, and prestige.
What color goes with royal blue in fashion?
Burnt orange, dusty pink, teal, and bright yellow are colors that complement royal blue in fashion.
 What colors go with royal blue in home decor?
Neutrals, metallics, light pinks, oranges, dark greens, and yellows go well with royal blue in home decor.
What are some good color combinations for a royal blue wedding theme?
Royal blue pairs beautifully with other jewel tones, such as burnt orange, emerald green, deep purple, and ruby red. Soft pastels, like blush and mint green, can also create a romantic, elegant atmosphere. Try mixing royal blue with silver or gold for a touch of luxury.
Can I wear royal blue with black or white?
Absolutely! Royal blue looks stunning when paired with classic black or white. Try a black suit, white dress shirt, orange tie, and royal blue pocket square.
Is royal blue appropriate for all skin tones?
Yes, royal blue is a universally apealling color that flatters all skin tones. However, different shades of royal blue can have purple or red undertones that may complement certain skin tones more than others. If you have warm undertones, try a royal blue with purple undertones, while those with cool undertones can opt for a blue with red undertones.
What are some popular home decor colors that go with royal blue?
For a cozy, inviting vibe, pair royal blue with warm neutrals like beige, cream, tan, or taupe. Try pairing royal blue with white or gray for a more modern look or with gold accents for a more sophisticated style.
What should I avoid pairing with royal blue?
While royal blue is a versatile color that pairs well with many shades, it's best to avoid combining it with neon colors or pastels that can make the blue appear too dark.
Last Words on Colors That Go with Royal Blue
Royal blue is a stunning color in interior design and can help you create a dramatic effect in your home. Moreover, it can add a touch of glamour to any space.
However, the colors you pair it with are important in creating a harmonious color scheme.
You can achieve an elegant modern look by pairing it with complementary colors.
We hope this guide to colors that go with royal blue has given you the inspiration you need to make a positive change in your home.
Did you enjoy learning about the colors that complement royal blue? Please share this post with your friends!