Looking for shades of magenta? You've come to the right place. Discover the world of magenta colors, from vibrant and energetic hues to subtle and elegant tones.
Magenta is a color that inspires kindness, self-esteem, generosity, and universal love. Whether you consider it a color of universal harmony that makes you happy or an attention-getter, magenta is a staple of both web design and the fashion industry.
In today's article, we will discuss magenta shades with names, hex, RGB, and CMYK color codes.
Whether you're seeking impactful colors for your design or fashion projects, this comprehensive list of pretty magenta shades has got you covered.
What Color is Magenta?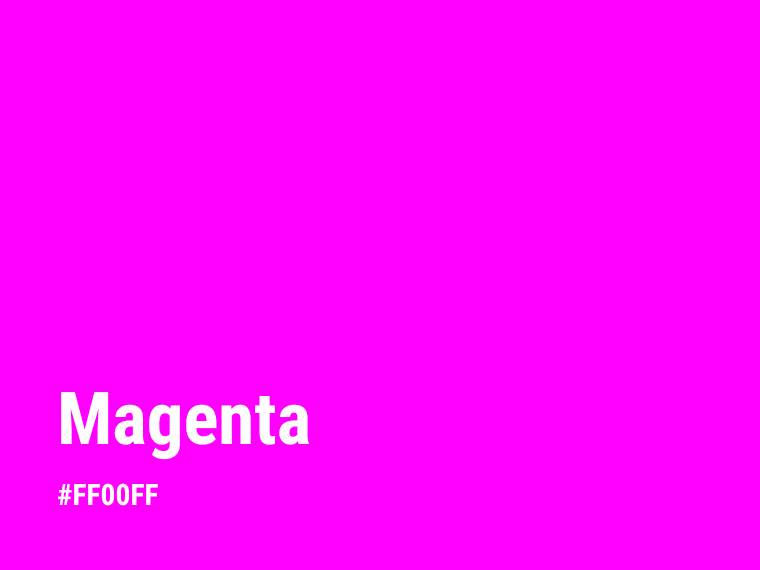 Magenta is a rich, vibrant color that sits between blue and red on the color wheel. It's a deep, purplish-red hue that looks bright and vivid.
This color is named after the dye made from the magenta plant, and it's also one of the primary colors in the CMYK space used in printing.
It's interesting to note that in the digital world, magenta has the same color code as fuchsia.
Hot Pink vs. Magenta
When it comes to magenta vs. hot pink, both colors symbolize kindness, compassion, and universal love. However, there is a difference between them.
Hot pink is a bright, intense tint of red, while magenta is a darker color that sits between red and violet on the color wheel.
Purple vs. Magenta
In the realm of digital colors, purple and magenta are different colors. Although both are mixtures of red and blue, they use different light intensities.
Purple has a more balanced mix of red and blue, with an RGB value of 128, 0, 128.
On the other hand, magenta is an additive secondary color created by overlapping red and blue light at full intensity (255, 0, 255). Magenta is also one of the primary colors of the CMYK color space used in printing.
Magenta Color Meaning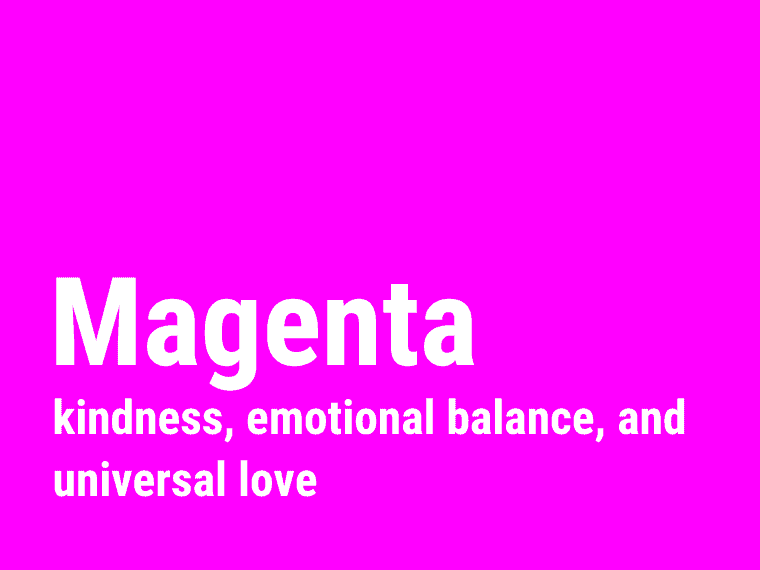 Magenta symbolizes creativity, harmony, and emotional balance. It combines red's energy and passion with blue's tranquility and wisdom, encouraging transformation, kindness, and emotional healing. 
Moreover, magenta radiates optimism, cheerfulness, and appreciation. Often linked with compassion, kindness, and generosity, magenta represents a harmonious balance of universal love and emotional healing.
Here are the meanings of the color magenta:
Warmth: Similar to red, the color magenta evokes a lot of warmth, inspiring feelings of generosity and kindness. However, this lovely hue is less aggressive than its neighbor.
Passion and Power: Magenta, like red, is a color of energy and passion. It inspires strength, action, and bravery, but more passionately.
Balance and Harmony: As a blend of red and blue, magenta represents a balance of passion and tranquility. It's also the color of universal harmony and emotional balance.
Emotional Healing: The color magenta can stimulate emotional healing by releasing old patterns that prevent personal growth and clear the path toward well-being.
Transformation and Change: Magenta is associated with transformation, change, and growth, encouraging a sense of uplifting and positive transformation.
Optimism and Cheerfulness: Magenta evokes feelings of positivity, enthusiasm, and confidence. It's also associated with cheerfulness, happiness, contentment, and appreciation for what life offers.
Kindness and Love: Magenta also promotes compassion, kindness, and cooperation, reflecting a balance of love at a universal level.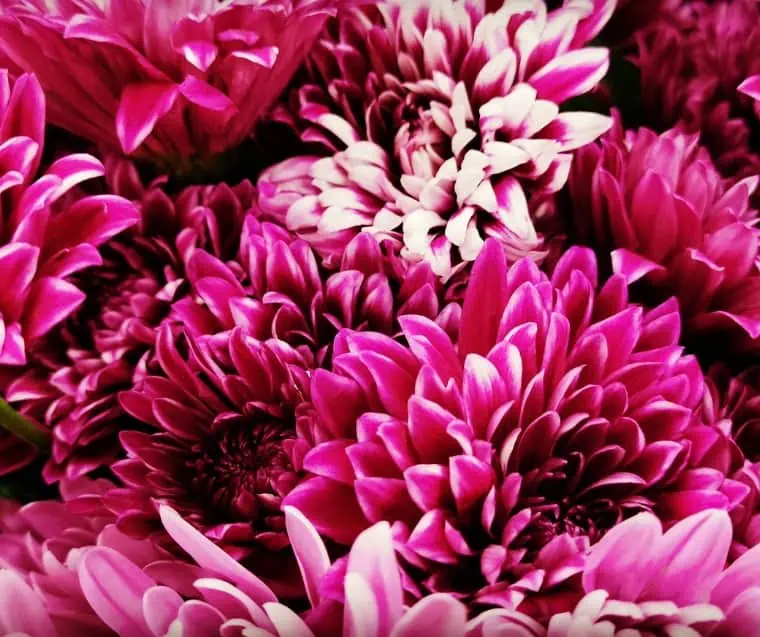 Different Shades of Magenta
Shades of magenta can range from purplish-red to purplish or even mauvish-crimson. Here is a list of the different shades of magenta with names, Hex, RGB, and CMYK color codes.
Magenta
Magenta is a bold purplish-red between red and blue on the color wheel. It was named after the dye made from the fuchsia plant.
Magenta
Hex #FF00FF
RGB 255, 0, 255
CMYK 0, 100, 0, 0
Byzantine
This shade of magenta is intense, featuring a good balance of red and blue. The color takes its name from the Byzantine Empire, known for its richness and vibrancy in arts and culture. However, this color is associated with power, luxury, and sophistication, reminiscent of the opulence associated with its historical namesake.
Byzantine
Hex #BD33A4
RGB 189, 51, 164
CMYK 0, 73, 13, 26
Bright Magenta
Bright magenta is a vibrant shade of magenta associated with energy and liveliness. This bold blend of red and blue – almost electric – leans more toward the pink side.
Bright Magenta
Hex #FF08E8
RGB 255, 8, 232
CMYK 0, 97, 9, 0
Dark Magenta
This color carries the vibrancy of magenta but with a much deeper and more subdued tone. Its deep tones command attention and draw you into its enigmatic depths.
Dark Magenta
Hex #8B008B
RGB 139, 0, 139
CMYK 0, 100, 0, 45
Deep Magenta
As its name suggests, deep magenta is a dark, saturated shade of magenta that contains less black than dark magenta.
Deep Magenta
Hex #CC00CC
RGB 204, 0, 204
CMYK 0, 100, 0, 20
Sky Magenta
Sky Magenta combines the vividness of magenta with the dreaminess of the sky. It features a charming and uplifting blend of pink and purple tones. Thus, it can add a touch of elegance to any space.
Sky Magenta
Hex #CF71AF
RGB 207, 113, 175
CMYK 0, 45, 15, 18
Pastel Magenta
Pastel magenta is a soft and charming pinkish-magenta that radiates a sense of sweetness and delicacy. This pastel captures the essence of a dreamy and romantic ambiance.
Pastel Magenta
Hex #F49AC2
RGB 244, 154, 194
CMYK 0, 36, 20, 4
Pale Magenta
Pale magenta is a purplish-pink that casts a spell of magic and allure as if taken from the pages of a fairy tale. Since it leans towards pink, it feels gentle, feminine, and romantic.
Pale Magenta
Hex #F984E5
RGB 249, 132, 229
CMYK 0, 47, 8, 2
Lavender Magenta
Lavender magenta combines the purity, grace, and calm of lavender with the universal harmony and emotional balance of magenta, resulting in a color that symbolizes kindness, elegance, and refinement.
Lavender Magenta
Hex #EE82EE
RGB 238, 130, 238
CMYK 0, 45, 0, 6
Magenta Dye
Magenta dye is a bright, deep pinkish-purplish, named after the synthetic dye discovered by Sir William Henry Perkin, a British chemist.
Magenta Dye
Hex #CA1F7B
RGB 202, 31, 123
CMYK 0, 85, 39, 21
T-mobile Magenta
T-Mobile magenta is the brand color of T-Mobile, a major telecommunications company. This eye-catching hue showcases a powerful, energetic blend of pink and magenta tones. Moreover, it's bright and unique, making it an excellent choice for branding and marketing.
T-Mobile Magenta
Hex #E20074
RGB 226, 0, 116
CMYK 0, 100, 0, 0
Hot Magenta
Hot magenta is a highly saturated and bright shade of magenta with a yellow splash, making it a neon color. This eye-catching magenta is associated with energy and excitement.
Hot Magenta
Hex #FF00CC
RGB 255, 0, 204
CMYK 0, 100, 20, 0
Vibrant Magenta
Vibrant magenta is a vibrant and bold mixture of red and blue that leans towards hot pink. However, it's similar to hot magenta but has less magenta and yellow in its composition, which makes it look a little lighter.
Vibrant Magenta
HEX #FF1DCE
RGB 255, 29, 206
CMYK 0, 89, 19, 0
Magenta PPG
Magenta PPG is a muted, sophisticated shade of magenta produced by PPG Paints. It's a darker blend of red and blue, leaning more towards the maroon side of red, with a touch of earthy brown undertones. It's far more subdued than the vibrant magenta, offering an elegant and mature vibe.
Magenta (PPG1050-7)
Hex #953D55
RGB 149, 61, 85
CMYK 0, 59, 43, 41
Benjamin Moore Magenta
Benjamin Moore's magenta is a warm, dark, purplish-red, evoking feelings of sophistication and glamour. It's part of Benjamin Moore's paint collection and a great choice for creating an atmosphere of grandeur.
Magenta (2077-10)
Hex #9C284B
RGB 156, 40, 75
CMYK 0, 74, 52, 39
Magenta Manicure
Magenta manicure is a glamorous and chic shade that captures the essence of a sophisticated nail art masterpiece. This dark and vivid shade of magenta is a part of Valspar's color collection.
Magenta Manicure (V003-3)
Hex #8C2D60
RGB 140, 45, 96
CMYK 0, 68, 31, 45
Dynamic Magenta
Dynamic magenta is a grayish-pinkish-violet that can infuse a sense of energy and creativity in any design. Moreover, it combines purple's romance and youthfulness with magenta's cheerfulness and compassion. It's like having the best of both worlds – vibrant and elegant, all in one.
However, this grayish magenta paint color is part of the Home Decorators Collection from Behr.
Dynamic Magenta (HDC-MD-07)
Hex #8A547F
RGB 138, 84, 127
CMYK 0, 39, 8, 46
Behr Euphoric Magenta
Euphoric is one of the darkest magenta color shades, with 50% black in the CMYK composition.
Euphoric Magenta (M110-7)
Hex #7F576D
RGB 127, 87, 109
CMYK 0, 32, 14, 50
Magic Magenta
Magic magenta is a deep magenta with a lot of black and a slight touch of yellow. This color is pure enchantment and has a touch of mystique that sets it apart from the traditional magenta colors. So, if you want to add some magic and wonder to your design, this is a lovely choice!
Magic Magenta (PPG1180-7)
Hex #7F4774
RGB 127, 71, 116
CMYK 0, 44, 9, 50
Twilight Magenta
This is an elegant shade of magenta, named after the magical hues of the sky during twilight. It's like capturing the essence of a magical twilight moment and bringing it into your space.
Twilight Magenta (2074-30)
Hex #9B4A80
RGB 155, 74, 128
CMYK 0, 52, 17, 39
Magenta Pantone
Magenta Pantone is a muted shade of magenta defined by the Pantone Color Matching System. However, this dark pinkish-red features a bold, eye-catching blend of pink and purplish tones.
PANTONE 17-2036 TCX – Magenta
Hex #D23C77
RGB 210, 60, 119
CMYK 0, 71, 43, 17
Dunn-Edwards Deep Magenta
This dark pinkish purplish is part of the Dunn-Edwards paint collection. It's deep, rich, and carries a lot of warmth from red while maintaining a coolness from the blue.
Deep Magenta (DE 5013)
Hex #96466A
RGB 150, 70, 106
CMYK 0, 53, 29, 41
Cerise
Cerise is a deep pinkish-red whose name comes from the French word for cherry. Just like cherries, this shade of red is rich and can draw attention easily, making it a great choice for impactful designs.
Cerise
Hex #DE3163
RGB 222, 49, 99
CMYK 0, 78, 55, 13
Dull Magenta
Dull magenta is a desaturated version of vibrant magenta, emanating an air of elegance. It still maintains the pinkish-purple characteristics of magenta but in a softer way. However, this color can also be described as a dusty or smoky pink.
Dull Magenta
Hex #9D446E
RGB 157, 68, 110
CMYK 0, 57, 30, 38
Fashion Fuchsia
Fashion fuchsia is a vibrant and cheerful purplish-red that exudes playfulness, excitement, and feminity. As a trendy color in fashion, this uplifting color symbolizes self-assurance, confidence, and uniqueness.
Fashion Fuchsia
HEX #F400A1
RGB 244, 0, 161
CMYK 0, 100, 34, 4
French Fuchsia
French fuchsia is a bright, bold pink that leans more toward the red side of the color wheel. This color combines red's energy and determination with pink's kindness and romance. As a result, it's a vibrant color, similar to the flowers of the fuchsia plant, after which it gets its name.
French Fuchsia
Hex #FD3F92
RGB 253, 63, 146
CMYK 0, 75, 42, 1
Light Magenta
Light magenta is soft purplish-pink, with a touch of sweetness that's hard to resist. According to the CMYK model, this is a pure, light shade of magenta with no yellow or black in its composition.
Light Magenta
Hex #FF80FF
RGB 255, 128, 255
CMYK 0, 50, 0, 0
Magenta CMYK
Despite its name, this is a dark mix of magenta and yellow, compared to real magenta, which contains neither yellow nor black. So it's more of a red-purple.
Magenta (CMYK)
Hex #C20078
RGB 194, 0, 120
CMYK 0, 100, 38, 24
Magenta Crayola
Magenta Crayola, also known as permanent magenta, is a pinkish shade of magenta created in 1903 by the Crayola company for their crayons.
Magenta (Crayola)
Hex #F653A6
RGB 246, 83, 166
CMYK 0, 66, 33, 4
Magenta Pantone
This color is perfect to energize your designs with its vibrant and captivating vibes, adding a touch of excitement and passion.
Magenta (Pantone)
Hex #D0417E
RGB 208, 65, 126
CMYK 0, 69, 39, 18
Viva Magenta
Viva magenta is a vibrant purplish-red color named Pantone's color of the year 2023 [1]. It also strikes a delicate balance between warm and cool tones, preventing it from being overpowering or intense. This perfect mix of red and blue is bold, energetic, and lively.
Viva Magenta
Hex #BB2649
RGB 187, 38, 73
CMYK 0, 73, 67, 25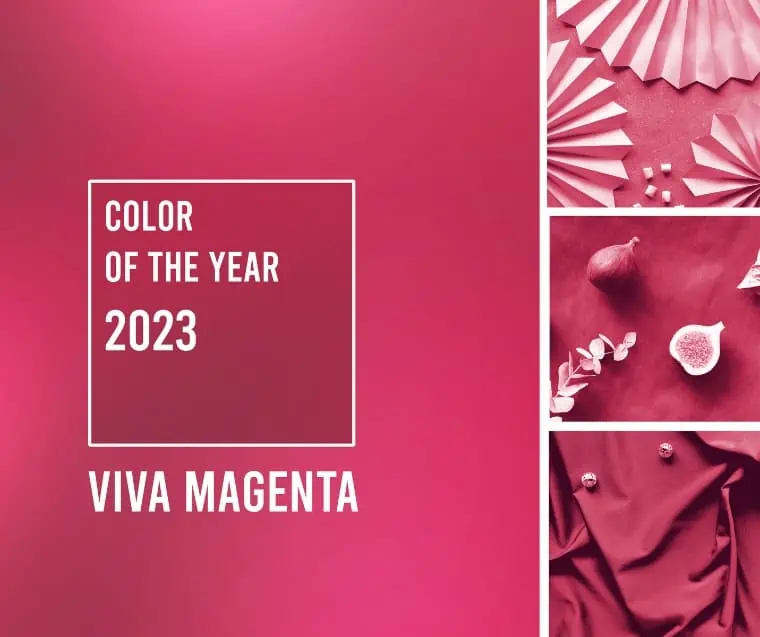 Process Magenta
This magenta shade is a dark hot pink associated with lust, love, and romance. Due to its tones, this hue brings a sense of urgency. It's definitely one of the boldest shades of magenta.
This is also a primary subtractive magenta color of Pantone. Unlike CMYK printing, which uses cyan, magenta, yellow, and black to produce other colors, Pantone spot color printing uses pre-defined ink colors that are printed individually, one at a time.
Magenta (Process)
Hex #FF0090
RGB 255, 0, 144
CMYK 0, 100, 44, 0
Magenta Pink
Magenta pink is a deep shade of magenta with blue undertones. This color combines the vibrancy of magenta with the playfulness of pink, symbolizing power, wisdom, and confidence. It's a bright and inviting hue with a touch of femininity.
Magenta Pink
Hex #CC338B
RGB 204, 51, 139
CMYK 0, 75, 32, 20
Magenta Haze
Magenta haze is a rich, deep magenta with a touch of darkness.
Magenta Haze
Hex #9F4576
RGB 159, 69, 118
CMYK 0, 57, 26, 38
Magenta Purple
Magenta purple is a deep, dark magenta that combines elements of magenta, purple, and a bit of burgundy. Rich and complex, this color exudes luxury and sophistication.
Magenta Purple
Hex #6C244C
RGB 108, 36, 76
CMYK 0, 67, 30, 58
Old Magenta
Old magenta is a dusky shade of magenta. It has a vintage feel, like a color that fades over time, carrying a sense of elegance and warmth.
Old Magenta
Hex #953D55
RGB 149, 61, 85
CMYK 0, 59, 43, 42
Magenta Rose
Magenta rose is a dark magenta color that leans toward purplish-brown. Like a vibrant flower in full bloom, magenta rose represents sophistication and beauty, making it a captivating option for creating an atmosphere of love and tenderness.
Magenta Rose
Hex #8C0048
RGB 140, 0, 72
CMYK 0, 100, 49, 45
Persian Rose
Persian rose is a bright, pinkish shade of magenta, resembling the lovely flowers of the Silk Tree. Also known as Mimoza, or Albizia julibrissin, this flowering tree is native to Iran (former Persia), China, and Japan. The flowers of Albizia julibrissin are known for their delicate and feathery appearance, with shades ranging from light pink to deep pink or magenta. [2]
Persian Rose
HEX #FE28A2
RGB 254, 40, 162
CMYK 0, 84, 36, 0
Rose
Rose is a muted mauvish pink. As a pink color, this color is associated with affection and harmony. Its mauvish undertones evoke feelings of youth and romance.
Rose
HEX #FF0080
RGB 255, 0, 128
CMYK 0, 100, 50, 0
Shocking Pink
Shocking pink is a bright, vibrant, neon-like pink. It's playful, cheerful, and uplifting.
Shocking pink became popular in the 1930s when the famous fashion designer Elsa Schiaparelli introduced a perfume called "Shocking" and used this bright color in her branding and fashion designs.
Shocking Pink
HEX #FC0FC0
RGB 252, 15, 192
CMYK 0, 94, 24, 1
Telemagenta
Telemagenta is a deep purplish-pink or magenta-pink with a little black, just enough to give it a muted look.
Telemagenta
HEX #CF3476
RGB 207, 52, 118
CMYK 0, 75, 43, 19
Brief History of Magenta Color
Magenta, a striking hue with a history as vibrant as its own, emerged from a fortunate accident in chemistry. 
The color magenta was first created as a dye in 1856 by William Henry Perkin, a British chemist, while trying to synthesize quinine, a treatment for malaria.
His endeavor, however, took a delightful turn when he accidentally created a synthetic dye, which he named "mauveine," later shortened to "mauve."
Because of the striking resemblance between this color and the fuchsia flower, it was given the name "fuchsine." The dye became a sensation, leading to a boom in synthetic dye creation.
However, the dye's destiny took a historical twist in the same year.
Fuchsine was renamed Magenta in 1959 after the battle between France and Austria in the same-named Italian town in the province of Milan.
The Battle of Magenta, a key event in the Second Italian War of Independence, inspired a patriotic wave throughout France. Seizing this moment of national pride, the French renamed the dye "magenta," immortalizing the battle victory and the vibrant hue in French history.
As technology evolved, magenta found a new role in the 20th century. It became a cornerstone in the printing world, acting as a primary color of the CMYK color model, which stands for Cyan, Magenta, Yellow, and Key (Black). This color model is still the standard in the printing industry today.
Interestingly, despite its prominent role, magenta doesn't have a wavelength associated with it in the visible light spectrum. It is an "extra-spectral" color, a trick of our brains interpreting a mix of red and blue light.
Last Words on Shades of Magenta Color
From the bold vibrancy of hot magenta to the youthfulness of magenta rose, these shades of magenta evoke feelings of kindness, passion, power, energy, balance, and harmony.
They can range from soft, pastel hues to deep, saturated tones. However, it's the color of universal love – elegant and sophisticated!
Did you enjoy this article about the different shades of magenta? Help us spread the word by sharing it with your friends who adore this color that inspires self-esteem.